Sports
Sean Manaea & Blake Sabol form the first Samoan battery in Major League Baseball History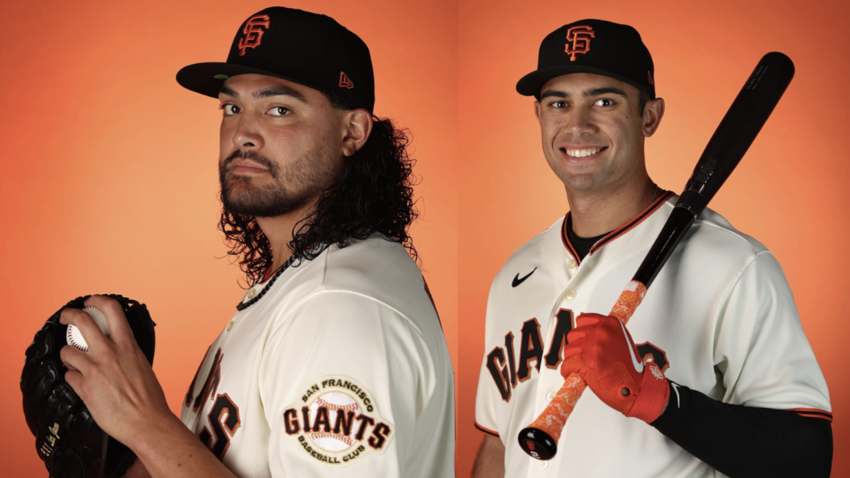 San Francisco Giants latest recruits - Sean Manaea (left in picture above) and Blake Sabol have made history as the first Samoan battery (The pitcher and catcher together) in Major Baseball League history when they were paired together on the 8th April 2023 against the Kansas City Royals.
For Manaea and Sabol, who are both half-Samoan, the moment felt bigger than baseball.
Said Manaea: "It's amazing. There's not too many of us Samoan baseball players. To form a battery like that is incredible for all of us." talking to MLB.com
Sean Manaea is a pitcher who previously played in the Major League Baseball league for the Oakland Athletics (where he made his MLB debut in 2016) and the San Diego Padres. He became a free agent at the end of last year and in December signed a two year $25 million contract with the Giants.
His father was born & raised in American Samoa before moving to Hawai'i, serving in the Vietnam War and then was stationed in Indiana where he met Sean's mother. Sean was raised in the small town of Wanatah, Indiana.
Blake Sabol on the other hand was acquired by the Giants in the Rule 5 draft in December last year and grew up in Aliso Viejo, California in a vibrant Samoan community staying connected to his roots through his mother, who used to babysit his second cousin, NFL Hall of Famer Troy Polamalu.
Now that they share a clubhouse, Sabol is helping Manaea reconnect with Samoan culture, particularly through food. Sabol is already planning to have Manaea over for dinner later this week when his Mum visits Arizona and brings Samoan dishes over from Southern California.
"He grew up in Indiana," Sabol told the Giant Beats newsletter. "He was like, 'Basically, I grew up a white kid.'"
Although they lost 6-5 to the Royals, Sabol told MLB.com they were still able to take pride in the fact they'd represented their Samoan heritage well in the game.
"I'm sure there was a lot of people from the Polynesian community out in the stands today, and some watching on TV," Sabol said, "and hopefully there's some little boys or girls that are looking at that like, 'Wow, maybe I should play baseball. I want to do it. I want to try it.' …
I'm happy that the outing went well, but at the end of the day, hopefully next time we can close the door and take a win home."
Read the full article here and get to know both guys a little more in the return of the San Francisco Giants 'Catchin Up' series on Youtube below -
-
Public Interest Journalism funded by NZ on Air
Share