Sports
T20 All Stars give back in Cricket Fundraiser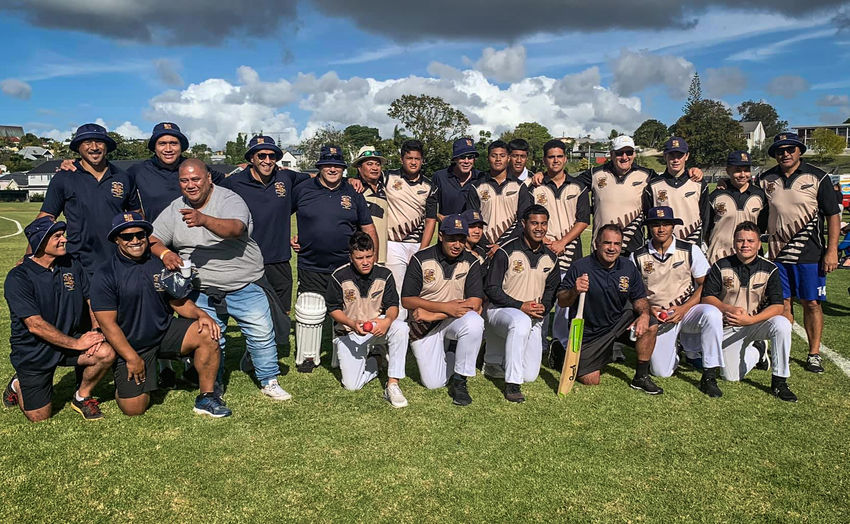 When you hear the name 'St Pauls College', cricket is not necessarily the first thing that comes to mind - you'd be forgiven for thinking rugby league or even Samoan stage Polyfest champs, but that could soon change with the school receiving expert coaching from former Black Caps bowler Dion Nash and their 1st X1 & colts team going unbeaten this season.
To kick off the weekend a number of old boys and cricket stars teamed up against the St Pauls 1st XI with the help of cricket legends Murphy Su'a, Dipak Patel and Mark Greatbatch in an All Stars vs St Pauls game, to fundraise towards buying cricket equipment, uniforms and extra coaching through winter.
"Crickets been a little bit on the down low the last few years so we're trying to get it back up and going & thought 'lets get the old boys back and involved'. We have lots of great names - Stacey Jones, Nigel Vagana, all these great sports people who all played in the 1st XI so we thought lets get them back! We got a few ring ins, Mils Muliaina, Mark Greatbach, all these great names from the past, get them all on the field and see how we go against them" said St Pauls cricket coach Dion Nash
Old Boys, supporters and sponsors came through with their BYO picnic rugs to watch and also supported by donating for cricket bats and signed memorabilia for the auction. Director of Sports Dave Mcdermott was on deck to DJ, there was a BBQ fired up and manned by Dion's wife, former Silver Ferns defender Bernice Mene and with refreshments available it was a great afternoon to sit back and watch legends in sport compete with hilarious commentary provided by actor David Fane.
Mr Fane also offered up some history on cricket at St Pauls from back in the 80s, when the school had borders where the new buildings up by Richmond Road are now.
"They had all the good cricketers then, all the Dalleys and the Irish families, they still had their kids coming here and they were a really good cricket team and then when I joined we weren't so good. We only managed to win two of the nine games we played that year.
It's good to see cricket come back though, you kind of need it in a ponsy area like this - it's (the school) the last vestige of browndom in the middle of Central Auckland. It's pretty awesome" he said with a laugh.
Bernice whose son Solomon was opening batsman for St Pauls said he'd been really looking forward to the event and that it was a good fundraising day out and great for St Paul's.
"It's a bit of a family outing getting the old boys involved so there's Junior Fiu, who is one of the old boys in the old boys cricket team kept telling me 'I played in the 1st XI, I played in the 1st XI' so now we get to see him strut his stuff"
"We called in a few troops for the 1st XI to see how it's done - Mark Greatbach just did a massive 6 out there" - she added.
Former All Blacks fullback Mils Muliaina who was playing for the All Stars team said he'd played cricket a little bit up until Intermediate and it was nice to get out on the field and 'get the bowling arm' out again, although he was dreading having to bat saying it was something he was a bit scared of back in his younger playing days.
He said it was nice to come back and as a Pacific Islander see the likes of Murphy Su'a because he was the first islander that he say make the Black Caps.
"To be out here with someone like that is absolutely awesome" said Mils.
He also encouraged Pacific Islands and Maori kids to give cricket a go and learn the technique. "It is a bit of a technical game in terms of the batting involved but I think they'll enjoy it and that Pacific Island flair's always there so go hard and give it a really good, decent crack." he said.
A couple of boys who did decide to give it a crack this year were Head Boy Daniel Smith and Deputy Head Boy Sefanaia Cowley-Lupo who were part of the 1st XI squad to go undefeated over the season.
Daniel said it was awesome knowing the old boys like Stacey Jones and Nigel Vagana who are rugby league stars, also played cricket like they do.
"It's an honour to go up against people who have done this themselves." he said.
Sefanaia really enjoyed learning cricket as a new sport and found that he had to adapt fast but appreciated the hard work his whole team and especially their coach Dion Nash put in. He said Dion made sure they were always at practise, holding everyone accountable and making sure they were working well as a team.
Sefanaia added "It was great to also have some junior players in our team because they stepped up to the plate and showed some of us seniors up. Overall our cricket team created a special bond on and off the field which is the reason why we had such a great season this year."
St Pauls Director of Sports, Dave Mcdermott said the All Stars vs 1st XI fundraising event raised $10,000 which will be a good boost towards the schools cricket programme.
Coach Dion Nash said that cricket is a game that can be elitist across the world so it's nice to get it involved in the community, plus the boys love the game and they have natural talent so it's about getting them involved, getting them the opportunity to play and learn and getting those basic fundamentals.
"It's a game you just need to know some of the basics and getting a little bit of coaching. We're coming up real fast, we've got a couple of fast bowlers on the go so yeah, watch out in a few years I'd say."
NB: Cover photo credit: Serah Cowley-Lupo
.
But what came first? Cricket or Kilikiti ... Know Your Roots!
Share