Sports
Tokyo 2020 - Our Pacific Islands athletes Round Up Day 4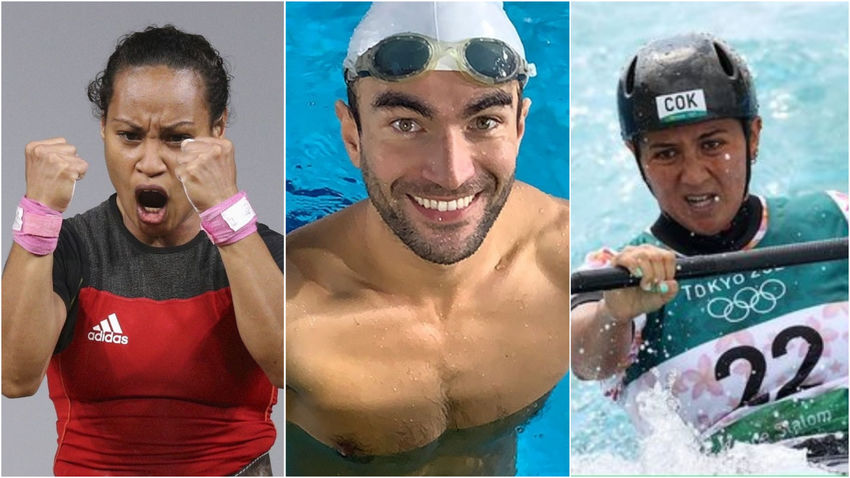 To go along with our guide to who, what, when and where our Pasifika athletes are competing at the 2020 Tokyo Olympic Games we'll be doing a round up of how they've all been doing in case you missed their event.
ICYMI our Pacific Islands athletes wowed in their traditional wear and team uniforms at the Opening Ceremony parade of athletes. Four of our Pacific Islands teams made the best dressed lists for the 2020 Tokyo Olympics Opening Ceremony on Friday night.
Check out their looks below in alphabetical order and we've also included a few of the other Pacific teams who stood out in their trad wear.
And now for the results to date:
American Samoa
Micah Masei was Team American Samoa's first member to compete in the 2020 Tokyo Olympics on Saturday, entering the men's 100 meter breaststroke.
Masei, who trained at the University of Hawaii, won his heat against Muhammad Isa Ahmad from Brunei and Amini Fonua from Tonga, swimming a time of 1.04.93. He was just shy of his personal best of 1.04.81. Unfortunately he didn't qualify for the final on Sunday.
-
Tilali Scanlan finished 3rd in her heat in the 100m breaststroke with a time of 1:10.01, beating her personal best of 1:13.
"My fastest time before in training trials was a 1:12.32. My goal time was to go under 1:11 and I nearly broke 1:10! To say I'm pleased is an understatement." - Tilali
Cook Islands
Team Cook Islands first competitor was flag bearer Wesley Roberts the day after the opening ceremony where he competed in the 400m freestyle. He placed 5th in his heat with a time of 3:55.65
Wesley's second day of competition was the 200m freestyle. He came away with a time of 1:50.41 again placing 5th in his heat.
-
Last night fellow flag bearer Kirsten Fisher-Marsters raced in the 100m Breaststroke heat where she achieved a PB of 1:13:98 and placed 6th in her heat.
-
Canoe Slalom athlete Jane Nicholas has qualified for the Semi Finals in the Women's K1 event. In her first run yesterday she came away with a time of 1:50.2 however her second run she shaved off 30 seconds comin in with at time of 1:20.1! Jane placed 21st overall at the end of the first day of competition and placed 22nd in the semi-finals this evening.
Jane will also compete in the WC1 tomorrow and is making Olympic History as being the first ever Cook Islands female competitor in the WC1 which is a new discipline at the Olympics for Canoe Slalom.
Federated States of Micronesia
Taeyanna Adamas was first up for FSM and although she didn't advance past her heats, she broke her own national record.
Fiji
Table tennis competitor Sally Yee competed in the prelimaries on Saturday but unfortunately didn't make it further going down to Guyana's Chelsea Edgehill. It is Yee's 2nd games and she just gave birth recently in April, training through her pregnancy.
-
The 'Worlds Greatest Fiji Sevens Team' started their quest for back to back golds again yesterday and won a clean sweep of their pool. They've just won their Quarter finals 19 - 0 against Australia and will now take on Argentina in the second semi final tomorrow.
-
Team Fiji's Sophia Morgan finished 35th in her heat four of her sailing event, her best place finish since the start of competition Sunday to maintain her 41st overall placing heading into the third day of competition today. She has two more heats today – with competition starting at about 3.05pm NZT
-
Tonight Fijian swimmer Taichi Vakasama competed in Heat 1 of the Mens 200m Breaststroke and he came 4th in the heat.
Guam
Joshter Andrew is about to to fight on Mat 1 in Judo.
** Update - Joshter lost his fight **
Swimmer Jagger Stephens swam tonight in the 100m freestyle, Heat 2 and came 2nd in his heat.
Kiribati
Weightlifter Ruben Katoatau did his nation proud coming 4th place in Weightlifting 67kg Class B with a personal record of 105kg in Snatch, 140kg in Clean & Jerk and a total 245kg.
Papua New Guinea
Dika Toua made Olympic history on Saturday evening - the 1st female weightlifter to compete in 5 Games. She was 16 when she first competed in Sydney and this games in Tokyo 2020 she was the oldest in the field at 37 years. Journalist Natalie Whiting tweeted it was a 'phenomenal achievement especially considering the tough lead up. What a champion.'
-
Morea Baru completed his lifts in Group B. Snatched 118kgs and 147kgs in Clean & Jerk with a total of 265kgs. Both Morea and Dika placed fourth in their Pools and tenth in their Divisions.
-
Boxer John Ume put up a brave fight against Australian Harry Commonwealth Games Gold Medalist Australian, Harry Garside. He ultimately lost in a unanimous decision.
-
Sibling sailors Teariki Numa (Men's Laser) and Rose-Lee Numa (Women's Laser Radial) have been out on the water since Sunday at Enoshima Yacht Harbour and are sailing again today.
-
This evening swimmer Ryan Maskelyne took to the pools in Heat 1 of the 200m breaststroke and came 2nd in his heat.
Samoa
Boxer Mario Faustino Ah Tong kicked off Team Samoa's Olympic campaign on Saturday evening, fighting Zambian champion Stephen Zimba. Unfortunately Tino was eliminated by a points decision after his preliminary fight.
-
On Sunday sailor Eroni Leilua started his series of races. He sails three more races today starting at 3.10pm. The sailors sail a number of races over this week and then they're given a median score plus final rank at the end of the races to determine whether they'll then compete in the medal race.
-
Today Peniamina Percival goes up against Netherlands fighter Frank de Wit in the Judo Mens 81kg elimination round. Tune in at around 2.45pm NZT
For most of his life, Samoan judoka Peniamina Percival has been motivated by one goal: representing his country at the Olympics. Two years ago, with his sights set on the Tokyo Games, he decided to move to Japan and hone his skills in judo's homeland. Since then, he has overcome challenges, both on and off the mat, to turn his Olympic dreams into reality.
Check out more of his inspiring story here
** Update: Peniamina lost his fight **
-
This afternoon at about 4.30pm NZT, Heavyweight boxer Ato Plodzicki-Faoagali fights in the preliminaries against Belarus fighter Uladzisilau Smiahlikau. Get to know Ato here -
** Update - Ato just lost his fight by split decision **
Solomon Islands
Solomon Islands national female weightlifter Mary Kini finished in 14th position with 154kg total lifts at the 2020 Tokyo Olympic Games yesterday.
The 2019 Pacific Games triple gold medallist managed a total of 67kg in her third and final attempt for the snatch after dropping her first attempt at 67kg and a successful 64kg first attempt.
Her Clean and Jerk first attempt at 84kg was successful, however Kini dropped her third and final attempt at 90kg, to finish with a total of 154kg, eight short of her 162kg triple gold medals feat.
-
Solomon Islands first Olympic 100m freestyle swimmer Edgar Iro began competition at about 9pm NZT in the 100m - Heat 1. The 20 year old already anticipates making history for the country at the global arena. He came in 7th in his heat.
"I'm really happy because I did not think I could have made it this far. I'm blessed because I know back home so many young people don't have this kind of opportunity, so I'm really bless with it," he said.
Tonga
Amini Fonua started Tonga's campaign swimming in the 100m breaststroke on Saturday evening. It is the swimmers third Olympics. He came first in his heat but was later disqualified on a technicality.
'Amanaki Fakakovikaetau, Chef de Mission-Team Tonga, told Matangi Tonga this morning that the Tonga swimming management team had requested a review of the video of Heat 1.
"After further reviewing the underwater camera, it was concluded that he was DSQ on technicality... an illegal butterfly kick off the dive," he said.
In a statement to Matangi Tonga, Amini said, "I aim to remedy the issue and will not repeat the same mistake...and will channel this disappointment into future success. I would like to thank everyone who has contributed and sorry if I let them down."
-
Flagbearer Malia Paseka made history becoming the first female Tongan Olympian to compete in Taekwondo. She lost her fight against #3 ranked UK fighter Lauren Williams but due to Lauren making the finals she was able to go into the repechage for the bronze medal competition.
At 11.30pm NZT she fought the Egyptian Hedaya Wahba who was the Bronze medalist in the 57kg category at the 2016 Rio Olympics. Both fights would have been very tough.
Malia said to us after the fight "it was quite both a tough fight for me but for me it really an great experience having to face the most top athlete in the world"
Check out her interview with us before the fight below -
Fellow flag bearer and Taekwondo team mate Pita Taufatofua competes today against the world #1 Vladislav Larin from Russia. He'll be on from about 2pm NZT today.
Pita joked on his facebook post "My current world ranking of around 360 is good for a circle, but that's about it"
** Update: Pita lost by points gap **
Vanuatu
Vanuatu's flag bearer Rillio Rio not only gave Pita Taufatofua some competition in the hot, bare chested flag bearer stakes but he's also done really well in the Men's Single Sculls and has made it to the finals which takes place this Friday, 10.45am NZT
-
Yoshua Shing took on Aregentine Cifuentes Horacio in Table Tennis but unfortunately lost the game 4-0
-
Hugo Cumbo fought in the Judo Mens 81kg elimination round against Uzbekistan but lost in the first minute of his fight.
-
* Please note: Marshall Islands, Nauru, Palau and Tuvalu have not competed yet.
Share