Sports
Tongan Fans' Devotion Shines Bright In the Shadows of Roaring Crowds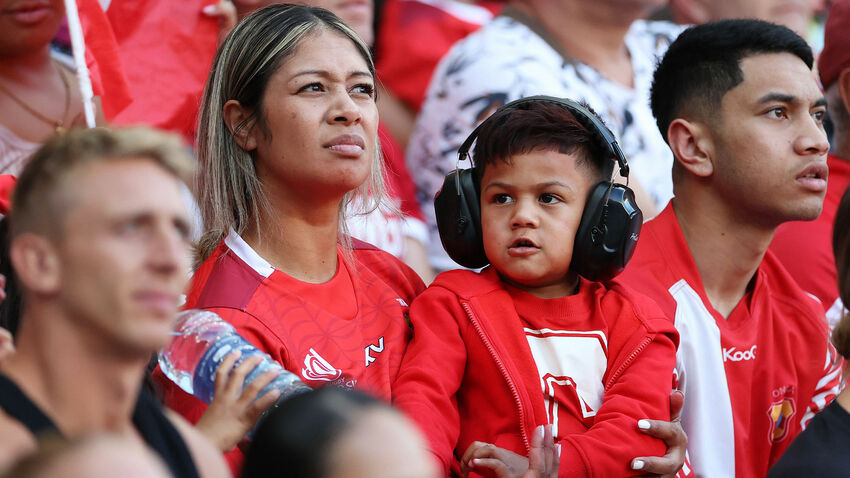 By James Nokise
There was a moment right after the Scotland vs Tonga match that not many of the TV networks chose to show.
The Ikale Tahi who, despite a close first half, were beaten by a well-rested Scottish team 45 - 17, returned to the field to thank their fans.
Normally when a team takes a moment like this they are celebrating a victory, but Tonga's situation did not require a lap of Stade de Nice, just a couple of quick visits to two small groups.
Don't be fooled by any official photos you may see that imply the crowd support was equal. Out of the 33,000 roaring fans, maybe 300 or so were there for Tonga.
Some were family, some were friends of players, one group was full of teachers from a French school who had Tongan students.
"There's actually more here than last week" says George Pahulu, a Tongan journalist from San Francisco who is the only journalist to be following Tonga through the World Cup.
While a blue wave of Scottish fans - bagpipes, kilts, and all - swept into the stadium, the loyal followers of Ikale Tahi popped up here and there like the many islands of their home nation.
"We sort of live near Nice, so thought we'd come support" says Inga. "We're originally from Christchurch" chips in Lucy, his partner. "I think I better buy a jersey though" Inga responds.
"We're actually from Atlanta" says Solomone, with his son Laiatea. "We came over just for this"
Five slightly inebriated kiwi men have chucked whatever red tops they can find on and come down to support their pacific neighbours. The one Polynesian member of the group confesses "I'm not even Tongan!"
Some of the Tongan diaspora from France has also shown up. "Tonga Yes. No English" says Yvans, before staunchly posing for a photo.
Fez and Tevita are the rarest of Tongan fans; they've actually come from Tonga. "We're for this. Here to support the team".
Whereas Fiji and Samoa games have seen plenty of French locals turn up to support the Pacific teams, there are few dressed in red and white in Nice. That is not for a lack of Tongan players in the French Rugby Championship either.
"We're not so much here to support Tonga as to not support Scotland" say Batiste and Maxente, who have painted a Tongan flags on their foreheads. "Matemai Tonga!" they incorrectly shout.
During the match, Scottish fans roar out wave after wave of "Scot-land! Scot-land!". There are attempts to get a "Tonga!" cry going, but then the stadium DJ plays some music that drowns it out. The biggest cheer for Ikale Tahi comes at the end of the Sipi Tau.
Scotlands fans aren't disrespectful or malicious, they're just not there for Tonga. Hardly anyone seems to be. They'll never benefit from the energy surge a crowd can provide at the end of a game. They won't complain about that though. They're too proud for that. They may not have many supporters, but they have each other.
Post-game, a tired Malakai Fekitoa makes his way through the press. The former All Black, and current Tongan centre, has had a difficult night and emptied his tank. Still, just before he boards the team bus, he sends a message to all the Tongan fans watching from afar:
"I would like to ask them to please just hang in there and still support the boys. We came over here with a lot of sacrifices to obviously represent the country... I know what the players are going through just to get here and hopefully a better game is coming to make all of you proud."
-
Public Interest Journalism funded by NZ on Air
Share