Sports
What Toa Samoa and the Black Ferns have in common - Polynesians that have inspired the hearts of the world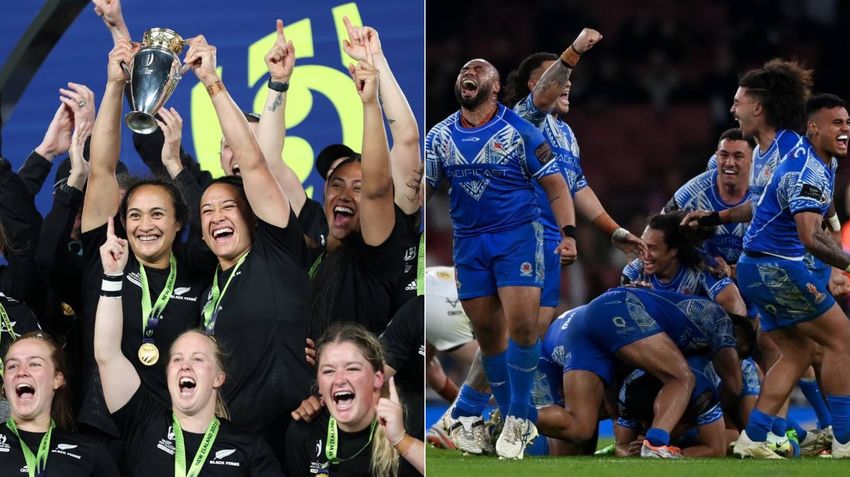 By Samoan sports reporter Loveni Shane Enari
The Black Ferns and Toa Samoa winning last weekend were epic results for this sports mad loco.
Celebrations kicked off in Auckland and among Samoans all over the world.
Are the two events connected? In my mind there's no doubt they are. Here's why.
On the one hand there's the athletic beauty and intelligence of Ruahei Demant, Ruby Tui, Sarah Hirini, Sandra Cocksedge, Stacey Fluhler and Chelsea Bremner to name my favourite Black Ferns, and their inspiring brand of love that's sweeping New Zealand.
And let's be clear about it, it's not women's rugby passion that's selling, it's bigger than that. It's love, baby. It's obvious. It's clear on so many levels.
There's the team itself on the podium, belting out a Samoan song, Pese Fiafia, Happy Song, white girls clapping along in time and singing the lyrics as if brought up on it.
A sign of respect for a minority culture in New Zealand society, but maybe a proportionately majority one in Kiwi rugby.
For those of us brought up on the crass mispronunciation of generations of Pacific Island rugby players' names, thereby unconsciously, but actually consciously, chucking us on the rubbish heap of second class players and citizens, it was something else to witness.
Then there is Ruby Tui. Now there's a taonga if ever there was one.
Nobody, but nobody, has her cockiness, political savvy or charming ability to read and rule a room, or a whole stadium, like she does.
Leading the crowd in a sing along to 'Tutira Mai Nga Iwi' last Saturday, she knew this crowd would not only know the lyrics, but sing along with gusto too.
Not any crowd, though. No siree. This Black Ferns crowd, there to support their wahine toa. Only they could have swung this one.
Your average All Blacks' crowd may have mumbled and mouthed a bit, like when the Maori part of the national anthem is on, then not much.
To see the looks on the faces of the young brownies, and whities, both girls and boys, as they belted it out at the top of their lungs, was to see people owning the moment, really feeling like they belonged, and revelling in the chance to share it.
Then there's one of the coaches, Mr Grumpy himself, Sir Graeme Henry.
He's actually Mr Inclusive personified. Judge him on his mansion in Waiheke and his some time dodgy political affiliations, and you might miss the essence of the guy.
Henry was the first All Black coach to name a player of Samoan heritage as All Black captain. He recognised that not all Pacific Islanders were simply shy, retiring types as painted in the media but were simply uncomfortable in the white is right-run changing rooms. The leadership group was created and names like Umaga, Mealamu and So'oialo became regular members of it.
Listen to Mr Inclusive wax lyrical about the World Champions on TVNZ recently.
'They were brave and they were tenacious. I've just got so much respect.'
'I just can't speak highly enough of what they've achieved.'
'They've got something really special.'
'They've overcome difficult times by being determined and not giving up and it reflects in the way they play the game.'
'They're marvellous people and I just feel very grateful to have been asked to be involved.'
A whole lotta love right there.
So what have all these beautiful and marvellous moments and people have to do with Toa Samoa?
Well, it's obvious isn't it?
It's love again.
Look at some of the Toa players like Josh Papali'i, Jarome Luai, Stephen Crichton, Junior Paulo and Brian To'o, all obvious candidates for both the Kangaroos and the Kiwis and the much bigger bucks earned there, thank you very much.
But they all said no thank you and instead have donned the blue of Samoa in homage to the sacrifices made by their parents and grandparents who did the tough jobs as immigrants to give them a better life.
That's some true blue love right there.
Then there's the loud love of the flag waving Samoans in the streets of southern Auckland, revelling in pride in the giant-killing antics of their rellies and our small nation.
Again, it's a shout out of here I am, and I am. Somebody.
It's great and it's based on love again.
But what's got many Toa supporters has been the love of the previously uninterested Kiwis, so happy to see England brought down a notch maybe, for their fellow Pacific Islanders.
All around Auckland there are palagi who have not cared for rugby league, nor Samoa in any shape or form in the past, who are coming out of the woodwork in support of Toa and Samoa.
They're complaining with a smile about the neighbours chahooing which kept them up all night.
They're talking to work mates they've previously ignored, congratulating them on being Samoan almost and wanting to spread or share in the good buzz doing the rounds.
Maybe it's a consequence of Covid that we're more willing to celebrate life and achievements in general.
It's like the wahine toa and their special brand have somehow spread a magic cloud across Aotearoa which is creating nicer work places, more tolerant drivers and more caring neighbours. At least that's the buzz I'm getting talking to Aucklanders.
If Toa do the business on Saturday, it's going nek level.
Lash kau.
-
Public Interest Journalism funded by NZ on Air
Share