Whats New?
LEKI BOURKE - Performing Arts through the eyes of the Pacific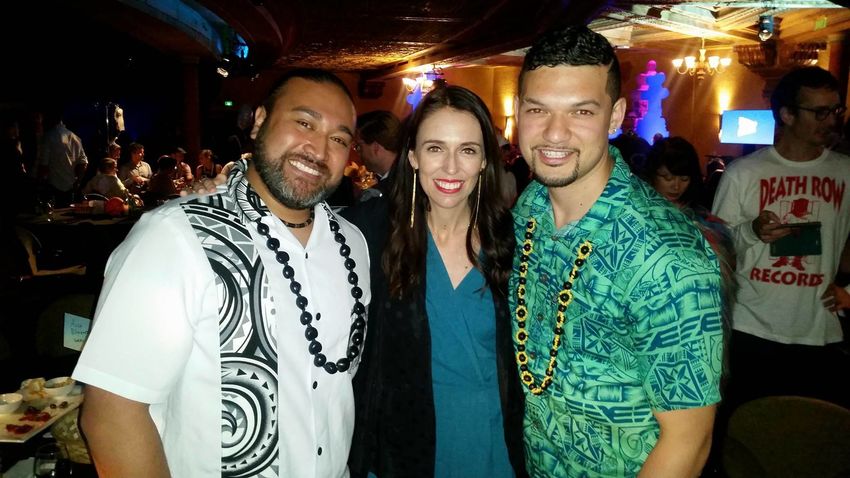 Leki Bourke and the Sau E Siva troupe who wowed audiences with their productions this year, took several moments in the limelight last night as they were presented 3 winning Theatre awards by Prime Minister Jacinda Adern.
.
Behind the smiles and accolades, these students who won the awards over many seasoned mainstream professionals, are still reeling in the bitter aftermath of the doors slamming on P.I.P.A, their home and learning ground for the last 3 years.
.
.
PIPA staff were told not to come to work this week, following the shock announcement that Best Training, the private company that housed the course, had gone into liquidation and could no longer pay the tutors until the end of the year.
.
Most staff and students found out there would be no work or graduation ceremony for them, via a One News piece last Friday.
.
.
30 students are now left in the lurch with where to continue their degrees, for Leki its the worst way to end what has been the home that has grown some extraordinary Pacific talent:
.
"The performing arts and the art of story telling is absolutely crucial for the human soul. Our Pasifika stories are so unique and diverse and we are blessed with the responsibility of ensuring our stories are passed on. I believe it is absolutely important that we find our true authentic self and that we share our Pasifika voice with the world."
.
.
"PIPA has had the biggest influence on me as an artist, as a person and as a son of the Pacific. PIPA helped me to truly find my authentic self, to find my political voice and it gave me two special gifts that I appreciate and hold dearly - a purpose and a vision. When I first came in to PIPA I had no idea what I would get out of it and now I'm an actor, writer, dancer, choreographer, director, producer and a part-time teacher."
.
"One day I will strive to achieve my goal of becoming the best damn drama teacher in the whole wide world, after I steal Nick Afoa's job in the Lion king musical of course! lol. As a Pasifika student, no other institute could offer me what PIPA did and no other learning environment could nurture and stimulate me the way PIPA and it's amazing staff members did."
.
"Our tutors at PIPA always said to us, "If there's no work, make your own work." so that's exactly what we did."
.
.
"My most proud work would have to be Inky Pinky Ponky which I co-wrote with Amanaki Prescott because it was the first full-length script I ever worked on and it gave voice to a minority within the minority. We wrote it straight out of drama school because we didn't have work at the time and even tho we had no formal training as writers we knew we had a story to tell and to share with the community and the world. It's now been published in Little Island Press Talanoa Series making us the youngest published Pasifika playwrights in the country!"
.
"Three years later, the script was picked up by New Zealand's largest theatre company (Auckland Theatre Company), it received the Playmarket NZ award for Best Teenage Script and is now being performed by high school drama departments across New Zealand."
.
"Recently I produced and co-directed a bi-lingual Niuean theatre show called, "MEET THE FAKAS" written by Maree Webster which won an award at the Auckland Theatre Awards and is returning for one final season in December at Mangere Arts Centre."
.
.
"My latest script, "JUST PRING IT" also lead me to win the Creative New Zealand Todd New Writers Bursary Grant. I am the first Pasifika person to win this grant and am absolutely thrilled I was able to do all of this whilst balancing student life."
.
"I am a New Zealand born Pacific Islander of Niuean, Tongan, Samoan and European descent and I grew up in Grey Lynn Auckland before moving to South Auckland Mangere in my teen years. My culture plays a huge role in my work and influences a lot of my decision making."
.
"All of this success is credit to the amazing institute I trained at - PIPA. As cheesy as it sounds, there's really no place like it and with everything PIPA is going through at the moment, I've never ever been prouder!"
.
"The culture and kaupapa of the school is unique and words can not fathom how rich my experience was at PIPA. In such a short period of time, our graduates have burst into the industry and contributed immensely to Pasifika Theatre and the wider Theatre & performing arts community. To hear that our school will now be closed because of the effects of BEST and the decisions of TEC, saddens me greatly. It will truly be a great loss to our Pasifika communities, our arts industry and in the wider sense our NZ society. I wish the TEC took the chance to analyse the success of our programme and our graduates because with PIPA being shut down, there will now be a huge gap in the industry. No matter the outcome, I will carry my PIPA family with me, now and always!"
Share