Whats New?
Makali'i: The Pacific connection to Matariki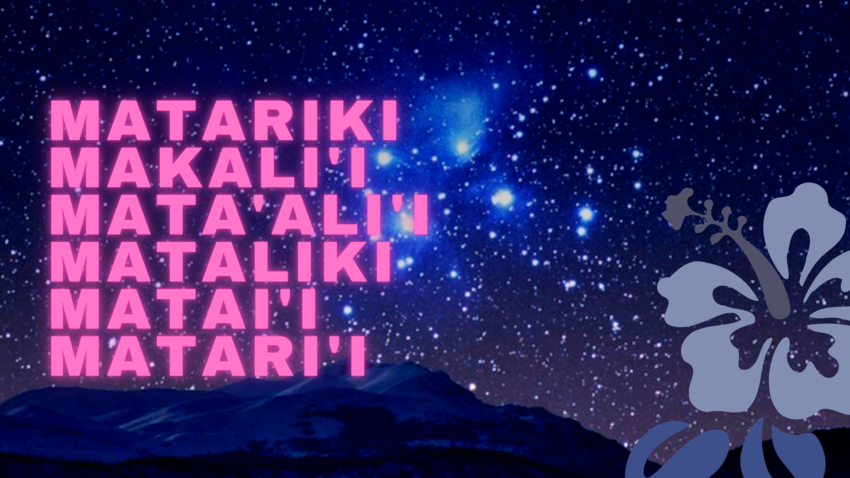 by Mariner Fagaiava-Muller
Māori herald their New Year with the rising of the Matariki star cluster, but it's used too by Pacific Islanders to track time and seasons.
In Hawai'i, the Pleiades star cluster is called Makali'i. It appears at sunset, as opposed to sunrise as Aotearoa sees it.
Whereas Matariki is observed in Aotearoa during June/July, Makali'i in Hawai'i comes about during the latter end of the year around October.
Kamehameha Schools tells the traditional mo'olelo (story) about how the name came to be.
"It begins with the evil deeds of an aliʻi of Kona on the island of Hawaiʻi. He greedily decides to hoard everyone's food into one enormous carrying net and travels with it to the highest stratum of the heavens, where he hangs it up."
"Meanwhile, the ravenous people hastily gather to plan a way to get their food back. A little mouse bravely consents to take on the arduous task. He successfully gnaws on the net until the food drops to the earth. Thus, the constellation takes the name Makaliʻi, the aliʻi who hung the net of food in the stars."
Makali'i is a symbol of the ancient Hawai'ian harvest known as 'Makahiki'; sacrifices were offered up to Lono, the god of fertility and agriculture.
Makahiki meaning 'year', was a time when war was banned so the people and land could rest.
Makali'i - Hawai'i
Mata'ali'i - Samoa
Matariki - Cook Islands
Matari'i - Tahiti
Mataiki/Matai'i - The Marquesas Islands
Mataliki - Tonga, Niue, Tokelau, Tuvalu, Wallis and Futuna
Anthropologist Tēvita Ka'ili explains the relevance of Mataliki to ancient Tongan navigators.
"The rising of Mataliki (Pleiades) and the Laʻā (Sun) on Tele-ki-Tokelau (Tropic of Cancer) marked the beginning of the Tongan Kātoanga ʻInasi, Tribute Festival, to Hikuleʻo, the highest ranking Tongan deity."
"In Tongan cosmogony, Hikuleʻo is the elder sibling of Tangaloa and Maui, and Hikuleʻo has the dual nature of female and male, life and death, and the guardian of water and fire. Hoa, duality, is a fundamental character of Hikuleʻo."
Before sunrise NZT on Friday 24th July will be the best time to spot Makali'i.
It's expected to remain visible for around eight days, and again during the summer months.
Here's how you can spot it:
Look east and find three stars in a row, known as Orion's Belt or 'Tautoru' in te reo Māori.
Trace a line northwards from Tautorun to the triangular-shaped star cluster Te Kokotā.
Look further left and you'll find Matariki.
While the Pacific celebrates Matariki at varying times, at this time we join our Māori cousins knowing the shared past of our ancestral navigators, stargazers and voyagers.
Mānawatia a Matariki! Celebrating Matariki/Matali'i/Matari'i/Makali'i/Mataliki/Mata'iki.
–
Public Interest Journalism funded through NZ On Air
Share