Whats New?
PASIFIKA MADE GIFT IDEAS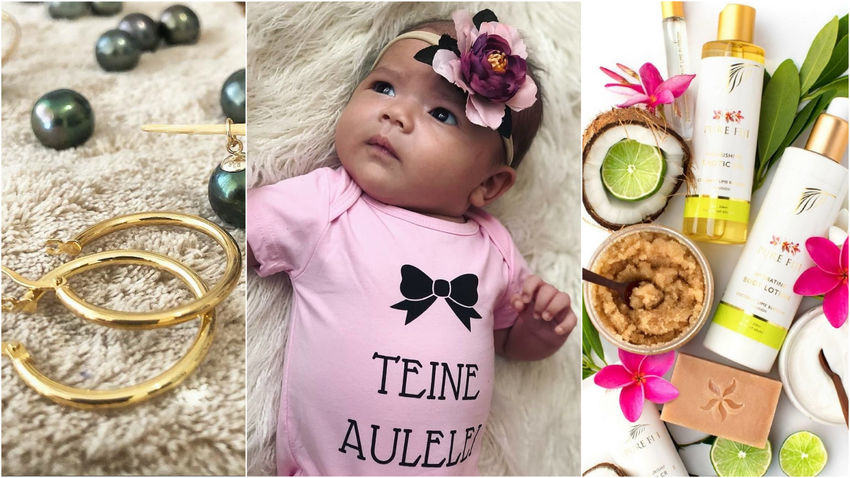 We've put together a list of Pacific Island owned or made products that would make fantastic gifts or presents for friends, family and loved ones for any occasion.
.
ARTS & CRAFTS
RISE BEYOND THE REEF
A homegrown value and supply chain in partnership with rural remote women and their communities in Fiji.
Viti Levu artisans from Ba, Ra, Macuata, Nairai and Bua use traditional knowledge and natural materials to handcraft beautiful mats, bags, gift sets, earrings, home decor, dolls and more.
They have just recently made Gift Cards available on their site too.
Follow them on Facebook here and shop online via their website here
.
LEIDA TAPU CREATIONS
All-natural, genuine products handcrafted from the finest quality lito (young coconut leaves) and shells from Penrhyn in the Cook Islands.
If you're in Rarotonga, stop in at the Rongohiva hut in Avatiu or email rongohiva@yahoo.com for enquiries.
.
KOKO & KI
Koko & Ki is a contemporary Samoan & South Pacific inspired art & design line. They design modern stationery & lifestyle products that express their Pasifika cultural identity, language and lifestyle. Check out more of their work here.
They have digital downloadable prints in store and a downloadable calendar dropping soon.
NB: They're based in Australia but have online gift cards available for people outside Oz.
Shop on their website here and follow them on Facebook here
.
TAMĀ - PACIFIC SCRIPTURE WORD ART
Framed prints of a scripture or The Lords Prayer which is very popular in your language of heritage eg Samoan, Tongan, Niuean.
.
JEWELLERY
DANIKA COOPER JEWELLERY
Danika Cooper and Tumua Tuifao started Danika Cooper Jewellery in 2017, after being faced with a common dilemma ... 'One size does NOT fit all'
Danika Cooper Jewellery has a diverse range of low, mid range and fine line jewellery. Their styles are heavily influenced by the Pacific and Polynesian cultures; and they strive to offer luxury styles at affordable prices.
They're located in Auckland, New Zealand & you can check out their range plus
shop online here
They have retail stockists in both New Zealand in Samoa if you prefer to walk in at Sei Oriana Gift Shop in Mangere and Plantation House in Samoa.
.
AOLELE CREATIVE EARRINGS & BROOCHES
Handmade Pacific earrings and brooches by Leone Tui worked from bright, bold polymer clays. She started out making them for herself and was originally an after-hours creative outlet during maternity leave. Her grandmother liked them so much she became Leone's first proper customer and seeing that she's the woman beind Plantation House in Samoa, Leone trusted her creative feedback.
You can order online via the
Aolele Creative Facebook page
or Measina Samoa (Australian based) and the following retail outlets stock a selection of the designs: Texas Art Schools in Newmarket & Sylvia Park, Buana Satu & Maia Ink in Papakura, Plantation House in Samoa and Karanga Ink on K-Road in Auckland.
.
MOANA GEMS PEARL & ART GALLERY
Cook Islands pearls are their specialty however, if you're looking for something deeply connected to true polynesian art/culture/tradition - their exclusive ti'a Mangaia range, handcarved basalt volcanic rock pendants, created on the island of Mangaia are most definitely a most UNIQUE Polynesian/Cook Islands/Mangaian gift.
Located in the Cook Islands you can check their range out on Facebook here & shop online here
.
TALIA DESIGN JEWELLERY
Talia Design Jewellery has grown from a collection of work orginally created for a group exhibition with local Manurewa art collective, Manarewa.
Talia has drawn inspiration from patterns in nature and the environment. Her contemporary designs are grounded in her dual identity as Samoan & Pakeha and her childrens' Māori heritage, marrying rich symbology with precious metals. Her pieces celebrate the inherent power and worth of women.
Talia is based in Auckland and you can order & shop online via her website here
.
KOLOA JEWELLERY
Koloa Jewellery is the reimaging of traditional Pacific craft works into jewellery. They believe making them wearable makes them more accessible to a broader audience. It also showcases the skill, artistry and creativity required to make these beautiful pieces of art. They hope that this way of acknowledging the skill of the women who create these pieces of art helps Pacific people see the skill of their elders.
Koloa Jewellery is based in Auckland but you can order & shop online via website here - they ship around the world.
Follow them on Facebook here and Instagram here
.
ISLAND CLOTHING
There's always the tried & true well known labels like MENA, TAV Pacific, Tanoa & Eveni that have their own stores and stockists both here and in the islands. You can check out more of our Pacific Island Designers here and here but there are also young emerging Pacific designers if you wanted to buy sumthin new new.
LAYPLAN are only on Instagram ( a collaborative project between Lavinia Ilolahia and Talia Betham) and hand make to order if you hit them up on the Gram. They also have pop up stalls now and then at different markets.
Papa Clothing - each garment is made to order by hand, by designer Keva Rands or friends across Auckland City. Pacific-run, made-to-order clothing label with a focus on natural materials and sustainability. Follow them on IG here
Hunting Ground - a handpicked collection of new and pre owned pieces owned & run by sisters Tina & Sian Kolose. They specialise in casuals, one offs, luxury designer and high end street wear. Follow them on IG here order online here or visit them instore at 59 Nuffield Street, Newmarket.
.
ISLAND PEPE - PASIFIKA BABY APPAREL
Modern, trendy and Pasifika-inspired baby apparel which are truly one-of-a-kind and perfect for your little ones!
The Masoe & Valikoula families are the co-founders of Island Pepe and their goal is to help inspire our children, and parents alike, to preserve the language/culture of our ancestors and share it with the world!
Keep an eye on their Facebook page here to see which retailers are stocking them in NZ or you can buy online on their website here
.
SUP2 CLOTHING
Your favourite NZ athletes favourite NZ clothing line offering tees for men, women, kids & babies.
You can check out Uncle Wax' full range at Victoria Park Markets (Shop 34) & on Facebook or order online here.
.
INK/TATAU/TATTOO VOUCHER
Samoan owned and run Cain Tattoo Studio also have Gift vouchers you can purchase for friends and family who may be looking to get ink done over the festive season.
Brothers Toma and Marcus Amosa own the studio in Avondale altho Toma runs the day to day business and is the most senior tattoo artist there along with other staff.
Buy a gift card off their website here
.
SKINCARE & NATURAL OILS
At one point there was only Pure Fiji & Tahitian Mono'i but over the last few years we've seen new skincare & natural oil products emerge.
Here are a few that have caught our attention ...
.
MISILUKI NATURAL ORGANIC SKINCARE
The Misiluki range produces its own ethically sourced coconut oil that focuses on farmer centric entrepreneurship.
Misiluki also has a range of six natural skincare products: Demure Face Oil, Serene Face Serum, Cherish Day Cream, Timeless lip Balm, Brilliant Eye Cream and the Vivacious Foaming Cleanser.
Shop here online or they're also available at the Duty Free store in Samoa.
.
RITO COOK ISLANDS
Rito Skincare utilises local ingredients – cold pressed, virgin coconut oil which is produced in Tikioki, Titikaveka for their whole skincare range. They also do shampoo, conditioner and coconut oils for cooking.
To purchase any of the Rito Cook Islands products check them out at Hut #46 Punanga Nui Markets Saturday Mornings 8:00 am - 12:00 Noon in Rarotonga & If you're in Auckland, NZ you can purchase from Maraetai Day Spa, Maraetai Beach. Their Facebook page also lists other retailers that stock Rito
.
MAILELANI
Skincare and natural beauty products from Samoa made from cold pressed coconut oil including lip balm, soaps, oils, lotions, cleansers, facial scrubs, body scrubs and more.
Mailelani are located on the Cross Island Road (Apia side) in Samoa - look out for the sign and in Auckland, Sei Oriana gift store in Mangere stock a range of their product as well as a wide selection of gifts and authentic Samoan products - Books, Jewellery, Clothing, Gifts and more.
You can also order online via their website here or their Facebook page which has a list of their retailers.
.
And not forgetting Pure Fiji & Tiki Tiare Mono'i Oil.
If you can't get to either Fiji or Tahiti in a hurry, Pure Fiji has a list of NZ stockists here & you can order Mono'i online here.
ONE STOP SHOPS -
PACIFIC JEWELL
A family-run business led by husband and wife team Taua Paul and Vivienne Phillips in Apia, Samoa. One of their main goals is to promote a unique brand of 'Made in Samoa' products and support local communities, hence almost all of their creations including handicrafts, clothing & fabrics are lovingly hand-made in Samoa.
Shop online here & follow them on Facebook and Instagram
.
SEI ORIANA GIFT SHOP
Located next to the Fale Samoa and across the road from the Mangere Town Centre in Auckland. They have a great selection of books, clothes, Havaiana jandals, skin care products, jewellery and more made & owned by Pasifika peeps.
Share