Whats New?
SHOP PASIFIKA - WHERE TO ORDER UNIQUE PACIFIC GIFTS THIS XMAS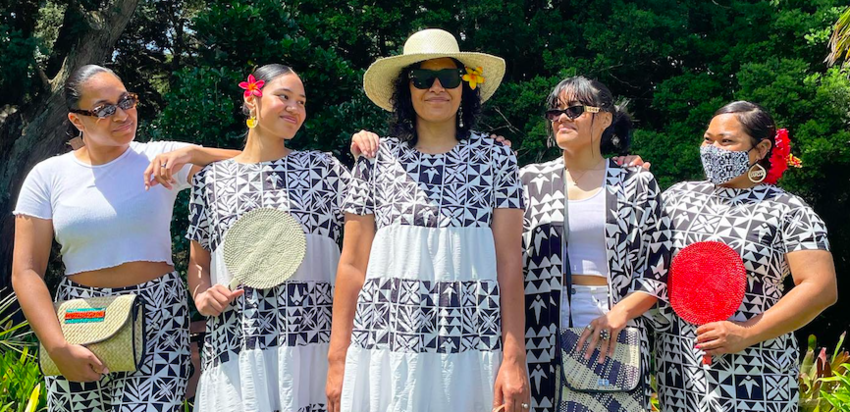 By Taualofa Totu'a
DRESS TO IMPRESS
It's Xmas Party Season! Whether it's a chill BBQ at the park or a fancy restaurant work dinner, here are some cool options to help you end this hectic year of change with a colourful bang. Shop Panikeke's latest vibrant Kollection with Panikeke's Kloset or support local Moana designer's with specially made clothing you'll want to keep forever.
MOANA PATTERNS
DRESS TO IMPRESS WITH PANIKEKE'S LATEST
Who: Panikeke Kloset
For beautiful prints look no further than Panikeke's brand new Kamata Kollection available now. Sizes are inclusive and there are a range of styles to choose from, so you'll be able to dress your whole family for those Xmas pics. Perfect for summer, this small business also has the colourful dresses from their Lady Love Kollection still available and for you and your sistas. Check out all their collections and their accessories too for this year's party season.
See more of the Panikeke Kloset on their website here.
NEW SEKI STYLES AVAILABLE NOW!
Who: Loriana's
Loriana's dresses are uniquely hand printed and sewn in Samoa by their team at Loriana's Samoa. Operating online and based in Auckland, Aotearoa, Loriana's can ship worldwide and offers clothing, accessories, gift sets and more! Custom orders are also still available for Xmas!
Check out what's on offer via their website here or book a spot at their Pop Up Shop this weekend: Saturday 11th & Sunday 12th Dec from 10am-5pm in Papatoetoe via their Instagram @lorianasnz.
QUALITY SIZE-INCLUSIVE SHIRTS FOR THE MENS
Who: Tanoa
Tanoa's formal pieces are perfect for workwear, Church or occasions. They come in various colours and more importantly, sizes are inclusive for anyone and all ages. It's rare to find good quality clothing and we recommend buying from Tanoa when spoiling the men in your life (or men you can treat yourselves this Xmas) to the well-made colourful shirts on offer! From S to 6XL, Tanoa's stock is thoughtfully generous. The brand is based in Onehunga, Auckland!
Be quick to order the Men's Shirts on the Tanoa website.
CHECK OUT NEW BULA COLLECTION
Who: Samson Lee Fiji
Samson Lee launched his fashion label "Samson Lee Fiji" in 2015. His creations are inspired by the rich melting pot of traditional motifs across the Fijian cultural landscape and marine life. From formal wear to men's shirts to gorgeous dress silhouettes, this label has all your Xmas party wear ready for you to select. Based in Fiji, you can make orders by contacting the brand on their Facebook & Instagram.
Explore the Samson Lee Fiji collections here.
THE PACIFIC'S ORIGINAL HOUSE OF FASHION
Who: MENA Clothing by Agnes, Jackie, Gina & Charlene Loheni
The four sisters each have their own individual styles that they bring to their collections, but something that they all agree on is that fashion should be 'adventurous, fun and feminine'.
Their vision has always been to take their slice of paradise to the rest of the world. Expert makers in Polynesian inspired contemporary wear, this brand continues to offer a wide range of clothing and accessories.
From Evening dresses, Cocktail dresses, Separates, the Traditional Puletasi and Menswear, shop on their website here.
STATEMENT TEES
SANTA IS MY SUKA TETI TEES
Who: Etsy Seller LiaMoLinePasifika
Purchase these seki shirts on Etsy today. With raving reviews, this Pasifika Etsy seller is popular and comes recommended from multiple buyers.
Colours available: Red, Green, White and Black
Sizing: up to 5XL.
Double check for shipping dates and prices here.
SAMOAN FIGHTER
Who: Unapologetic designed by @artbyezra
The Samoan Fighter art printed on these tees pay homage to some of our pioneering fighters that have paved the way for all Polynesians.
Colours available: White and Black
Sizing: Adult up to 5XL, Youth from sizes 8-16
Check out the Samoan Fighter Tees here.
LIVEABLE INCOMES FOR ALL
Who: Moana Fresh
100% of proceeds of these awesome shirts designed by Emily Parr will go to the kaupapa that is Auckland Action Against Poverty. It is a direct action, advocacy and education group mobilizing against the neoliberal agenda on jobs, welfare and poverty. To find out more about the awesome and important work the do and to check out their website here:
Colours available: Black
Sizing: Sizes S-4XL are screen printed in mid-weight 'staple' style. Size 7XL is screen printed on heavy-weight 'loafer' style
Purchase the tees here. Follow @moanafresh on IG.
CUSTOM MADE
PAPUA NEW GUINEA INSPIRED MADE TO ORDER CLOTHING
Who: Lumai Label by Dru Douglas
Drawing inspirations from Papua New Guinea and Western dress codes, the outcomes of Lumai Label are stunning - quirky, modern and sophisticated silhouettes. Founded and created by Papua New Guinea born talent Dru Douglas, Lumai is an innovative women's made-to-order brand. It is based in Auckland, Aotearoa Featured as part of @moanacurrents New Zealand Fashion Musuem's Exhibition curated by Dan Ahwa, Lumai has sparked a need for storytelling through ethical fashion. Focusing on limiting waste, Lumai also collaborates with women's artisan collectives and initiatives in the Pacific that empower women and help make their voices heard.
Explore this incredible brand and shop at it's website here
Follow the designer on Instagram here: @lumailabel and @drudgls
NEW SWIM COLLECTION BY POWER DUO
Who: ​Layplan by Lavinia Illohaia and Talia Soloa
Layplan are a household name amongst many Pasifika these days, making a name for their brand through their unique prints and eye-catching silhouettes. Tongan Lavinia and Samoan Talia were friends before designers, and it wasn't long before their skillfully made pieces were featured on fashion magazines and runways. Their crew necks have been a popular purchase, selling out in minutes after going online every time. Read about their new Swim collection below from their website:
Easy essentials Swim celebrates our love for slow days and warm nights. Bright pinks and yellows alongside the cool baby blue and purples, this colour story provides your paired back staples without losing the spirit of Summer.
Buy the new collection here. Follow on Instagram @layplan
PAPA SPORT AND PRE ORDERS AVAILABLE NOW
Who: Papa Clothing by Keva Rands
Read about this excellent brand from their website below:
The relationship between garment and maker is fundamental to Papa and to its customers. The diversity of the Papa customer base across age, size, gender and culture reflects the inclusivity that underpins Papa designs. Inclusivity to us means amplifying the beauty of those that are often marginalised by the fashion industry, especially those within the queer and Pasifika communities that the Papa brand has roots in.
Everything is made from 100% natural fibres; Linens, Cottons, Wools and Silks meaning garments can break down organically at the end of their lifecycle. The range of hoodies and tees referred to as Papa Sport are offered as a lower price point option for a more casual feel. All clothing is designed and made in Aotearoa.
Buy from Papa Clothing here. Follow on Instagram @papa__clothing.
LATEST DROP FROM INFAMY: DECOLONISE YOUR BODY BELT
Who: Infamy Apparel by Amy Lautogo
From Infamy Apparel's website:
Infamy Apparel was started by Designer Amy Lautogo in 2019. The brand is dedicated to fat advocacy through fashion. Having lived a fat life but also loving fashion she decided to make a life change and learn to sew/pattern make in her thirties. These belts are proudly made in Aotearoa, made of polyester webbing with a polyester ribbon attached. The ribbon has high quality sublimation printing including both colour and text. Each belt comes with a utility clip which is anchored at one end and adjustable on the other end.
This belt is truly one size fits all and can be worn multiple ways!! With a range of colours to choose from, support local today.
Learn more about Fat Fashion on their Instagram @infamyapparel and their website. Purchase the amazing belts here.
THRIFT AND SECOND-CHANCE CLOTHING
ONLINE MARKET OFFERS TREASURES
Who: Our Little Market
Our Little Market's is a new venture but we love who they are and what they are about already! This market is based in Auckland, Aotearoa and is championing small businesses, sourcing products from a wide range of makers in the community. Stock is limited but be sure to visit their Instagram for regular updates @ourlittlemarket_nz. From jewelry to candles with fruity flavors this market aims to help curious customers find treasures.
We love their Second Chance Clothing range. If you're looking to shop ethically with little harm to the environment and improve your clothing waste look no further! - "Lots of linen and great summer styles. Cut samples are mended by Kuldip in South Auckland, and embroidered by Doug in his little studio in Central Auckland."
Buy Second Chance at their website here.
CASUALS, ONE OFFS, LUXURY DESIGNER AND HIGH END STREETWEAR
Who: Hunting Ground Store by Sian and Tina Kolose
Owned and Operated in Aotearoa, Sian and Tina Kolose are the power sister duo behind Hunting Ground Store located in Auckland's Newmarket. Specializing in handpicked new and pre-owned pieces, this business are experts at bringing the goods to thrift heads and vintage fanatics. The brand also has it's very own line "Chopped and Screwed" - giving items a second wind through design.
To join their village and to purchase the unique pieces, head to their website here. Follow their Instagram @huntinggroundstore
Share