Whats New?
Tautai: Sāmoa, World History, and the Life of Ta'isi O. F. Nelson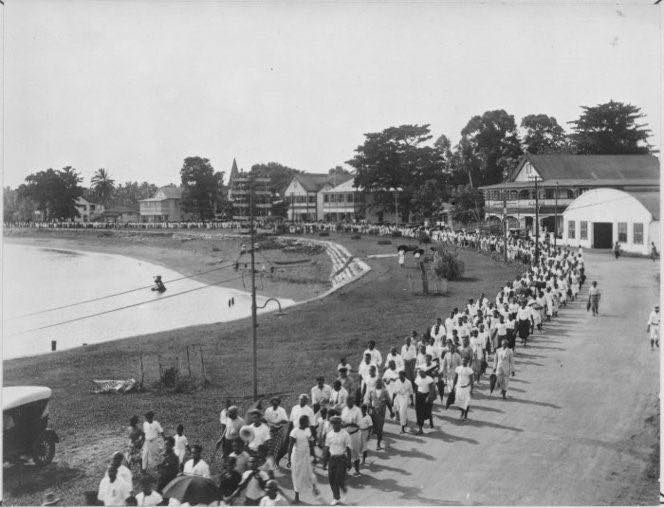 'We are what we remember, the self is a trick of memory . . . history is the remembered tightrope that stretches across the abyss of all that we have forgotten'
Maualaivao Albert Wendt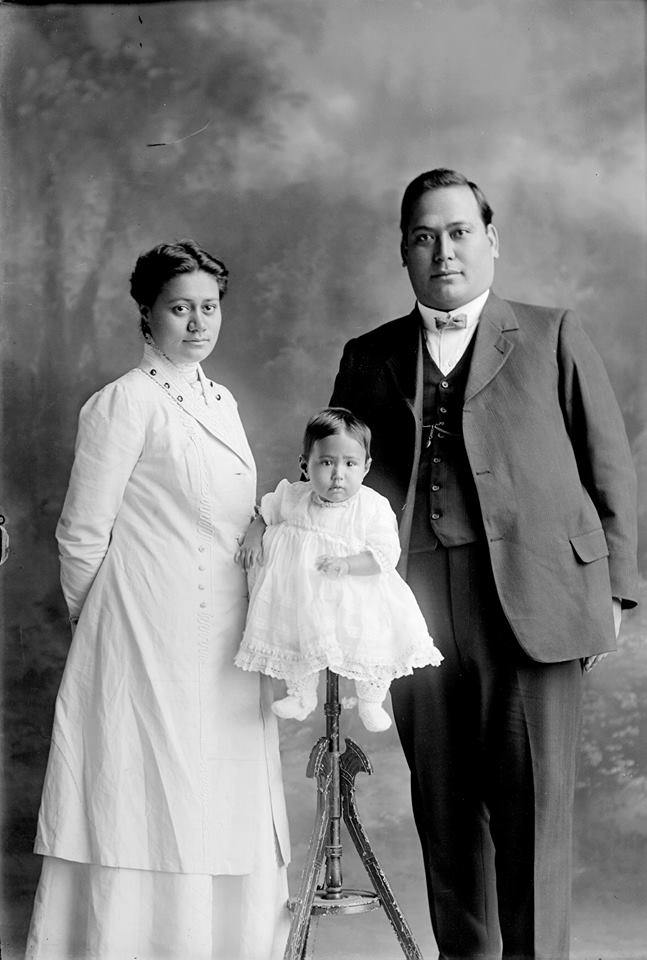 'Ta'isi O.F.Nelson, Political Campaigner & Statesman'
Credit: Sir George Grey Special Collections, Auckland Libraries, 31-66440. Photographer, H.J. Schmidt, article from The Museum of Sāmoa. Photos courtesy of Tony Brunt via the Museum of Samoa
.
Ta'isi Olaf Frederick Nelson (24 February 1883 - 28 February 1944) was a successful businessman, scholar, and the leader of the Mau movement in the 1920's and 1930's. Despite a firm position against violent protest of any kind Ta'isi was banished for two long stints, spending more than seven and a half years of forced residency in New Zealand without the right of return to attend to family or business matters. He was absent from Samoa during the shootings in Apia on 'Black Saturday' 28 December, 1929.
Ta'isi is shown in this photo from 1911 with his wife Rosabel Edith (nee Moors), later Filoi Samoana Ta'isi, and baby daughter Noue Irene Gustava Nelson (later wife of Samoa's first co-Head of State, Tupua Tamasese Mea'ole).
Ta'isi was born and raised at Safune, on Savai'i, the son of Swedish trader, August Nilspeter Nelson and his wife Sina Masoe. Ta'isi became one of Samoa's most successful businessmen as well as a highly popular leader. However, the grim era in which Ta'isi lived left indelible marks of tragedy on his life. In the influenza epidemic of late 1918 Mr Nelson lost his mother, sister, only brother and sister-in-law in the space of six days. In September 1919 his only son, August, also died of influenza. His long years of banishment from Samoa also severely damaged his trading business.
.
The Book Launch
The words of the Pacific's most well-known author, Maualaivao Albert Wendt, echo around a packed Malaeola Community Centre in Mangere, Auckland, Aotearoa, to celebrate the launching of the book 'Tautai: Sāmoa, World History, and the Life of Ta'isi O. F. Nelson' by Patricia O'Brien, run by the Gaualofa Foundation.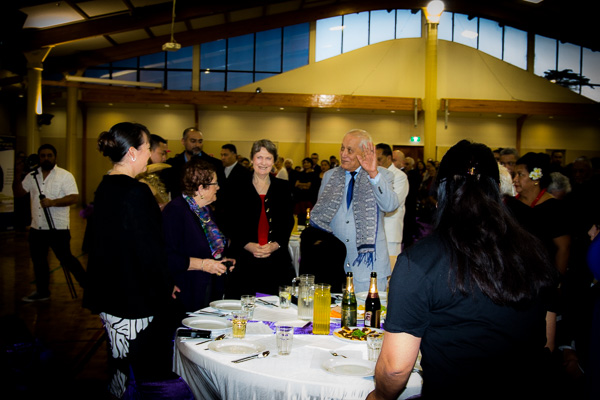 Photo by Talanoa Films: The arrival of Tuiatua Tupua Tamasese Ta'isi Efi at Malaeola (centre besides former NZ Prime Minister Helen Clark)
The opening address on the night is given by former head of state and former Prime Minister of Sāmoa Tuiatua Tupua Tamasese Efi.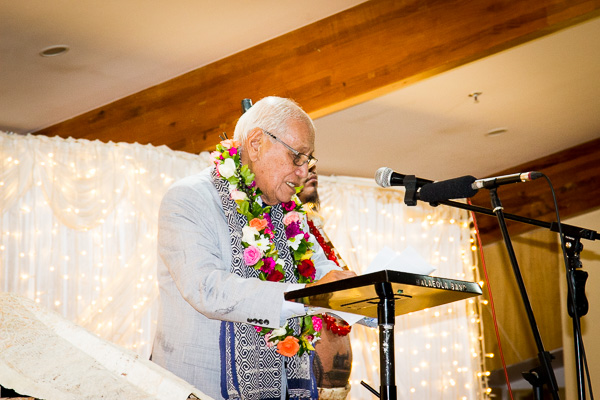 Photo by Talanoa Films: Tuiatua speaks in reference to words spoken by Sāmoan historian Meleisea Dr Malama Meleisea at the Sāmoan launch of the book one week prior.
"The writing of Sāmoan history is not easy...it requires a lot of resources and the availability of highly-skilled and dedicated scholars like Patricia...given the highly political nature of Sāmoan history, historians must have sensitivity to the multiple levels of story involved. For me this means the ability to discern truth from fiction to provide a transparency of methodology and commitment to the relational aspect of story. For the children of Ta'isi this book at long last has brought some peace, as acknowledged by Meleisea, the significance of Ta'isi's contribution to the Mau movement to Sāmoa's fight for independence has not, until this book, been properly told."
"I am the eldest male grandchild of Ta'isi Olaf Nelson. At nine-months I was weened off my mother and taken, as per Sāmoan custom, to live with him and be raised by him...This book is a book of redemption and hope. It offers redemption for the pains caused by the unfair silence that surrounded the truth of the Mau. It ooffershope to the young that it is possible to do good, sensitive, well-researched, nuanced and balanced Sāmoan history."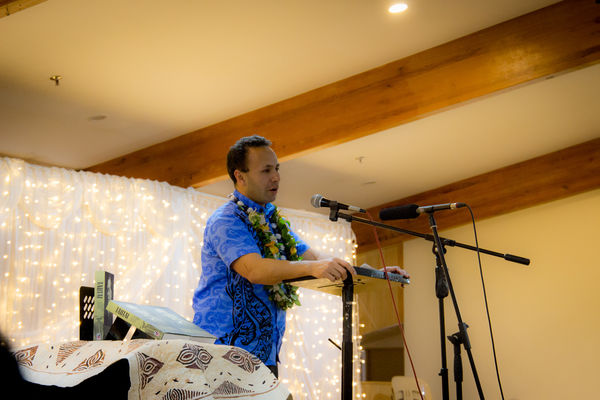 Photo by Talanoa Films: Toeolesuluslu Damon Salesa
The audience applauses Toeolesuluslu Damon Salesa (Associate Professor of Pacific Studies, University of Auckland) as he talks about the importance of this book reflecting on the six-year journey Patricia O'Brien has walked in the writing of the book...
"It's a tightrope that's difficult to walk...the balance, the endurance of walking the tightrope across the abyss, I have to just celebrate what she (Patricia O'Brien) has achieved." - Toeolesulusulu Damon Salesa,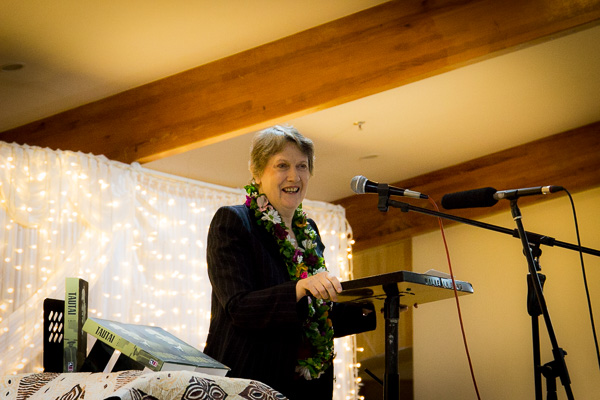 Photo by Talanoa Films: Former Aotearoa Prime Minister Helen Clark (ONZ PC) spoke of redemption and reflection on terrible incidents as part of New Zealand's colonial rule in Sāmoa:
"I express sorrow and regret for those injustices. I identify in particular the decision of the colonial authorities to permit the vessel the Talune carrying passengers with influenza to dock in Apia in 1918 [7 November]. The resulting death toll is judged to be one of the worst epidemics ever recorded in the world killing 22 percent of the population [some estimate up to 30%]." - Helen Clark.
The Nineteen-Twenties in Sāmoa saw much turmoil in its political landscape as a New Zealand colonial administration consolidated its base there. The independence movement, The Mau, was at the forefront of grass-roots resistance and Sāmoan aspirations for self-autonomy (governing themselves). It is behind the Mau where Ta'isi Olaf Frederick Nelson stood, providing major financial support and leading a non-violent campaign seeking freedoms for the Sāmoan people. The Mau is most well-known for the events surrounding Black Saturday in December 1929. Clark continues...
"I identify the shootings of the non-violent protestors by the New Zealand police in Apia on that Black Saturday [28th December, 1929], in which Tupua Tamasese [Lealofi III] was one of those who suffered mortal injuries. And, I identify the banishment of Samoan leaders from their country and the stripping of chiefly titles some of which were never regained. All those events impacted on the life of Ta'isi Nelson – the loss of close family in the flu pandemic, the loss of friends and colleagues in the Black Saturday massacre and the banishment from Sāmoa. Patricia O'Brien had done a remarkable job in bringing out the background to and the context of these events. I learnt a lot more by reading this book and I was very moved by it." - Helen Clark.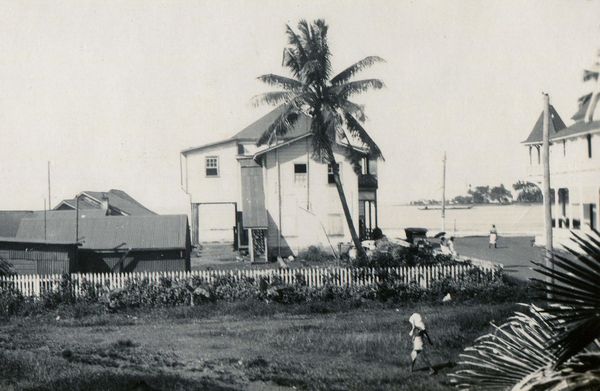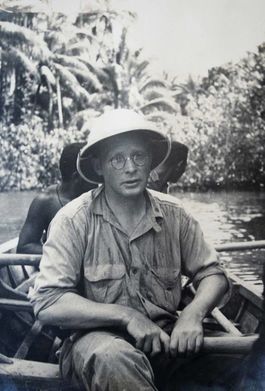 'Black Saturday' Vantage Point 1929 - Photo credits: Street scene, Hufnagel-Betham Family Collection; Father Deihl photo, Agnes Sasse Heeney Collection, article from The Museum of Sāmoa. Photos courtesy of Tony Brunt via the Museum of Samoa
This 'street scene' photo, sourced from a family collection in Auckland, shows the view from the Apia police station balcony to the Court House corner on the right where Tupua Tamasese Lealofi III was fatally shot on 'Black Saturday,' 28 December 1929. The image appears to date from about the time of the incident.
That day a peaceful march by Mau members spun out of control after arrests were made by a group of armed New Zealand Administration police. In the subsequent melee nine Samoans and one policeman were killed. Most deaths occurred when three policemen opened fire from the police station balcony with rifles and a machine gun.
Tupua Tamasese Lealofi III, who had been calling for calm and a stop to the fighting, was shot as he stood at the intersection of Beach Rd and Ifi Ifi Rd about where the man in the distance is standing. Probably the policemen could not hear that he was trying to calm things down. Several people who ran to his aid were also gunned down from the police station.
Eye witnesses in the Hellesoe-Sasse bakery and shop in the centre of the photo, reported later that Catholic priest, Father Joseph Deihl, (also pictured) had stopped the police fire that day. He had heard the shooting from Mulivai then drove his car to the scene and squeezed it down down the lane on the left of the shop. Father Deihl (pronounced 'Deal') reportedly jumped out of the vehicle and ran to the fence, waving his arms at the police shooters and yelling for them to stop, brave actions which proved successful.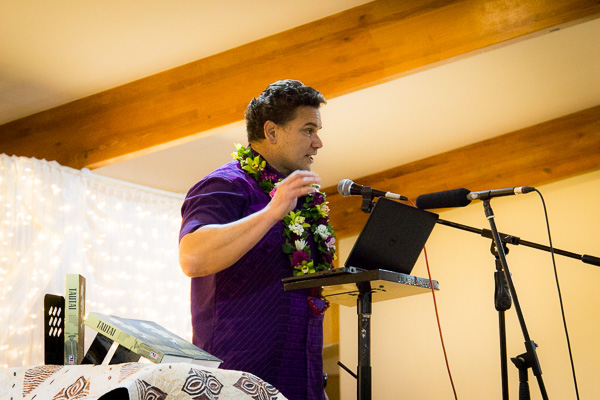 Photo by Talanoa Films: Legendary All Black and former Manu Samoa coach La'auli Sir Michael Jones also spoke on the night of the launch.
"Now that I've read the book...my level of understanding and insight has been enriched and I found that it has spoken to me personally in a number of meaningful ways and for this I am most grateful. Not only was I reading the book through the lens of a proud Sāmoan, I was also reading the book through the lens and thus the interpretations and meanings of a proud New Zealander...subsequently I had the feelings of embarrassment, guilt and even shame. The personal connection to Ta'isi only intensified these emotions."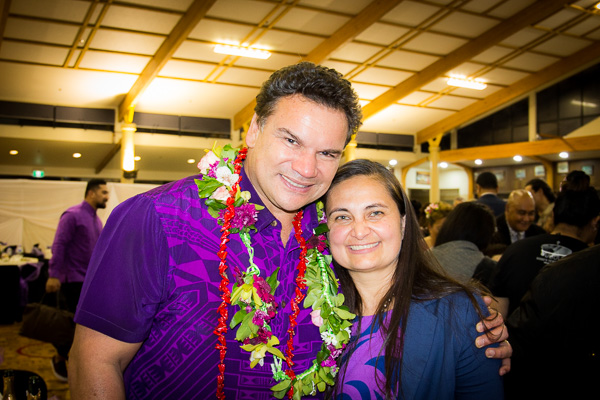 Photo by Talanoa Films: Jones' wife Maliena is the great-grandchild of Ta'isi Nelson. She conveys the pride felt from the point of view of family connection and also of being Sāmoan.
"It gives us an insight into a part of our family that growing up we didn't know in-depth about...from a family point of view you can't help but be moved in many different ways. Being from Samoa, I think that any Samoan will connect to know how proud we are as a nation to be able to accomplish great things. I'd like to think whether you are in New Zealand, in Samoa, where ever you are that as a Pacific people we would really embrace that and what ever challenges we have that we know what our heritage is and what we're capable of."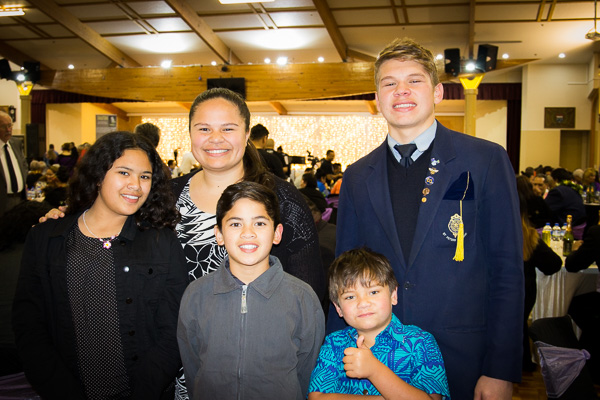 Photo by Talanoa Films: Jaynelle Kake, Tiare Jones, Brody Kake, Levi Jones, Niko Jones
The Jones' children have also taken to reading the book and opened the door to a past they didn't previously know much about.
"I feel really empowered and honoured to have this chance to learn more not only about our family history but also the history of Sāmoa. I think this book could help others in understanding what it took for our country to get to independence and it really helps us to understand our identity especially living in New Zealand." - Tiare Maina Jones
"I think that even for non-Sāmoan people looking to find a story about overcoming difficulties this could be helpful for them." - Niko Jones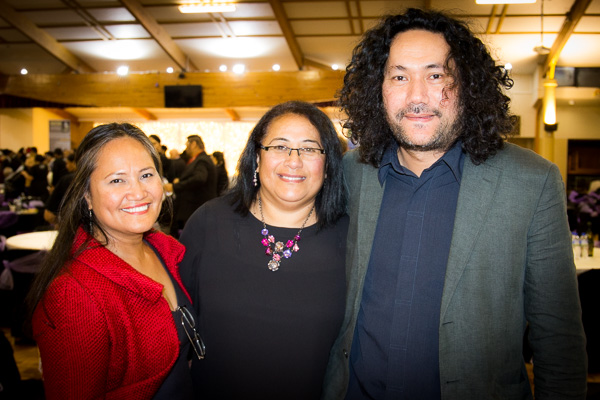 Photo by Talanoa Films: Lauitiiti Maiai-Fuehring (left) with cousin Tusi Tamasese also a direct descendent - and friend (centre)
Lauiti'iti Maiai-Fuehring another Great-Great-Grand-Daughter of Ta'isi reiterates the feeling of family pride and the hope that others will gain from accessing this history.
"We feel very privileged to be here and we feel very honoured that we're able to celebrate his life story and look forward to his legacy and the history of Sāmoa being known hopefully not only in Sāmoa but also outside of Sāmoa."
Helen Clark agrees with the story being accessible to people outside of Sāmoa and even being relatable on the silver screen.
"Sadly the treatment of which Ta'isi and others who were advocating justice and independence for Sāmoa...has many parallels in other countries which were subjected to colonial rule. Patricia O'Brien very helpfully places this story in its global contexts. I think the story of Ta'isi Nelson and the Mau need to be much more widely known. So, it's important that the truth comes out. Without question I think there is a very powerful film which could be based on this book." - Helen Clark.
"Sāmoa today is a proud and independent nation. As it celebrates its independence each year it is so important that the contribution of those who have laid down their lives and those many others who were subjected to brutal and arbitrary treatment is remembered. Today's youth stand on the shoulder's of those giants." - Helen Clark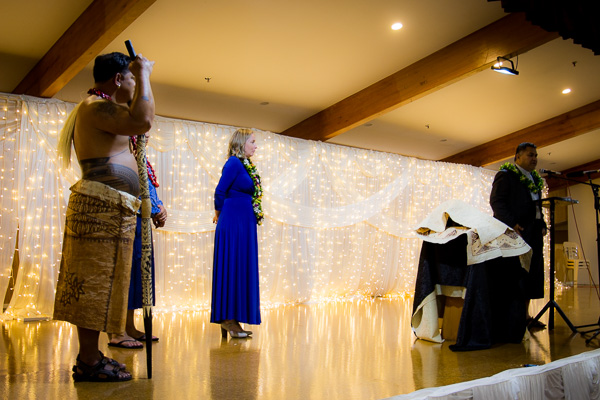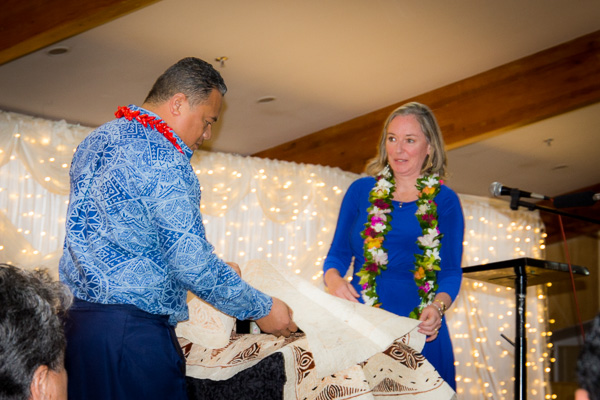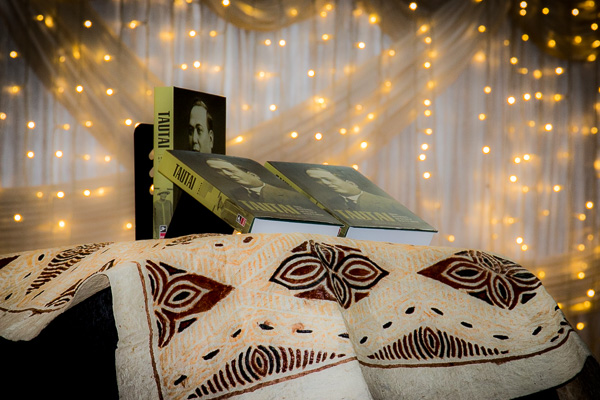 Photos by Talanoa Films: Patricia O'Brien unveils her book, featured Tuala Tagaloa Tusani also unveiling
Patricia gives the last words - "I really want this book and Ta'isi's story to inspire young people, young Sāmoans, in all facets of their lives but I really want them to take up the history of Sāmoa. This book is not the final say. The way I see Tautai now is the story of this man but is also a map. It's a map that tells future historians where to find information so they can tell their own stories...It has been the greatest privilege telling Ta'isi's story. It is so rich, passionate and globally significant...I thank the Ta'isi family from the bottom of my heart for letting me tell this man and his daughter's extraordinary stories. Fa'afetai."
Click through some photos from the launch night below by Talanoa Films featuring photos of guests and performances by Ura Tabu and St Joseph's Grey Lynn Catholic Youth Group. Also featuring a presentation of a 3-D bust (head) of Tupua Tamasese Lealofi III made by Ali Cowley as part of his staff research output at the Media Design School in Auckland (presented by Ali Cowley to TuiAtua Tupua Tamasese Ta'isi Efi).
Share