Coco Gallery
THE TRADITION OF TUA KAI - PUKAPUKA, COOK ISLANDS
The tradition of 'Tua Kai' in one of the most Northern islands of the Cook Islands - Pukapuka - is an annual tradition that has been around since the beginning of time and is still practised today as shared with us here.
Normally after all the traditional and modern sports and festivities in January/February the island closes with the final wrestling (Popoko) followed by the Kavekave which is the main fishing competition of the year.
The winners have boasting rights for the year.
The kaveu or Coconut Crab is from Motu Ko and was harvested by the men of Tawa Ngake.
The men of Tawa Lalo harvested birds and kaveu fish.
The women go into the taro patch and harvest the best taro or wawa suited to eat with Kaveu or type of fish. Pukapuka has over 24 different ways of cooking taro to suit different fish bird crab.
Each woman on the island will receive 2 kaveu and 10 niu (yepulupulu) and 1 share of wawa dish.
Each Man will receive 1 Kaveu and 10 niu and 2 shares of wawa dish.
Each child will receive a smaller kaveu with 1 share of wawa dish and 4 niu.
The fish is distributed evenly across the island. Whether you helped or not everyone gets their share from the youngest child to the eldest member on the island (the Wola).
While a couple of the islands in the Southern group have recently re-started their food distribution traditions Pukapuka's 'Tua Kai' tradition has never stopped and is tied directly with chants, songs, dancing, traditional sports, wrestling & fishing.
They will end this tradition with a final singing and chanting competition.
-
Photos by Kole Tinga
Words by Romani Katoa
-
Public Interest Journalism funded by NZ on Air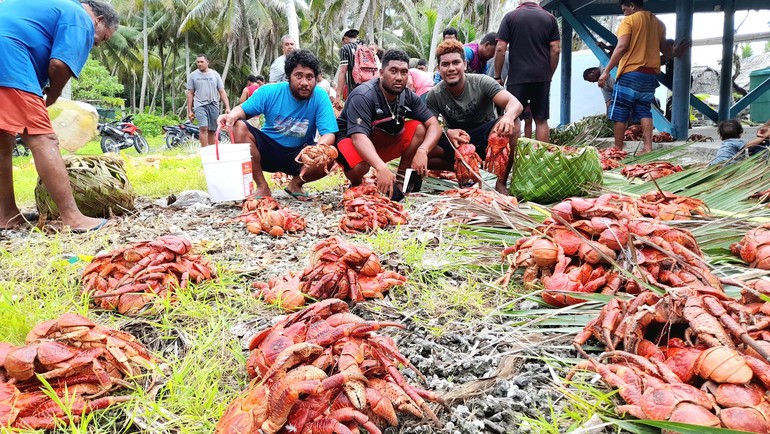 Loading photos...