INK SERIES: Fa'afetai & Toefuiono Fa'aleava
MALOFIE & MALU - A brother & sister share their journey ...
Fa'afetai (Tai) & his younger sister Toefuiono (Ono) received their Malofie & Malu (Traditional Samoan tattoo's) together last year. They both live in San Francisco, USA and share their experience and why they went through the journey.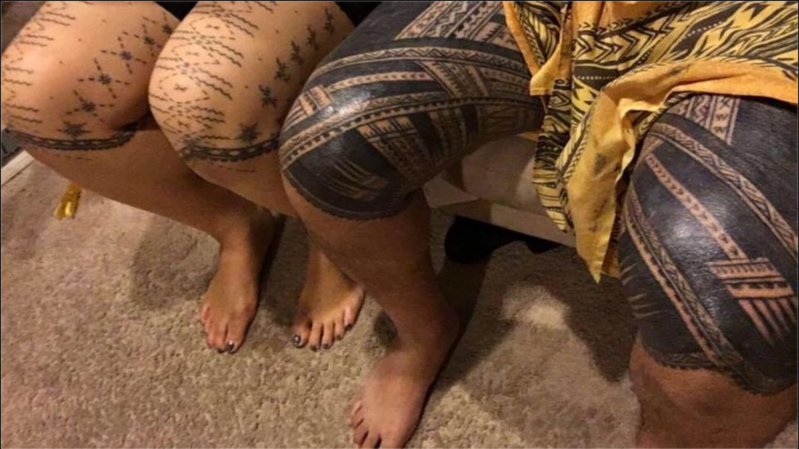 Tai is 30yrs old and is currently doing his doctorate in Clinical Psychology at Alliant International University in San Francisco. He also works as a psychological trainee, providing mental health services to clients who are on federal probation.
Toefuiono (Ono) is 23yrs old and currently works as a Revenue Transition and Registration Specialist for University/Stanford Healthcare.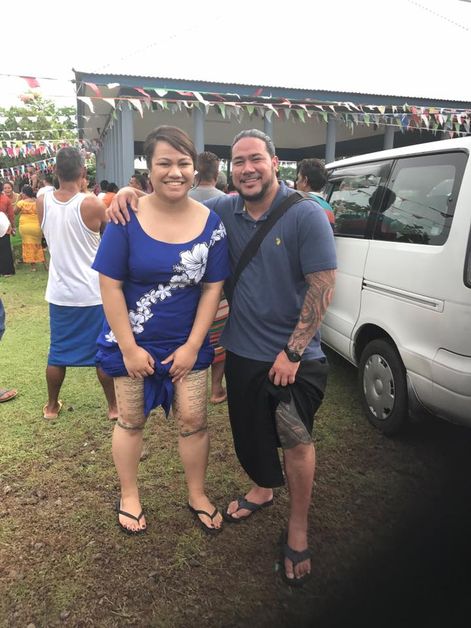 Ono & Tai on a recent trip back to Samoa for Ono's Moananu Saofa'i
Tai: - I was born at Moto'otua hospital in Samoa. I grew up in Vaiusu (Dad's family), Malie (Mom's side) and Fagae'e in Savai'i (my parents first ministry post after graduating from Malua Theological College) until I was 5 yrs old. Ono was also born in Samoa but we left to Jamaica when she was a few weeks old.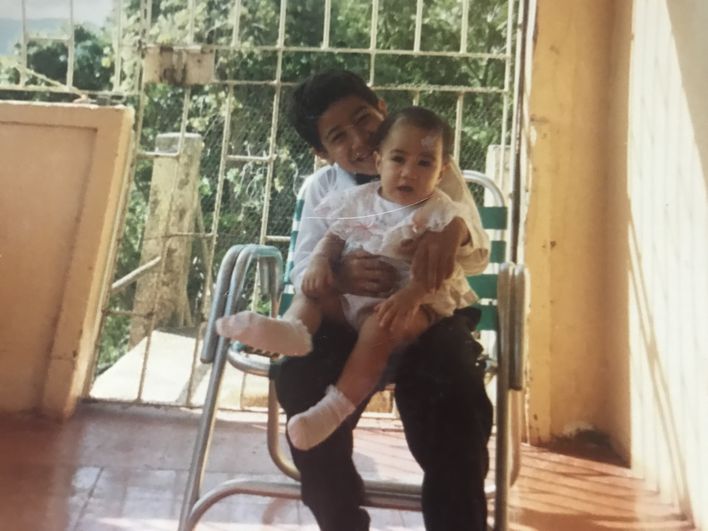 From Samoa, we moved to Jamaica for 5 years and this is where I learned English (Patois) - My Dad looked after some churches there. We then lived in New Zealand for 8 years where I attended Papatoetoe High School. Our family moved to America in 2006 when I was 19yrs old and we lived in San Jose and then moved to San Francisco in 2013.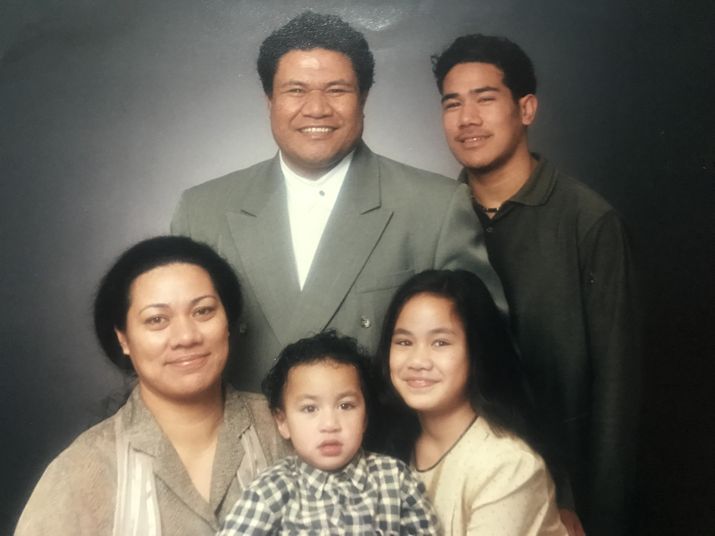 The Fa'aleava family in Auckland, New Zealand.
Tai: - Growing up, my late grandfather To'omata Robert Schuster would always encourage me to honor God, learn the Samoan culture and pursue education to its highest level. Every time he would see me walking around without a shirt on he would always say "E manaia lou tino pe a na iai sau pe'a" which translates to "your body would look much nicer if you had a tatau".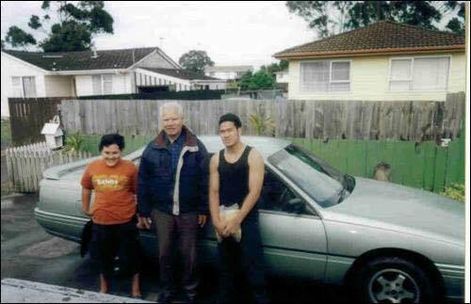 Tai and his late Grandfather To'omata Robert Schuster and his cousin Vaipuese Schuster who now has a Malu. Perhaps also influenced by her grandfather.
I was 13 years old at the time, and two of my Mom's brothers had already completed their tataus. This was the birth of my inspiration to get a tatau.
At age 27, I was bestowed the "Muliagasisila" title from the village of Lano in Savai'i; my paternal Grandma's aiga (family). This made me want the tatau even more.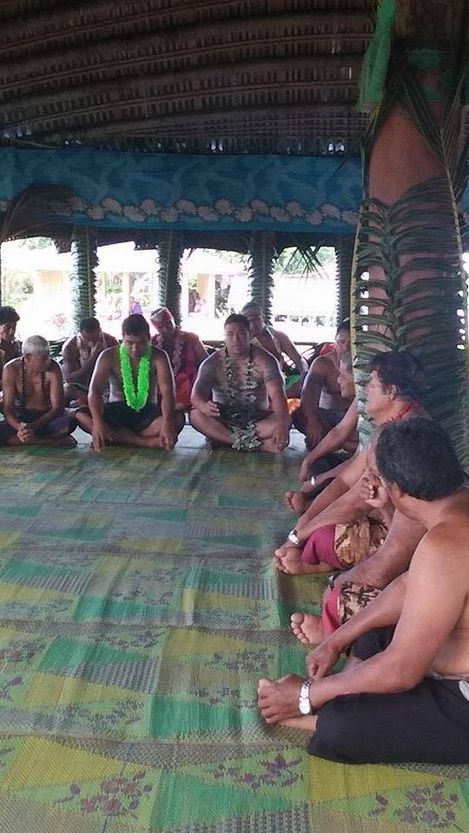 Tai receiving Ava for his Muliagasisila title in Lano, Savai'i
Many tufugas visited America to conduct tattoo sessions, but it was always during a time when I was in school. However, at age 29, I was fortunate to have met Tufuga Su'a Wilson who was visiting San Francisco, and he was able to give me my tatau. Among my parent's siblings and their children, there are 5 Soga'imiti(s) and 5 Malu(s).
Traditionally the tatau is done in pairs or more. The person/people who you are tattooed with are called "soa". The significance of having a Soa is a reminder that the tatau does not belong to any one individual but in fact a commitment to a life of service to your people, village(s) and country.
My Soa was my little sister Moananu Toefuiono Faaleava.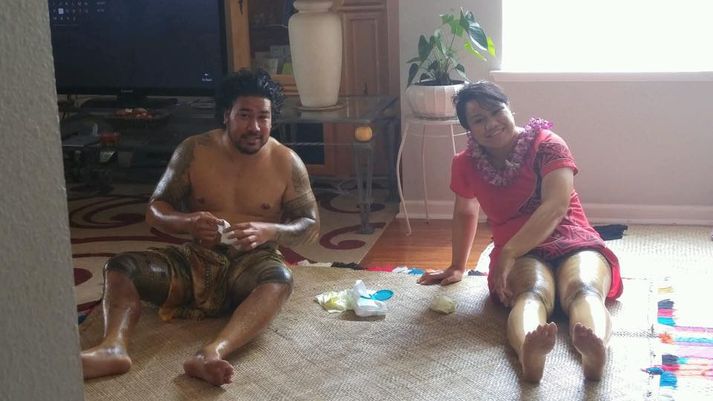 Ono: - Growing up I wasn't much of a tattoo fan so the Malu didn't cross my mind as something I really wanted to do. However, when my brother finally confirmed having his Pe'a done, I had a sudden urge to get my Malu done alongside him for support.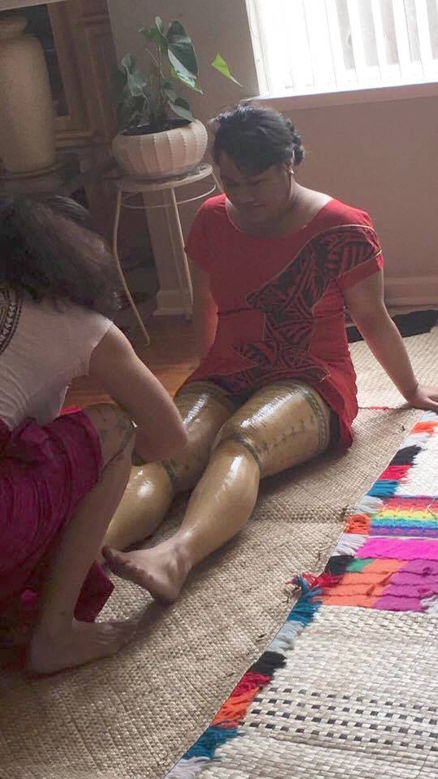 Tai: - The Tufuga who tattooed my sister and I last year in San Francisco was Su'a Wilson Fitiao from American Samoa. The Tufuga was visiting family in San Francisco and finishing a pe'a that he had started the year prior. I got word that he was in town and asked to be tattooed.
Every morning he showed up to my house at 9am sharp (this was very anxiety provoking) had breakfast and would start tattooing around 9:30am. Sessions were approximately 4 hours per day.
On my first day I did a double session (back & butt) so that was about 6 hours straight.
Ono's sessions were about 3.5hrs per leg. She did each leg on separate days so the Tufuga could have a session with me afterwards. Ono started her Malu on my second day, and completed it on my third day, then I continued on alone for an additional 8 days.
Mental and spiritual preparation was the most important for me. I spent the week prior to my first session praying and listening to old Samoan songs. Since I live in America, Samoan music was how I connected with my culture and country.
My parents notified their respective sides of the family and with their blessing, support and prayers, my sister and I were able to complete our tatau's.
It was by far the worst pain I have ever experienced in my life. Since I already had tattoos prior to my tatau, I thought I knew the level of pain to anticipate, but that was not the case. The pain of the tatau was at a level beyond excruciating. After the first few taps on my back, the first image that came to my mind was Jesus being whipped before his crucifixion. I could physically feel my brain trying to comprehend what my body was going through.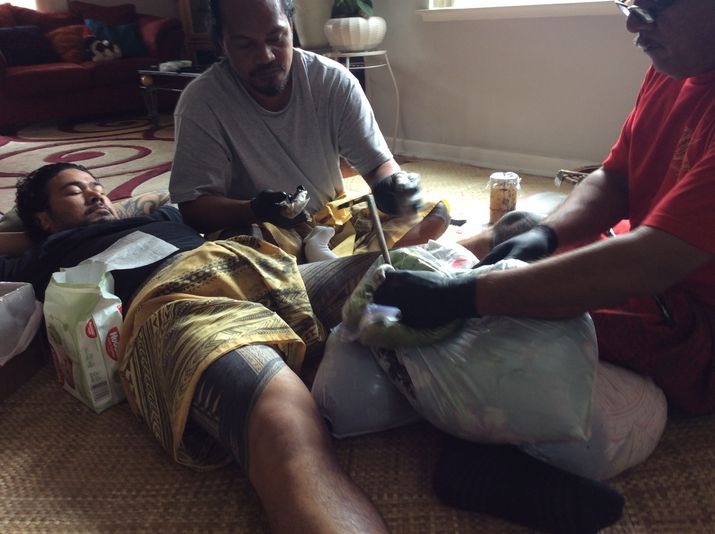 Questions of doubt flooded my being but it was too late, the first mark of the tatau had been inked into my skin; there was no going back. I refused to be a "pe'a mutu" (Individual with an unfinished tatau) so I laid there and endured the pain. After hours of agony, I finally found an escape from my physical reality.
I mentally drifted away to a place where I was met by both my late paternal and maternal Grandparents. The four of them did not utter a word; they simply stood around me and watched my tatau process. I was comforted by their existence within this spiritual realm that I somehow stumbled into. I rushed to this spiritual space every day during my tattoo sessions to find peace and perseverance.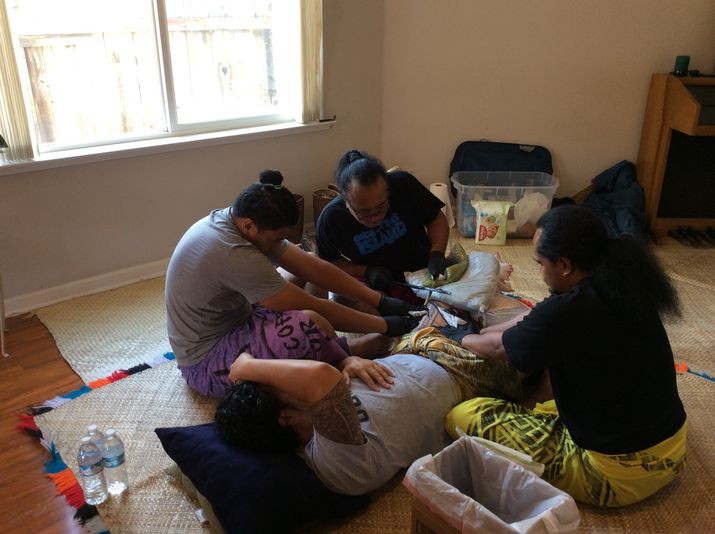 Ono:- Most definitely the worst pain I've ever had to deal with. Unlike my brother the pain was much too excruciating for me to drift off. I dealt better with the pain by squeezing my family members' hands and singing Samoan songs (which were playing in the background) out loud.
After getting my first leg done, I was dreading the day I had to do my second leg. So, of course when it was finally over I was very proud and extremely ecstatic knowing I'd never have to deal with that pain again.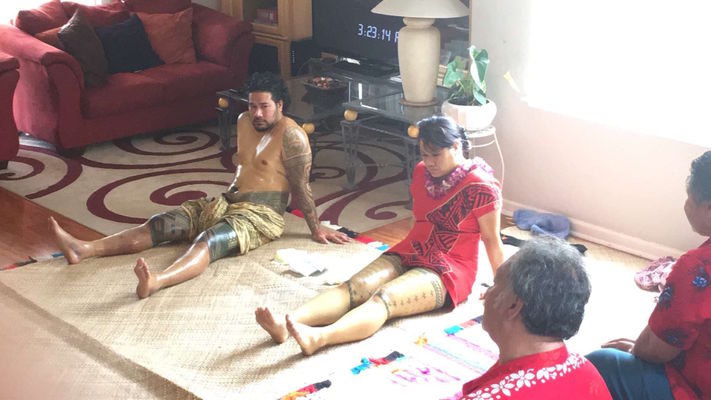 Tai & Ono with their completed tatau during the Samaga.
Tai: - As soon as I heard the Tufuga say "Welcome to the [tatau] family", I was overwhelmed with pride and joy. I remained on the floor for a while, and thanked God for his protection over me while I was getting tattooed. I could finally sleep peacefully at night knowing that there would be no subsequent tattoo sessions to follow.
It was a very proud moment and huge sense of relief.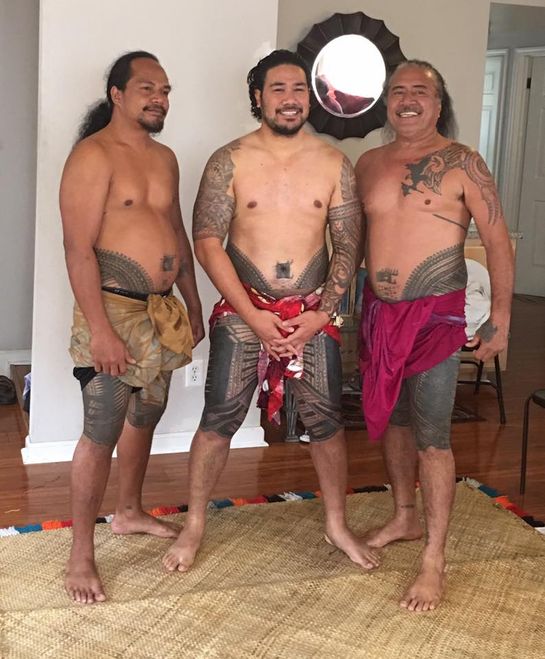 L-R Solo & Apprentice Lau Moliga, Tai & Tufuga Su'a Wilson Fitiao