Radioactive waste leak imminent in the Pacific
Runit Dome on the Enewetak Atoll houses over 80,000 cubic meters of radioactive waste; now locals, scientists and environmental activists fear that a natural disaster bought on by climate change could tear the concrete dome open, releasing its contents into the Pacific Ocean.
The radioactive waste is the legacy left behind by the US after 12 years of nuclear tests in the region at the beginning of the Cold War, which sits roughly halfway between Hawaii and Australia. In 1948, the local population of Micronesian fishermen and subsistence farmers were evacuated to another atoll 200 km away.
"Runit Dome represents a tragic confluence of nuclear testing and climate change," said Michael Gerrard, director of the Sabin Center for Climate Change Law at Columbia University in 2010.
"It resulted from US nuclear testing and the leaving behind of large quantities of plutonium," he said. "Now it has been gradually submerged as result of sea level rise from greenhouse gas emissions by industrial countries led by the United States."
About 67 nuclear and atmospheric bombs were detonated on Enewetak and Bikini between 1946 and 1958 - which is roughly equivalent to 1.6 Hiroshima bombs detonated every day over the course of 12 years. The detonations covered the islands with radioactive debris, including Plutonium 239, which has a half-life of 24,000 years.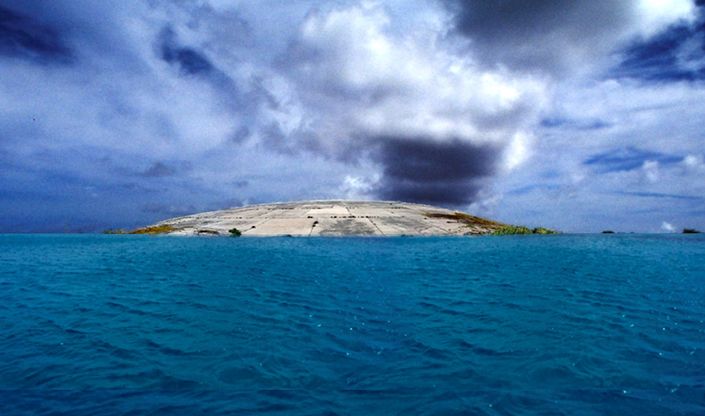 When the testing came to an end, the US carried out an eight year clean-up, but refused to fund a comprehensive decomtamination programme to make the atoll fit for human settlement again, leaving it's inhabitants without land. Yet in 1980, as the Americans prepared their own departure, the indigenous dri-Enewetak were allowed to return to the atoll after 33 years.
There has been no compensation set for the people of Enewetak, and their traditonal livelihoods have been destroyed because of it - the US bans the export of fish and dried copra on the grounds of lingering contamination. The growing population survive on a trust fund from the US, but payouts come to just $100 per person say locals.
Those who can afford it have taken advantage of the Compact's visaless travel benefits and have migrated to Hawaii.
"Enewetak has no money. What will people do to make money?" asked Rosemary Amitok, who lives with her husband Hemy on the atoll's largest island.