Learn how to cook Tahitian Firi Firi.
A delicious Tahitian coconut donut traditionally served for breakfast & dessert.
Check out the very easy-to-make recipe below!
.
INGREDIENTS
S350 gms – 0.75 lb. – 2⅘ cups all purpose flour
100 gms – ½ cup sugar, plus more to coat 1 pinch salt
7 gms – 2.5 tsp dry yeast
80 ml – ⅓ cup water,
lukewarm 200 ml – 6.75 oz. Ccoconut milk
Vegetable oil for deep frying (I use sunflower oil)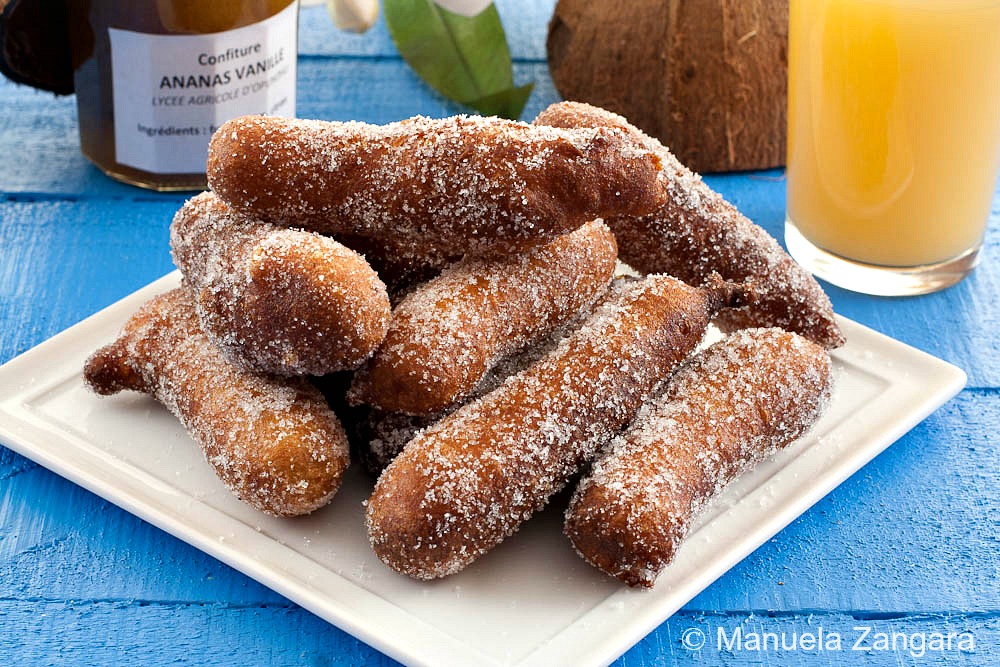 INSTRUCTIONS
Dissolve the yeast in the lukewarm water.
Add 1 tbsp of the sugar, mix well and leave the yeast aside to activate until frothy.
Put all the ingredients (including the frothy yeast) in the bowl of an electric mixer fitted with the whisk attachment and whisk well.
You need to obtain a thick and smooth batter. (You can also do this by hand)
Cover the bowl and leave it in a warm place to rise for 3 hours.
Put the batter into a piping bag and cut a 5 cm – 2 inch hole (or use a 5 cm – 2 inch round tip).
Heat the vegetable oil until it reaches 170°C – 340°F.
Pipe the batter into the hot oil cutting out pieces of approximately 13 cm – 5 inches in length.
Fry them on both sides until golden brown (they need to be more brown than golden!).
Put them on a plate covered with kitchen paper to drain the excess oil, then roll them in granulated sugar and serve!NOTESMake sure the oil is at 170°C – 340°F.
If the temperature is lower your Firi Firi will become soggy and if it is higher, they will burn and will not cook inside!
.
PREP TIME 3 hours 20 mins
COOK TIME 30 mins
TOTAL TIME 3 hours 50 mins
Author: Manuela Zangara
Recipe type: Breakfast, Dessert
Cuisine: Tahitian