Coco News
What awaits you in Beautiful Samoa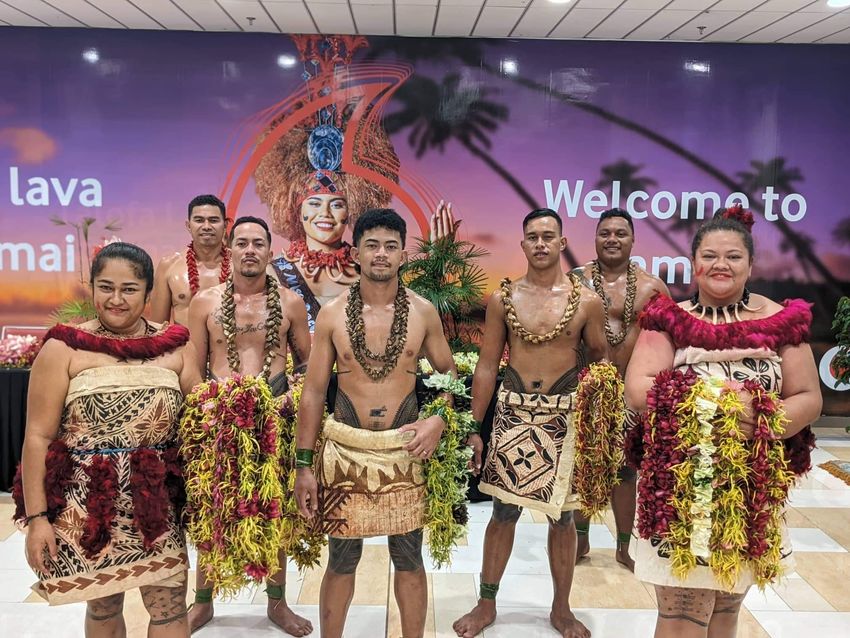 "Beautiful is back" – that is the latest slogan taking social media by storm as Samoa officially opened its borders in the beginning of August.
The excitement of a nation that has been closed to travelers for almost 3 years due to the pandemic was felt through the wonderful display of welcome at the Faelolo airport earlier this week. Cultural dances and songs filled the airport as each traveler was welcomed with fresh flower garlands, beautiful smiles and a heartfelt "Talofa!". It was truly a welcoming ceremony that befits this island nation known as 'Beautiful Samoa'.
Theres so much new and old things to do on island. You can climb Mt Silisili in Savaii, see turtles on your way to Namua and treat yourself to all the goodies at Sula Bakery in Mota'a. The options on how to spend your time in the 685 are endless.
Whether you are a returning visitor, citizen or a first time-traveler—Samoa is a destination that should be on your "must travel'' list. The location is brimming with experiences that speak to those who are yearning for peace from the world of zoom calls and social media, and wish to reconnect with nature, culture and people.
Here is an update after almost 3 years of closure of the things that await you in Beautiful Samoa!
The Waterfront Night Market
Popular with the locals, the Waterfront Night Market is a monthly event that started after the closing of borders. It is a tourism event catered to the entire family; there are handicrafts and traditional print vendors available for mom, bouncy castles and rides for the kids, a bar for dad and a variety of fresh food available to sustain everyone the entire night to be enjoyed right by the ocean.
Check out 'Samoa Hotel & Hospitality Association' for the Waterfront Night Market dates.
Samoa Tourism Cultural Village
Interested in a cultural experience to overwhelm the senses? Then the activities at the Samoa Tourism Cultural Village are for you. Located in the capitol Apia, the cultural village has a variety of experiences to explore. The tour starts off with a traditional Samoan Ava welcoming ceremony followed by live Samoan Music and dance. Visitors on the tour will also have the opportunity to observe and taste traditional cooking & food, learn about wood carving, weaving and tapa cloth-printing, and witness the famous art of traditional tattooing. It is the best way to be introduced to Samoan Culture for those who are visiting for a short period of time.
The tour and show are scheduled for Tuesdays & Thursdays from 10am - 12pm.
Insider Spots:
Chada Nails & Boba Tea
Chada is the latest hot spot to hit the Island. Known for their amazing nail work and designs, Chada has quickly risen to be one of the best places for locals to get those edges nice and sharp. But nails aren't the only thing they are currently known for! Chada's boba tea has been well received by the local community and has proven to be a great way to bribe your partner & children to wait patiently while you finish your nail appointment.
Peata's Salon & Leilani Ula Beauty
Peata's Salon located in Apia is a household name when it comes to all things Hair. Her capable team will have you ready for any occasion. If you love the hair-do's of our previous and current Miss Samoa's, then look no further than Peata's. For our lash queens worried about refills and upkeep, Leilani Ula Beauty has you covered. As a certified lash technician with over 10 years experience in the beauty industry, Leilani will have you looking fresh and polished during your holiday. The great thing about this duo is that you can find them in the same location!
Late Night Feeds
To our 'night owl' readers, this section is for you! After a long night out in the town and you find yourself craving heavy food, the locals frequently visit 3 spots for late night feeds; Pinati's at Saleufi, Siaosi located at the Fugalei Market, and Evelyn Fidows shop at Tufuiopa. IYKYK.
If you're wanting to keep up your fitness and burn off those late night feeds, there's a variety of gyms and classes you can get in to on island. Including, Samoa's first and only CrossFit Affiliate FatuToa. Go down to see Brandon and his team located in Vaitele on Moso'oi Street for a good fa'aafu (sweat). Even if you're a first-timer dont worry! FatuToa is known for their welcoming and judgement-free workout environment. You can check out their schedule here.
Wolfpac ATV Village Tours
Samoa's first Quadbike Tour, located just outside of the capitol in Laeuva'a offers a unique touring experience through the village. The tour lasts up to 3 hours traveling through lush bushes and plantations of some of Samoa's villages. This is a great experience for those who are keen to learn more about village-life while enjoying a healthy dose of adrenaline.
For bookings contact Wolfpac Tours on Instagram.
Hotels, Beaches & More:
In Apia
The capitol offers you best of both worlds. You can experience the unique slow-pace of island life while enjoying the comfort of a variety of hotels along the seawall on Mulinu'u road. All within a comfortable walking distance of each other, travelers can enjoy a cultural show at Tanoa Tusitala, live band performances at Lava Hotel & Hotel Millenia, delicious affordable meals at Amanaki Hotel, and a private tranquil environment at Hotel Elisa. On the opposite side of the capitol you will find one of the bigger accommodations Samoa has to offer – Taumeasina Island Resort, a local favorite for their Monday night karaoke and live shows by none other than Cindy of Samoa.
Along the Coast
Beach lovers who enjoy coastal drives will not be disappointed at the white sandy beaches and clear waters that fringe resorts such as Saletoga Sands Resort & Spa, Aga Reef Resort, Return to Paradise Resort, Seabreeze Resort and Sinalei Reef Resort! All of these luxurious properties cater to those who are in Samoa for a little self-love looking for kisses from the sun & sea!
For more Upolu travel tips visit here.
In Savaii
For travelers who are seeking the unspoiled & untouched parts of Samoa, Savaii Island is the destination for you. Only a 2-hour ferry ride from the main Island, Savaii offers you an oasis amongst the paradise of the Pacific. Experience what hotels such as Va-I-Moana Seaside Lodge, Amoa Resort, Jetover and the new Kuki's By The Harbor have to offer with their stunning beaches and intimate settings.
For more Savaii accomadation options check out here.
There is something special that awaits every traveler visiting these shores. Don't wait! Samoa is Open and welcomes you warmly to experience the beauty of its island to the fullest.
Welcome to Beautiful Samoa! Afio Mai!
-
Written by Cheyenne Tuioti
Cover Image by Chichi Scanlan
-
Public Interest Journalism funded by NZ on Air
Share