Humans of the Islands
HUMANS OF THE ISLANDS - Amberley Jo Aumua, Filmmaker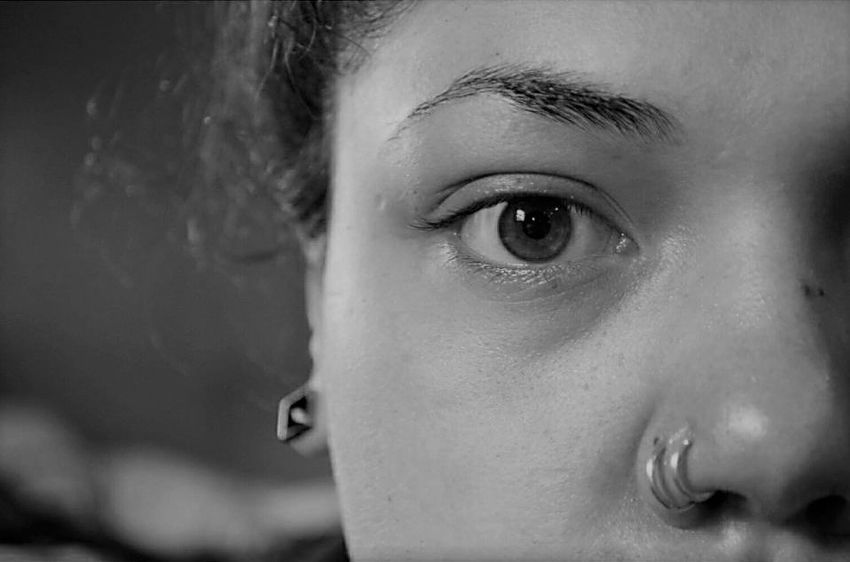 Introducing young filmmaker blazing the scene at the moment... Amberley Jo Aumua!
Kia ora Whanau, Malo 'aiga my name is Amberley Jo Aumua. I'm 22 years old of Samoan/Maori descent and I'm a storyteller. I grew up in Manurewa , South Auckland and I'm the middle child of 5 siblings.
I directed a short film written by Samuel Kamu called "Waiting." It's about two boys who wait outside a dairy for a phone-call. It was chosen as one of six finalists for Best Shorts NZIFF 2017 and took away the jury prize for Best Short Film in New Zealand at NZIFF 2017. It has also been selected to screen at Toronto International Film Festival 2017 next month.
This past year I've worked on and supported many projects that I believe in such as Vela Manusaute's short film "The Messiah," Rachel House & Tweedie Waititi's "Moana (Te Reo Maori)", and Hanelle Harris'& Mia Marama's "Baby Mama's Club" Web series
How did you end up on this path in film?
I've always been introverted and in my own world. I naturally like to observe and absorb my surroundings and the people that fill it. The way I communicated as a child was through writing letters – makes sense as I had a speech impediment when I was younger. I've always been writing so delving into filmmaking, specifically writing and directing, was a natural progression of me communicating to the world.
I never intended to study directing at Unitec, writing was what I wanted to do. But it was a tutor, now mentor and friend, Dorthe Scheffmann who exposed me to the world of directing film. To direct is the ultimate creative control of presenting your vision accurately on-screen. She taught me how important it is take control of your voice and because I feel strongly about my screenplay's, I would never let anyone else direct it. I felt comfortable writing, to an extent as everything that is creative for me is vulnerable (even writing this is) and if I wasn't going to let anyone else direct it but me, then I had to start somewhere – and I couldn't have anyone more experienced, genuine and kinder than Dorthe Scheffmann and Kathy McRae.
.
What do you love about film making?
Filmmaking is a creative and therapeutic outlet of my experiences and thoughts. It allows me to communicate with the world but it also exposes my vulnerability. To put my insecurities out in the world, I think it's a beautiful, raw and courageous thing to do. And by offering myself in a true and authentic way, I feel that I can inspire hope so that other people don't feel so alone.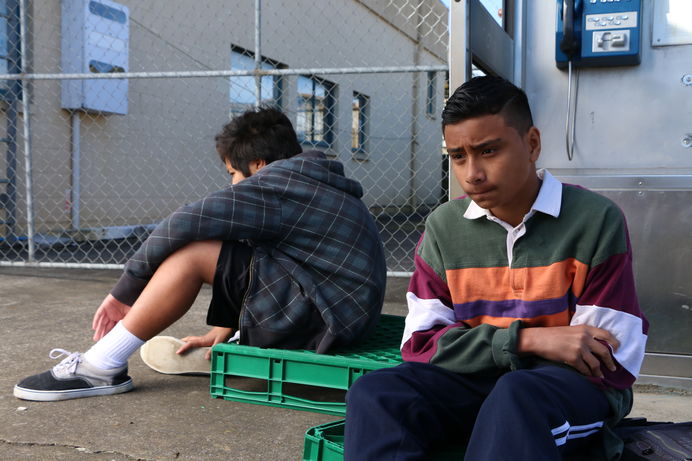 What is 'Waiting' about and where did you get the inspo?
"Waiting" is a simple story with a lot heart. It's about the reality of two young boys who have grown up with no father and how they find solidarity in that. Set at a dairy in South Auckland, it is in these isolated places, places of nothingness, where you have the most honest and intimate conversations.
Written by Samuel Kamu, he was inspired by his upbringing of hanging outside the dairy in West Auckland. As the director, I could relate with that as I was one of many kids around Aotearoa who have done that and many still do to this day. I also connected with the main characters longing for their father's or a father figure as my father passed away when I was young.
The only way I knew how to tell this story, to be true to my vision and voice, was to set the world of the film where I come from – Manurewa, South Auckland and to tell it as authentically and realistically as possible. "Waiting" reflects where I come from, the people and the stories untold.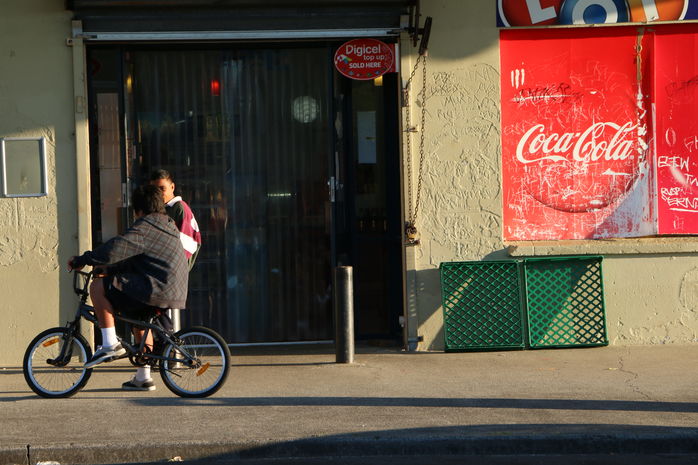 What challenges have you faced in your journey so far?
As a storyteller, I feel that it is important to firmly know your cultural roots. After I graduated from Unitec in 2016, I wanted to take a break from anything film related and focus on my spiritual and emotional well-being and reconnect with my Samoan and Maori side. But I kept getting pulled into the industry and then/now the success of "Waiting."
I'm very blessed and humbled of where I currently am in my journey, especially being fresh out of film school and very young. But I am only where I am because of the unconditional emotional and financial support of my mother and step-father. During this year of representing and showcasing "Waiting" around Aotearoa and soon Toronto, I've been unable to find steady work to contribute to my whanau/aiga. It's taken a toll not only on me but on my family as-well. I don't come from a privileged upbringing so I know that as much as I worked hard and passionately about where I am today - my mother, step-father and siblings also did.
To be able to understand my native tongue, where I come from and my ancestors is what I feel is most important to me as a storyteller. To firmly stand proud and tall and know within myself that all who I am is because of my people before me. And though I've taken a detour, I'm still on that journey – my basket of knowledge and experiences is just at the beginning.
.
What was it like getting the call from NZIFF and then Toronto film fest?
UNEXPLAINABLE!!! When I envisioned this film with writer Samuel, we never once mentioned or thought about film festivals. It was never my intention to lead this film just so that it can go into film festivals and I don't think films or anything creative should be made with the intention for fame or status. My priority as a storyteller, collaborator and director of "Waiting" was to honour the integrity of the story and to tell it the best way that I can, within the resources available to me. So, for our film, made with love and dedication to be acknowledged and chosen by NZIFF and TIFF is a testament of how pure and honest "Waiting" is.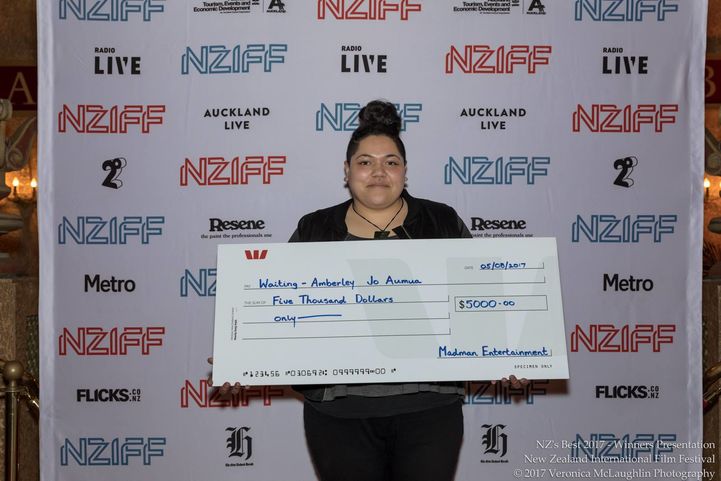 How does it feel to have beaten hundreds of other short films at NZIFF 2017?
It is surreal!!! And what an amazing variety of films and filmmakers to stand with – Roseanne Liang "Do No Harm," Becs Arahanga "Laundry," Julian Vares "Thicket," Catherine Bisley "Untitled Groping Revenge Fairytale," and Matt Campbell's "The Dregs."
At the Awards Ceremony for Best Shorts NZIFF I wasn't thinking what if we win or what if we don't win. I was thinking more about the harsh lights that were in my eyes on stage haha When Andrew Cozens from Madman Entertainment announced on behalf of the jury - Armagan Ballantyne and Toby Manhire that "Waiting" had won the jury prize for Best Short Film in New Zealand, I was in total shock! I had no speech prepared and stood on stage awkwardly smiling for a few seconds in silence.
Reflecting on this past year, I'm humbled by the opportunities offered to me. I'm so proud and thankful to the creatives on "Waiting," my family, the genuine people I've met and worked with, for being apart of my journey as a storyteller, and for allowing me to be apart of yours.
​
Share
---
Comments