Pacific Blog
Pasifika Garage Stories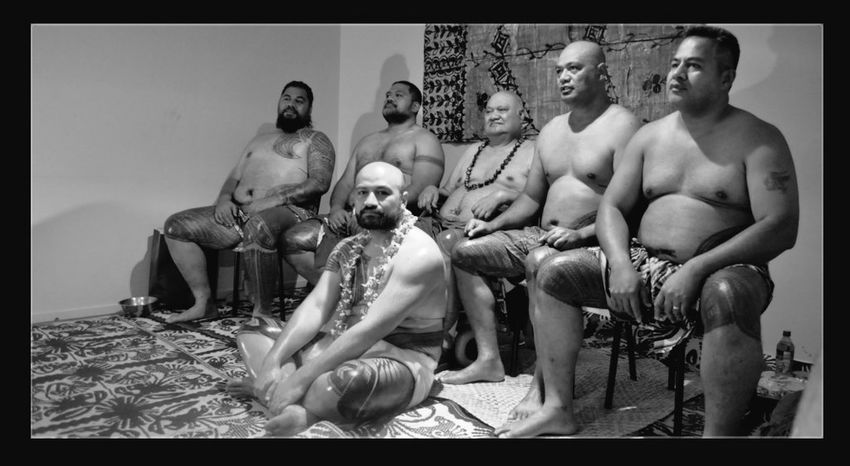 From our most famous artists to sports people and thriving businesses, the humble South Auckland garage has been the heartland for creating some of our biggest success stories. Here are some of the flavours of the Pacific born and bred from the four walls of a garage ...
"We're a tinker society with limited access to resources, our Garages become the incubation space from where we build our dreams and hatch our ideas.
They're also transitional spaces which changes with the context, be it a meeting house for family gatherings and funerals, where we plan our weddings, it becomes a hall for a 21st. Sleeping quarters noho Marae styles when Family pop in. It was our corporate box for the Tua fights, Manu, MMT and TOA games.
It's where Popohardwear started in my Sister's humble garage in Papatoetoe. Luxon ... f**k you and your stereotypes ...Tulou!" - Siliga Setoga, Contemporary Artist
-
Samoan tattooist and tufuga Li'aifaiva working on a malu in a garage at the back of a family home in Manurewa, South Auckland
-
"Sau E Siva was literally born in all of our garages. We had Italia and Troy in Rewa, Ida in Otara, Leki in Mangere and Bob in Otahuhu. Our garages became our dance studios where we rehearsed and choreographed till early hours of the morning". - Leki Jackson-Bourke and members of Sau E Siva Creatives
Watch one of the stunning choreographed pieces from Sau E Siva's first show 'Lalelei' at Mangere Arts Centre below -
-
"This was me in 1989 living in our parents garage. Thinking and contemplating in South Auckland and somehow not ending up patched, in a gang or being part of a group of bitter and anti-social degenerates. Unless you count supporting the Warriors. Sorry Chris Luxon, keep your South Auckland reckons to yourself" - Raymond Sagapolutele, Visual artist/Academic
-
Ura Tabu Dancer and Choreographer Charlene Tedrow used her garage in South Auckland to make fitness/dance videos people could follow during the Covid Lockdown.
-
"Circa 2012 having garage drinks in Mangere, South Auckland celebrating one of the Smith twins getting engaged. At the time I was the Product and Marketing Manager South Pacific and North America for Air NZ Holidays and Chris Luxon was the Air NZ group's General Manager ha!
Garage drinks in the Smith family's Mangere garage was a regular (mostly every weekend) occurence back in those days. It was our source of entertainment, our group therapy sessions, comedy central, a safe space to rant about toxic work environments, talk sh!t and a place where lifelong friendships and connections were formed. Shout out to all the old Niu FM crew who came thru." - Penina Momoiseā, Photographer/Media
-
Lauie Tofa celebrates his university graduation with family in a garage in Papatoetoe, South Auckland.
-
Me & my brothers sitting in my garage in South Auckland (before the drinking started), contemplating how to start a gang when your eldest is a Senior Insp. and the Counties Manukau Crime Manager. "Fai fa'aekeeke mai kakou māsalosaloga fa'amolemole". #NotSamoanEnough - Tovia Va'aelua, Vice President of Sales Tech for Good Crayon
-
"Kila Kokonut Krew South Auckland's most fearless theatre company started in a garage. Our Theatre and creative ideas start in a garage in Manurewa, South Auckland. We took our Theatre, films and web series to the world. #KilaKokonutKrew - From the Pacific, We Rise.
Our only gang conversation was to take our stories to the world and make South Auckland positive to the eyes looking into our community." - Vela Manusaute, Writer/Director/Actor
-
Jay Avea celebrates his 21st birthday in a garage in Papatoetoe, South Auckland
-
"Growing up we had a whole young family living in our garage on the farm. While at art school our garage in Otara was an important space for creating, making & experimenting. A space for upcycling, messy painting, debating, talking kaka & dreaming big.
Garages have been a vital space for storage of props across 3 houses, and now my garage is my safe space, my home office, my favorite place at home, where I spend many, many hours burning the midnight oil, writing, reaserching & planning ways to up lift & empower our communities through storytelling." - Vea Mafile'o, Director and Writer
Vea's award winning feature length documentary 'For My Fathers Kingdom' trailer below ...
-
Public Interest Journalism funded by NZ on Air
Share