Pacific Blog
VEA MAFILE'O - Tongan Film maker on the rise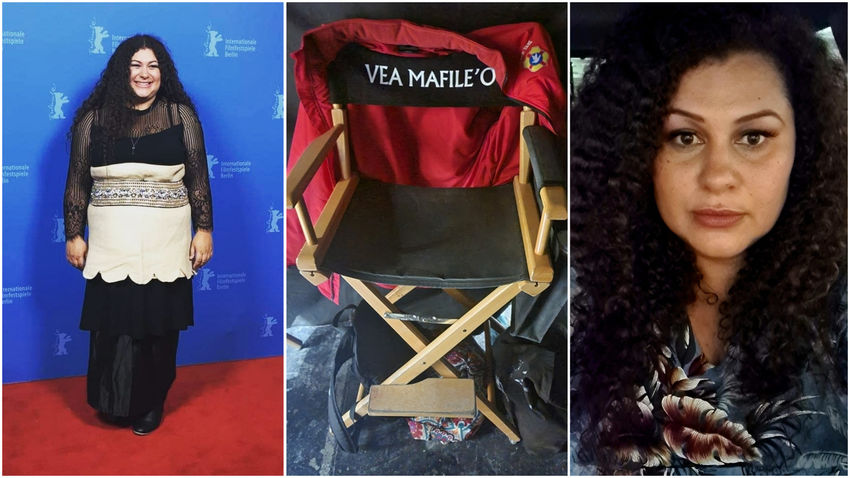 Mālō e Lelei, My name is Vea Mafile'o and I am Scottish, English, Māori and Tongan from Tongoleleka, Ha'apai.
We need to have a voice on screen, so Pasifika women get to see stories on screen from our perspectives. Society puts us in such a box especially women of colour, we are all so judgy (I am too) about how we should look, think, act, behave, but as we all know there is no one size fits all.
So we need to know that it's ok to be a mixture of things, to be influenced by many different things, to be made up of different cultures that all have different values, challenges and to adapt to our environment.
We have the right to chose what fits us best, there is no right or wrong way, you are never going to please everyone and so we shouldn't have to. What we go through as women most men will never ever understand, and as brown women, that's adding a whole other layer.
The screen is so influential so the more we see in stories and characters that are true reflections of ourselves the better. If we are coming from what we believe in our hearts is the right intentions then there is a lot of empowerment in that.
Highlights of my career so far would be taking our family film For My Father's Kingdom on its first outing in the world to the Berlinale film festival. My partner Jerry and I went with my two sisters Emily and Elizabeth and brother Robert and his partner at the time Ems. We had such an awesome time of learning and sharing, meeting fellow indigenous filmmakers, travelling all over the city, visiting museums, art galleries, and meeting new people.
We visited a concentration camp together to honour our Grandfather Robert Henderson who was a POW and I will never forget that harrowing experience, none of us will.
Another highlight has been my Directors attachment on The Lord of the Rings Series. I got to observe so many people who are world experts in their departments, at the top of their game and work with screen legends such as Chris Newman (The Game of Thrones), Stunts director Vic Armstrong (his IMBD is out the gate). It was incredibly inspiring to be in the Director's tent with Wayne Yip (Chinese/UK) as a POC directing in that very very Palangi space. He gifted me a chair back of course when I saw it I burst into tears and ran off set to compose myself lols.
Getting to work as a co-director on two episodes of 'The Panthers' TV series was pretty 'Au'ataa (awesome) and felt like a very special opportunity.
There are not many prime time NZ dramas being funded so to be part of one about such a significant time in our NZ /Pasifika history and to be the only female Polynesian women Directing in that space was very cool. The project its self being headed by young brownies, and over 80% of the HODs were brown and we all felt like we were working on something new, excing and important, it was all more than just work, it was to honour our history, our stories and I know that was our driving force with us all when we were in the thick of it, doing the hard yards. I know that every single one of us on the crew dug deep because of this.
It was challenging on so many levels. I was transitioning from being a documentary director into drama which is a bit like day & night. I was lucky to have been able to direct our NZFC Short drama film the week before I started on Panthers so I got a little taste of drama directing beforehand.
The work hours are very long especially during shooting so I was an absent parent for about 4 months, thanks to my partner Jerry for looking after the children.
Navigating the differences from Film directing and TV directing was interesting at times. Choosing battles wisely, but learning to fight and stand up for the things that were the most important to me. But the rewards were many too. I had my sister Emily art directing and little sister Bubzie as her assistant, that was a huge support for me on set.
Working with all the talented actors and the continuous learning's everyday is rewarding always. Witnessing all the blood, sweat & tears of cast & crew, we all had our moments but we were all on the same journey, with the same end goal and the bonds that are formed in creating something that we are all proud of are real and long lasting.
One of the highlights for me was the abortion scene, it was raw and harsh to watch, but I wanted it to be that way. It's our reality as women we deal with these unspoken traumas all the time, abortion, childbirth, miscarries and it is not pretty.
I remember being amazed at all the women on set, in all the different departments stepping in and really owning the space, and this is how we are in real life, we support each other going through this and it was a very empowering moment for me.
I have a few new projects on the go at the moment - two are in the early stages of development, they are both my dream projects a feature film and a drama series. A couple of short films and a project I am developing with the department of corrections.
I am a member of the PISA (Pacific Islands Screen Artists) komiti, our focus is helping to awhi and nurture our Pasifika peoples in the industry so we can up skill, have full brown crews and tell our own stories our own way, giving back to the next generation of filmmakers. It's important to me to do this, as in this industry you need all the support you can get and I have always been grateful and blessed with our people always reaching down to pull me up, especially in my earlier days Lisa Taouma, Stephen Stehlin, Ngaire Fuata and more recently Halaifonua Finau, Producer on The Panthers.
To be honest, I have a love-hate relationship with what I do. It's exciting and I get wonderful opportunities to meet new people, travel to amazing places and I can say I do enjoy my job it doesn't feel like a job it feels like never-ending art projects that I feel so deeply about. I love and care about every single one. But this also makes it an emotional rollercoaster, I fail to separate my "work" from my life lols. Every project my family gets to experience the rollercoaster ride at some stage and to help out in some capacity!
Our stories are unique to the world as we are just learning the language of telling our films on screen, in the history of filmmaking, everyone else (the western world), has had a good 100 + years of development, research and experimentation so it's exciting times as Indigenous filmmakers we have the opportunity to develop a Pasifika filmmaking culture. To do things our way, from development, production through to how we choose to show our work to our communities and the world. It's unique because the world largely hasn't seen "Pasifika" from our perspectives yet.
"Tala Loto Fale" - Come inside the house and discuss the issues at hand.
This is how I feel about the opportunity we have as filmmakers. We can gather an audience together, share our films and create a va for Talanoa.
'Ofa atu, Vea
Share