Sports
Commonwealth Games 2022 - Pacific Islands Update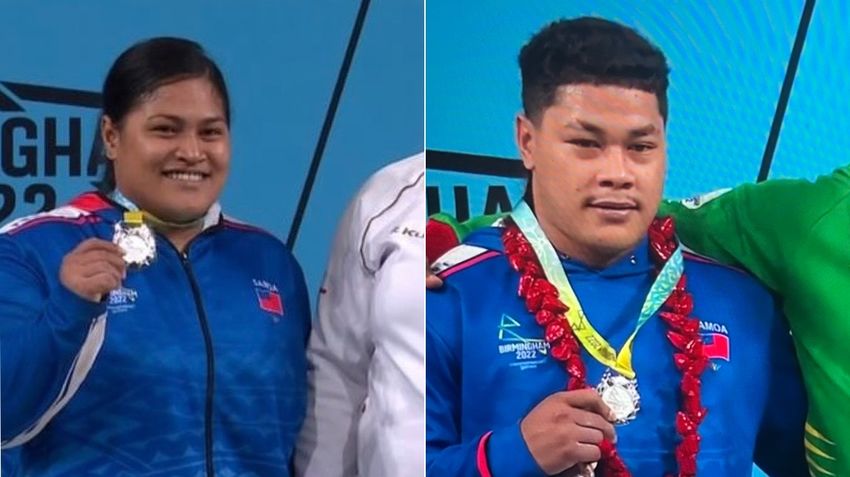 We're over half way through the games now and Samoa are currently leading the medal tally for the Pacific Islands with 1 Gold and 3 Silver by way of their weightlifters.
Fiji currently have the double silver from their Fiji Rugby 7s teams & a bronze in Weightlifting, Papua New Guinea has a Silver in Weightlifting and Nauru managed to bag a Bronze in weightlifting before they finished their Commonwealth Games campaign too.
Catch up on our weekend wrap here and the Pacifics first Gold medal here
It's been a busy couple of days for our Pasifika athletes so we've got results & who to look out for as we head into the weeekend for you below.
NB all times indicated below are in NZT.
-
COOK ISLANDS
Alex Beddoes is the Cook Islands sole track athlete and ran his 800m heat yesterday with a season best time of 1:52.72
Kuki boxer Tawhiri Toheriri-Hallet went down to Cyprus' Rafail Pafios over the weekend but you can check out his story in the video below.
Weightlifter Manine Lynch went up against fellow Pacific Islanders from Fiji, Samoa and Tonga in the Womens 87+kg division, placing 7th overall.
She is just the 3rd Cook Islands womens weightlifter to compete in this event at the Commonwealth Games but the first time they've had an all womens lifter and coach team.
Cook Islands athletes still to compete -
Cook Islands Lawn Bowls team, you can catch Phillip Jim in the Mens Singles sectional play from 7.30pm & the Womens Pairs sectional play from 10.30pm. The Kuki Women's Triples team have made it to the Quarter Finals and you can catch them in action tomorrow morning from 5am. Opponents yet to be decided.
Boxer Michael Schuster will go up against Niuean Duken Williams tomorrow morning at 8am.
-
Fiji
Fiji wrapped up their aquatics campaign with the Mens 4x100m medley relay where they made the final placing 6th overall.
Judoka Tevita Takayawa made it through to the Mens 100kg Bronze medal contest but unfortunately went down to Englands Rhys Thompson.
Weightlifter Helen Seipua competed against fellow Pacific Islanders from the Cook Islands, Tonga and Samoa in the early hours of this morning and placed 9th overall
-
Fiji athletes still to compete -
Yeshnil Karan competes in the 1500m heat this evening from 10.25pm
Fiji Lawn Bowls team continue tonight from 7.30pm
Fiji Table tennis team continue tonight from 8.30pm
Naibili Vatunisolo competes in the Womens Discus throw final from 6am Friday morning
-
Kiribati
Athletes have all competed
-
Nauru
All athletes have competed except sprinter Jireh Agege who competes this evening in the 200m heats from 11.15pm
-
Niue
Team Niue's Lawn Bowls competition is almost over with just 14yr old Tukala Tagelagi to go in the Men's Singles Sectional Play. He competes again this evening from 7.30pm against Northern Irelands Gary Kelly.
Niuean boxers Xavier Mata'afa-Ikinofo and Duken Williams fight in the Quarter finals tomorrow morning. Xavier fights from 7am and Duken will be on at 8am. If they win these fights they will be guaranteed a Bronze medal.
We caught up with the young boxers before they left here -
-
Papua New Guinea
PNG's track and field athletes have been busy over the last couple of days competing in Mens 100m, 400m & 400m hurdles as well as the Womens Heptathlon.
Team PNG's Edna Boafob recorded a Personal Best with a total of 4,068 points in the Women's Heptathlon finishing 8th overall.
-
Papua New Guinea athletes still to compete -
Boxers Neville Warupi, Arthur Lavalou & Jamie Chang have all made it through to the Quarter Finals and you can catch them in the early hours of the morning from 1am.
Track and field athletes will be in action again this evening in the Mens Decathlon and Mens & Womens 200m heats from 9.15pm this evening.
Squash mens doubles pair Feonor Siaguru & Madako Suari take on New Zealand this evening for PNG's final squash outing
Table tennis mixed doubles Geoffrey Loi and Tammi Agari take on the host nations pair of Tom Jarvis and Charlotte Bardsley from 9.40pm tonight.
-
Samoa
Weightlifters Jack Opeloge & Feagaiga Stowers brought home another two Silver medals for Samoa last night.
Jack who is only 21yrs old lifted in a heavier division than what he'd normally compete in (he competes in the 102kg division but they don't have this weight class at the Commonwealth Games, so had to move up to lift with the 109kg men). He was also very unlucky to have his 200kg Clean & Jerk ruled out after the lift being initially given the green light.
Feagaiga was the only woman on the weightlifting team and was up against stiff competition from home town favourite Emily Campbell who broke the Commonwealth Games Record. Bronze went to Nauruan born Charisma Amoe Tarrant who represented Australia.
Samoa's final weightlifter Petelo Lautusi wrapped up their campaign with his lift this morning coming 4th overall in the Mens 109+ kg division.
Brandon Schuster wrapped up Team Samoa's Aquatics teams campaign last night with his 200m individual race.
Nu'u Tuilefano competed in the Shot Put final this morning against fellow Samoan competing for NZ - Maddison-Lee Wesche (who went on to claim Bronze) and Tongan 'Ata Maama Tu'utafaiva. She placed 11th overall with a throw of 15.81m
-
Samoan athletes still to compete -
We have 3 sprinters competing in the Mens 200m heats this evening from 11pm tonight - Jeremy Dodson, William Hunt & Johnny Key
Alex Rose competes in the Discus final tomorrow morning from 7.35am
Boxers Ato Plodzicki-Faoagali & Marion Ah Tong are both through to the Quarter finals and you can catch them from tomorrow morning at 7.30am
-
Solomon Islands
Sprinter James Brock Mabupe goes up against fellow Pacific Islander Jeremy Dodson of Samoa in the 200m sprints from 11pm tonight.
Table tennis competitors have their last games this evening from 9.05pm
Womens Beach Volleyball team round out Team Solomon Islands campaign competing in their last game against Scotland in the early hours of Friday morning - 2.30am
-
Tonga
Charissa Panuve completed Tongas Aquatics team campaign when she competed in the Women's 400m freestyle heat last night.
Update via the Tongan teams Aquatics page:
- Finau Ohuafi secured the highest FINA points (637) with his 100 Free Event, and 2 Personal Best times.
- Alan Uhi broke 2 National Records in 100 Back and 50 Back, and 3 Personal Best times.
- Charissa Panuve had 2 Personal Best times.
- Vaoahi Afu was the youngest on the team and competed in her first Commonwealth Games.
Shot putter 'Ata Maama Tu'utafaiva equalled her placing at the last Commonwealth Games placing 10th with a Season Best throw of 16.30m
Weightlifter Sio Talakai Pomelile went up against Jack Opeloge in the 109kg Mens but bowed out on 140kg Snatch & 180kg Clean & Jerk. Flag bearer Kuinini Manumua did really well in the womens 87+kg final, in the same division as Feagaiga Stowers, the Cook Islands and Fiji. She placed 5th overall and had no misses in her 6 lifts.
Athletes still to compete
Freestyle Wrestling team start from 9.30pm tomorrow evening. Their draw and schedule is yet to come out but it starts with the 125kg men.
-
Tuvalu
Athletes have all competed
-
Vanuatu
Weightlifter Ajah Pritchard-Lolo placed 8th in the Womens 87kg division early yesterday morning breaking her Personal Best with 100kg clean and jerk lift and a total of 178. An amazing achievement for someone who only started weightlifting 7 months ago!
The Vanuatu Judoka team wrapped up their competition with Marius Metois their last fighter yesterday. He got through to the Quarter Finals and then contested for Bronze against Australia's Harrison Cassar.
The table tennis team finished their campaign this morning at 7.40am against the Maldives.
Vanuatu athletes still to compete -
Sprinters Chloe David and Obediah Timbaci race this evening in the 200m Womens and Mens heats respectively from 9.25pm
Womens Heavyweight Powerlifting final - Elie Encock competes for Vanuatu from 6.30am tomorrow morning.
Vanuatu Womens Beach Volleyball girls play the England pair tomorrow morning at 7am
-
Public Interest Journalism funded by NZ on Air
Share