Sports
Tokyo 2020 - Our Pacific Islands athletes Round Up Day 11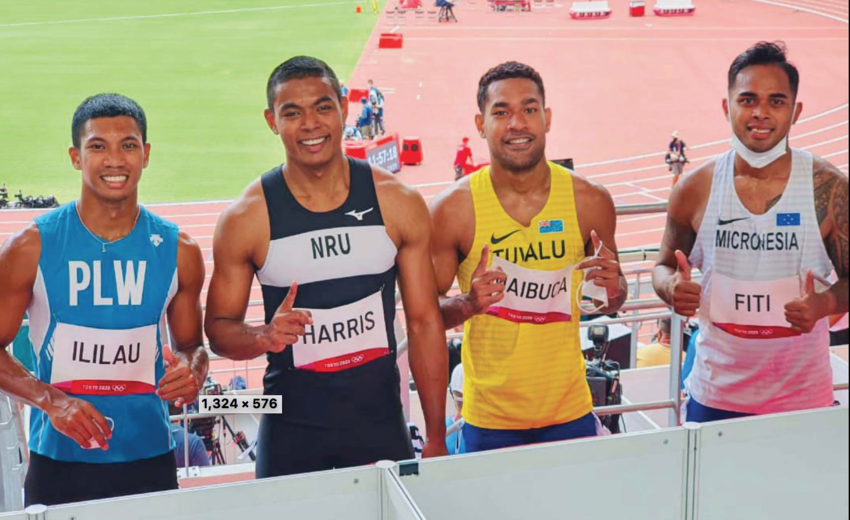 To go along with our guide to who, what, when and where our Pasifika athletes are competing at the 2020 Tokyo Olympic Games we'll be doing a round up of how they've all been doing in case you missed their event. Peep the results of our athletes from Day 1-4 here & Day 5-7 here
Here are the results & who to watch out for of our Pasifika athletes who have competed on Day 8, 9, 10 & 11 of the Olympic Games.
Track and field dominate the results here. Cover image of some of our Pasifika sprinters via Oceania Olympics.
-
American Samoa
American Samoan sprinter Nathan Crumpton is more widely known for his Winter Olympics sport of Skeleton racing. He only decided to try out for the Summer Olympics track and field 100m race when he was on a training break in American Samoa in 2019 and happened to turn on the TV when the Pacific Games were on.
He placed 9th in his heat on Saturday but he'll head home to prepare for the Winter Olympics in 2022 after this. If he makes it, he'll become the first athlete to represent American Samoa in both the Summer and Winter Games.
-
Adrian Hoesch and Tyler Paige are competing in their last day of Sailing in the Men's Two Person Dinghy. Their final race has been delayed and apart from Sunday where they were placed 19th, they've consistently placed 18th.
-
Weightlifter and Team American Samoa flag bearerTanumafili Jungblut competed this evening in Weightlifting, Mens 109kg (Group B). He finished 5th in his group with a total lift of 330kgs.
Cook Islands
Middle distance runner Alex Beddoes raced on Saturday and set another national record + a personal best in the 800m, finishing his heat in Tokyo in a time of 1.47.26 down from his previous record set in February of 1.47.85. He has missed out on progressing to the semi-finals by 0.67 of a second!
-
Canoe sprinters Jade Tierney & Kohl Horton competed in the Womens Kayak Single 200m and Mens Kayak Single 1000m respectively yesterday.
They're both Olympic Games debutants and are also the youngest members of Team Cook Islands. They both came 6th in their heats and progressed to the Quarter Finals - a massive achievement for these young athletes.
Kohl is up again tomorrow in the Mens 200m sprint at 12.30pm.
Federated States of Micronesia
Sprinter Scott Fiti ran a season's best completing the Federated States of Micronesia's (FSM) participation on Saturday at the Tokyo Olympic Games.
Fiti, from Chuuk State, FSM, and an IOC Olympic Solidarity Athlete Scholarship recipient, ran 11.25 seconds in the third preliminary heat of the Men's 100 meter dash finishing sixth out of nine competitors.
Fiji
Fijiana - Fiji Womens Rugby Sevens shocked the Black Ferns in their semi final, taking them to the wire and into over-time. New Zealand scored first in the sudden death play off and went on to win Gold and the Fijiana girls fought hard to take Bronze against the UK. Reapi Uluinasau made history becoming the first Rugby 7s player, male or female, to score four tries in one match at the Olympics in their pool game against Brazil.
"Straight after that bronze medal win I had hundreds of calls from girls in Fiji and Fijians overseas wanting to come and join the Fijiana," Coach Saiasi Fuli said to RNZ Pacific.
"That is the positive impact of this Olympic tournament and it motivates and encourages young girls in Fiji to take up the sport of rugby sevens and increase the number of women's participation in Fiji."
-
Sprinter Banuve Tabakaucoro finished third equal in the prelim round clocking a season's best time of 10.59 seconds. It was his first Olympics and he was the only Pacific Islands sprinter to make it through to the heats from the prelims, however he ran a slower time of 10.70 seconds.
Guam
Guam has one last athlete to compete at the games - Rckaela Aquino who will be competing in Womens Wrestling freestyle 53kg on Thursday 5th August.
Kiribati
Lataisi Mwea was the last athlete for Kiribati to compete and he raced the 100m preliminary heats on Saturday. He had originally gone to the Gold Coast to train for High Jump but had to stay on when the borders closed so had some time to train in sprints and ended up qualifying for the Mens 100m for this games.
He made his debut at this Olympics and placed 8th in Heat 1.
Marshall Islands
The Marshall Islands finished their Olympic Games campaign last week with their two swimmers.
-
Nauru
Jonah Harris is the Nauruan national record holder in both the 100m and 200m. As well as being the Nauruan flag bearer he made history on Saturday becoming the first Nauruan to compete in athletics at the Olympic Games.
-
Weightlifter Nancy Abouke competed on Sunday in the Women's 76kg category. She placed 4th in Group B. With both of their athletes finished their events, they have also officially completed their Olympic Games campaign.
Palau
On Saturday Guams remaining athlete Adrian Ililau competed in the 100m men sprint preliminary event. He finished 8th in Heat 3.
Acording to the Palau Track & Field association the young athlete has been trying to break his personal best from 11.58 for the last 3 years and managed to do it at on Saturday at the Olympic Games finishing with a new Personal Best time of 11.42 seconds.
Papua New Guinea
Papua New Guinea's only Track and field athlete Rellie Kaputin was the last to compete from Team PNG and competed in the Women's Long Jump (Group A) on Sunday. She went into the event as the lowest ranked athlete but held her nerve to complete two of three jumps to record a best jump of 6.40m in three attempts.
She finished 11th in Group A and 19th overall out of 30 athletes completing her dream of making her very first Olympics.
Samoa
With Samoa's weightlifters unable to travel this year, the Kayakers are the only remaining members of Team Samoa.
Both of Samoa's Canoe sprinters Anne Cairns and Tuva'a Clifton took to the water yesterday. Anne competed in the Women's Kayak Single 200m and finished 7th in Heat 3 and Tuva'a competed in the Mens Kayak Single 1000m where he finished 4th in Heat 4, however they both managed to qualify for the Quarter finals. Tuva'a finished 5th and Anne finished 8th in the Quarters.
They'll both compete again tomorrow. Tuva'a takes on the Men's K-1200m at 1pm and then again in the Men's K-2 1000m at 2.40pm NZT. Anne will compete in the Women's K-1 500m at 2.15pm.
Rudolph Berking-WIlliams will also head to the water tomorrow for the Men's K-1 200m sprint, the Men's K-2 1000m teaming up with Tuva'a at 2.40pm and then the Men's C-1 1000m on Friday. This will be his 3rd Olympics. He previously competed at Beijing 2008 and the London 2012 games.
Tonga
Sprinter Ronald Fotofili made his Olympics debut on Saturday racing in the 100m preliminary heat 2. He ran a time of 11.19 seconds which was short of his personal best time of 10.89. He didn't advance on to the next round but was still happy to have had the experience of the games.
-
Young 20 year old Weightlifter Kuinini Manumu'a made history as the first ever female to represent Tonga in weightlifting yesterday. She was born in American Samoa but spent the first 10 years of her life in her parents' home country of Tonga. When she was 10, her parents and siblings moved to San Francisco where she went to High School and got into athletics. She played basketball, volleyball, and competed in shot put and discus in track and field. At the young age of 13, she started weightlifting in an afterschool program.
She lifted 100kg in her first attempt and 103kg in her second attempt in snatch when she competed yestserday. Then today in the Clean and Jerk she lifted 125kg in her second attempt placing 8th overall in the women's 87kg category.
Tuvalu
Karalo Maibuca signed off for Team Tuvalu with his race in the Mens 100m prelims, heat 3. He finished 9th but broke the Tuvalu National Record for the Mens 100m on Saturday. He now holds the record which stands at 11.42 seconds. Way to go Tuvalu!
Vanuatu
Team Vanuatu officially completed their Olympics campaign last Friday with Rillio's race.
-
* Please note: Solomon Islands will be the final competitor for the Pacific Islands with Sharon Firisua running the womens marathon on Saturday the 7th of August.
Share