Sports
Tokyo 2020 - Our Pacific Islands athletes Round Up Day 7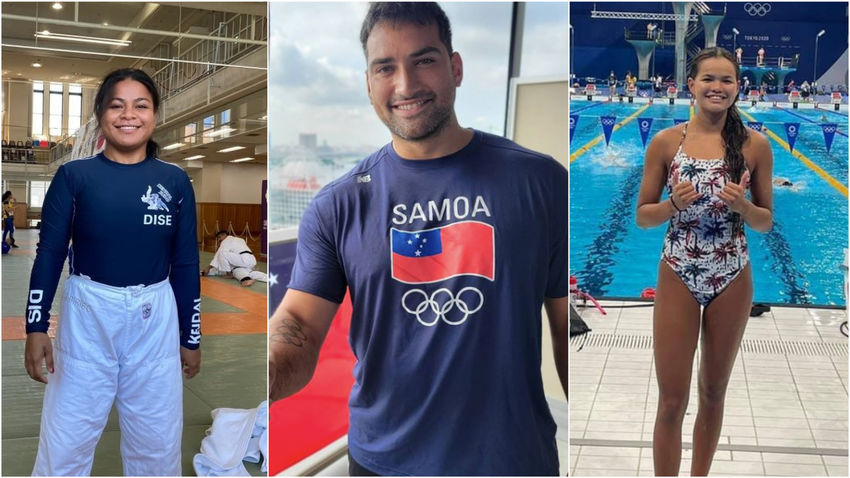 To go along with our guide to who, what, when and where our Pasifika athletes are competing at the 2020 Tokyo Olympic Games we'll be doing a round up of how they've all been doing in case you missed their event. Peep the results of our athletes from Day 1-4 here
Here are the results & who to watch out for of our Pasifika athletes who have competed on Day 5, 6 & 7 of the Olympic Games.
American Samoa
Adrian Hoesch and Tyler Paige competed in Sailing in the Men's Two Person Dinghy on Wednesday and again on Thursday. In races 1 & 2 they placed 19th, in races 3 & 4 they placed 18th and after todays races they are again placed 18th.
The pair will race again on Sunday from about noon NZT and on Monday from about 2.35pm.
Cook Islands
Canoe Slalom athlete Jane Nicholas competed in the WC1 Canoe Slalom on Wednesday and made history as the first ever Cook Islander to compete in the WC1 which is a new discipline at the Olympics AND became the first woman in Olympics history to compete in a Canoe Slalom event at the games.
She was the first of the canoeists to shoot down the man-made water course in Tokyo. She placed 19th in her first heat and 22nd in the 2nd heat which meant she missed out on a place in the finals (Only the top 18 go through to the finals).
-
Middle distance runner Alex Beddoes will line up tomorrow in the heats of the 800m. It has been quite the journey for Alex who normally trains in Melbourne with the Fast 8 track squad but of course the pandemic saw him return home to Rarotonga last year.

Catch him tomorrow at 12.50pm NZT
-
Peep the photo slide below for the rest of Team Cook Islands athletics schedule in week 2 of the Tokyo Olympics games.
Federated States of Micronesia
Tasi Limtiaco took on the Men's 200m medley on Wednesday night. He placed 5th in Heat 1.
Tasi, a 27-year old Chuukese/Yapese swimmer has represented the FSM on the international swimming stage for several years now, including Oceania Championships, two World Championships, and FINA World Cup. Tasi has been training in Thailand on a FINA scholarship in preparation for the Olympics. He holds FSM National Records in multiple events, including the 200-meter IM.
Fiji
The 'Worlds Greatest Fiji Sevens Team' brought joy and pride to the hearts of Fijians around the world when they won GOLD on Wednesday night beating New Zealand in the Rugby Sevens Olympics final.
Their captain Jerry Tuwai made history becoming the first Pacific Islander competing for their home island to win Two Gold medals. He was the only OG player from the Rio Olympic Games.
-
Sailor Sophia Morgan finished 41st in Race 7 & 8 yesterday and in Race 9 & 10 today she finished 41st.
-
Fijiana - Fiji Womens Rugby Sevens kicked off their Olympics campaign yesterday against France in Pool B. Result: Fiji 5 - France 12
They then took on Canada last night and won 26 - 12. In the last game of their pool they played Brazil this morning and won 41 - 5. In their game against Brazil, Reapi Uluinasau made history becoming the first Rugby 7s player, male or female, to score four tries in one match at the Olympics.
This evening they took on the Rio 2016 Gold Medalists Australia in their Quarter Final and WON! They will take on New Zealand in the semi final tomorrow at 2pm NZT
-
Tevita Takayawa competed in the Judo Mens 100kg yesterday but lost by Ippon in round 32.
-
This evening Cheyenne Rova competed in the 50m freestyle and placed 3rd in her heat.
Guam
Swimmer Mineri Gomez swam her fastest ever time in the 100-meter freestlyle event at the Tokyo 2020 Olympics Wednesday night. Gomez's time of 1 minute, four seconds was better than her prior personal best of 1:04.40, and her entry time of 1:05.11 in the event.
-
Regine Tugade-Watson ran in the 100m preliminary races this morning in 12.17 seconds. It was a Season Best for the young sprinter, a third of a second faster than her Rio debut and the fastest she's run in over two years.
Kiribati
Judoko Kinaua Biribo is the only woman out of 56 Judo participants in Kiribati, and the first ever I-Kiribati Olympic judoka. She is also only the fourth female I-Kiribati Olympian in history!
When Kinaua was six, she was abducted and sexually assaulted. She shared her powerful story with The Guardian here
She competed on Wednesday and lost by Ippon in an elemination heat but making the Olympics is a win in itself.
Marshall Islands
Colleen Furgeson raced in the Women's 100m Freestyle. She placed 5th out of 8 in the 2nd heat of the night. Peep our Women of the Islands interview with Colleen here
"Representing the Marshall Islands is an amazing feeling and an extreme honor. I have had an amazing opportunity to represent home!" - Colleen Furgeson
-
Her swimming team mate Phillip Kinono swam tonight in the 50m freestyle - he placed 6th in his heat.
Palau
Palau kicked off their Olympics campaign with their two swimmers Shawn Dingilius and Osisang Chilton.
Shawn finished his heat in 4th place. Osisang finished her heat in 2nd place.
-
Tomorrow Guams only track & field athlete, Adrian Ililau, will race tomorrow in the 100m men sprint preliminary event.
Papua New Guinea
Sibling sailors Teariki Numa (Men's Laser) and Rose-Lee Numa (Women's Laser Radial) sailed both yesterday and today.
In races 7 & 8 Teariki placed 34th and Rose placed 43rd. In races 9 & 10 today Teariki placed 35th and Rose placed 43rd.
-
This evening swimmer Judith Meauri was up tonight in the 50m freestyle heats. She won her heat with a time of 27.56
Samoa
Eroni Leilua sailed his last set of races today. He placed 43rd so will not progress on to the medal races.
-
Samoa's flag bearer and Discus thrower Alex Rose stepped on to the Olympics stage this afternoon.
The athlete qualified for the Olympics in 2019 with a 66 metre throw which was a big Personal Best AND national record. He is stoked with the opportunity to go up against the best in the world. Unfortunately he didn't progress as his best throw was 61.42 and he needed to hit 66m again to qualify through to the medals round.
Tonga
Swimmer Noelani Day stepped up for Tonga in the Women's 50m freestyle. She is the first homegrown, local Tongan swimmer (male or female) to compete in swimming at the Olympics. Irene Prescott (based in Australia) has represented Tonga at Rio in 2016 and Amini Fonua is based in the USA.
Irene Prescott currently holds the National Record for 50 Freestyle with the time of 28.19 (set at FINA World Championships in Barcelona, 2013). So one of Noelani's goals tonight was to try and beat that time. She fell short this time round but we'll hopefully see her again at the next Olympics.
She shared some of her journey with us here -
Tuvalu
Matie Stanley represented Tuvalu in the Women's 100m at the Tokyo 2020 Olympic Games at about lunch time NZT today. The now 18 year old sprinter Matie Stanley has had a rapid rise since she first started athletics on the mainland in Tuvalu in 2018.
She ran a personal best time of 14.52 seconds. An amazing feat coming from one of the smallest nations in the world!
Vanuatu
Vanuatu's flag bearer Rillio Rio raced his last race in the Single Skulls today and placed 31st.
-
* Please note: Nauru has not competed yet and the Solomon Islands had nobody competing over the last few days.
Share