Inspiring Islanders: Fenton Lutunatabua
Fenton is a writer, photographer, media relations expert and climate change activist based in the beautiful islands of Fiji. Through his work as the Pacific Communications Coordinator with 350.org, he's worked extensively across the region and the world, elevating the voices of people at the frontlines of climate impacts , particularly on our land and on our people – the Humans of the Pacific Islands.
I am tough curls, chocolate skin, and deep brown eyes.
I am both land and ocean, and I am neither.
I am neither island nor city, and I am both.
I am the scorching sun and the dancing moon.
I am the woven ibe and the cane couch.
I am the beach and the taste of salt and sea, and I am the wild waterfalls and the quiet of streams and shade.
I am taki circles of kava and mango skin stained fingers, and I am craft beers and a belly full of falafels
I am Bata flip-flops with my initials carved in them, and I am old dirty chucks and a faded blue passport.
I am bright bula shirts and shell necklaces, and I am dinner jackets and dress shoes.
I am salt, lemon, and cawaki, and I am salt, lemon, and ceviche
I am curry eaten with my fingers, and I am Deepawali consumed with my eyes.
I am two-minute noodles and fried casava, and I am sashimi and vegemite sandwiches.
I am praise and worship and favorite bible verses, and
I am golf on Sunday and a beer by the beach.
I am filters on snapchat and hours on instagram, and
I am handed down tabuas and gifted Masi.
I am the iTaukei without the deep roots, and
I am the deep roots without the entitlement.
I am the susu madrai with the ika tavu aspirations,
I am both product and origin,
I am both then and I am now.
I am the child of Fiji with footprints across cultures, and
I am the child of footprints scattered across Fiji.
I grew up a product of my mother's dreams and aspirations. A manifestation of her hopes as she packed her suitcase and moved from the outer islands to the city, in search for a different life.
I was born a first- generation- Fijian- urban- dweller, with no lived experiences of a village life. As a child, I believed that there was one single story about the Fijian identity, and it was a story- I didn't measure up to.
In my single story of the Fijian identity, A Fijian would be able to stand on both feet in their father's village, and claim that land as their own, a Fijian would know the ins and outs of farming and fishing, and a Fijian could easily hold a conversation in the iTaukei language.
I didn't grow up with my Dad, fish and taro were what my Mum picked up in Navua on our way home to Pacific Harbor and, while I can understand Fijian perfectly, what the words sound like in my head and what actually rolls off my tongue - are very different.
For a long time, I persistently subscribed to this single story about the Fijian identity. The single story that seemed to reject my authentic truths.
As a child I remember feeling alone. I was born into a situation that enabled my contemporary disposition on life and this sense of self-didn't fit into the dominant narrative I learned about the Fijian identity.
In many ways, that single story about the Fijian identity, anchored me down. However, I have come to learn that we are more than a single story, and if anything, it's the anti narrative that has taught me that my identity isn't shaped by the things I lack, but rather the things we share. Our links to the land and to the ocean and how that defines us, our faith in stories passed down through generations and how it informs us, and our respect for family and community and how that shapes us. What truly defines who are, are the powerful values at the core of each of us. It's our multiple truths and shared stories, that truly shapes our identity.
Accepting that, is a gift I think we owe to ourselves. Because when we stand boldly in all of who we are, and when we are grounded in the conviction of our entire selves, we are liberated and have the honor of paying that forward.
Who we are, are the multiple truths of our stories, and it's important that we acknowledge that a single story is an incomplete narrative, and an incomplete narrative isn't our entire truth.
Accepting that, has really shaped and informed the work that I do. I work with 350.org- a growing global movement of changemakers that exist to address the many challenges with climate change.
In the Pacific, I serve the Pacific Climate Warriors. A group of inspiring young climate activists spread across 15 Pacific Island Nations, who bring about deep transformational justice, through storytelling and faith and cultural organizing, in grassroots communities.We exist to build a climate movement in the Pacific, for the Pacific, and with the Pacific.
At the foundation of who we are, is the commitment to elevate stories of people at the forefront of injustices brought about by climate change. Serving the Pacific with the Climate Warriors has given my story, a very empowering sense of validation.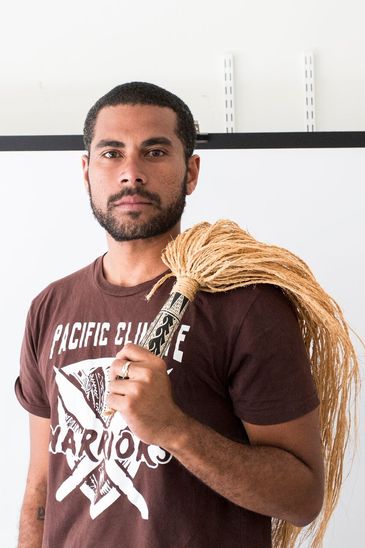 My story with climate change began with my grandfather, Byron Fisher. Long ago, when I was maybe 10 or 11 years old, my grandfather took me out fishing. I remember we were standing out by the ocean on some rocks, and my Pa had a spear in his hand and a smile in his eyes, waiting for dinner to swim by. To pass the time, Pa would tell me stories about his old people, that day, he told me that we come from a family of boat builders and fishermen, and the ocean would always be kind to us. This was my Pa's truth- his story and his story put food on the table for my mother and her siblings.
I especially remember this story for two reasons. One, was because it helped me appreciate his truth- I saw a side of my Pa I had never seen before, and two, it showed me the power of storytelling. You see the stories we tell each other about ourselves, have power, and it's important that we get these stories right.
Two years ago I got to visit the low-lying atoll island of Tuvalu. My friend, Logo Monise is from there. The highest point on her island home is no higher than five meters. For Logo and her family, sea level rise is problematic. Saltwater intrusion means her fresh water supply is affected, flooded pig- pens mean her food security is threatened, and the rising sea means graveyards are now underwater.
In February 2015, king tides hit Kiribati, another low-lying atoll Island. Vasiti Tebamaare was at the Betio Maternity Hospital when it hit. She said that the king tides were so huge that the 2-meter high sea wall erected to protect the hospital, simply didn't stand a chance. The entire hospital was destroyed. Mothers and their newborns were caught in this utter chaos confused, cold and afraid.
Later that year, I was in Pohnpei in the Federated States of Micronesia. Everyone that I spoke to about changes they have experienced with the climate told me the same thing. Living in Pohnpei nowadays is like living in a volcano. The heat is unbearable, and on top of that, they don't understand why the traditional winds that signal seasonal changes, don't blow when they should anymore. Their breadfruit trees don't fruit, their catch from fishing is growing smaller and smaller, and most of their vegetables wither and die out.
These are the stories of climate change that I'm sure you've heard before. And if you look at the existing narrative of our people in the face of climate change, without pessimism, you fail to understand our realities.
Our realities as Pacific Islanders is that we are dealing with a crisis that we barely contribute to. The developed world has gambled with the climate and lost. Our land is the jackpot and the ocean is collecting her wins.
However, as authentic as these stories about climate change in the Pacific are, they are not the entire story. This is only a half-truth, and when half-truths are told, the pursuit for justice is misguided.
And that is why we do the work that we do. We work in the Pacific to tell you stories about our truths as Pacific Islanders not just living but thriving, on the front lines of climate change. We work to give our stories justice.
While it's important to talk about Logo and sea level rise, let's also talk about how over the last 3 years, a network of young Pacific Islanders working on climate justice through faith and community based organising, have stepped unapologetically into their power calling on regional leaders, world leaders and the fossil fuel industry to commit to moving away from fossil fuels and to finance a just transition towards renewable energy.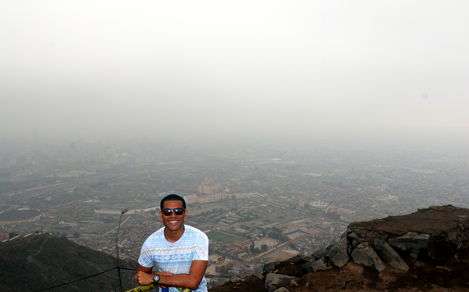 While we talk about Vasiti and King tides, let's also talk about how 30 Pacific Climate Warriors used traditionally built hand made canoes to blockade the largest coal ship in the world in 2014. Let's talk about how this modern day David vs Goliath battle was a moment where young Pacific Islanders showed the world that when a small group of like minded people come together, anything is possible. Let's talk about how this action, the very first one for the Pacific Climate Warriors, continue to inspire groups of people world over and encourage them to always speak truth to power.
While we talk about how the climate is changing and making traditional knowledge more and more irrelevant, let's also talk about how the same network of young people joined the People's Pilgrimage in Italy before heading to a three day fast and prayer vigil in the Vatican, praying for their Island leaders heading into international climate negotiations, and praying for their island homes. Let's talk about how even though the climate is changing, their faith and belief in their convictions remain unwavering.
Let's address the inequality in the existing narrative by shifting it to one that speaks of our shared strength as Pacific Islanders, our resilience as a people, and our Warrior spirits.
When you look at the spirit of our people in the face of climate change, and you're not filled with optimism- you fail to understand our courage.
Our courage as a people is the type of courage that thrives whilst existing in a perpetual state of rehabilitation. Our courage as a people is the type of courage that will build a movement of Pacific Islanders demanding climate justice. Our courage as a people is the type of courage that will stop giant coal ships with handmade canoes.
This is our courage and our courage is our story, and I urge you to connect to the truths behind our story.
We are more than just broken down seawalls, dead breadfruit trees, and fewer fish, we are the story of our courage in the face of climate change, and it's that story that must inform the work that we do when thinking about justice for the Pacific.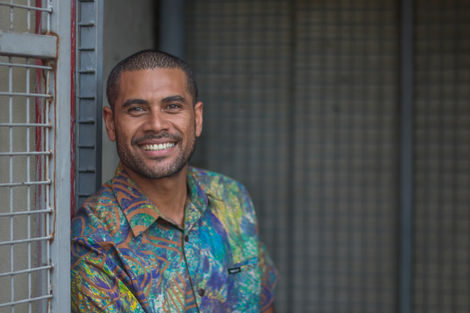 This world cannot continuously wreck this planet for profit, and paint Pacific Islanders as nothing more but mere victims in this climate crisis. This world must keep fossil fuels in the ground and commit to a just transition towards renewable energy.
Collectively, we need to consciously shift the narrative of Pacific Islanders to what is really is!
We are the king tide and we are the new wave.
We are the sinking island, and we are the rising islands.
We are tough skin, chocolate eyes, and deep curls.
We are both land and ocean, and we are each other.
We are my story, we are your story, and we are our story.
By Arieta Rika - founder of Talanoa, a storytelling venture which captures the tales and yarns of young people in the Pacific as a way of educating, empowering and inspiring through examples of lived experience.