Coco Gallery
PACIFIC RUNWAY 2022
Pacific Runway has been an annual event which was launched in 2012 by founder and coordinator Jannike Seiuli.
The platform was designed to showcase the incredible talent of Maori, Pasifika and Indigenous creatives and has played host to a prestigious fashion event with a distinctive touch of the Pacific celebrating a fusion of fashion over the last decade.
However, in 2022, which is the show's 11th year, Jannike decided that this would be the last and split the show in to two events - a Pacific Runway show at the Powerhouse Museum and then a Pac Gala the following evening celebrating Pacific artistry.
The Pacific Runway show this year also included workshops & talanoa panels, demonstrations by a live Fijian artist and a styling demo, a Pacific marketplace, performances by Sela Vai & Matavai Pacific Cultural Arts and Pacific Short Films.
-
Peep photos from both the Pacific Runway Event and the Pap Gala celebration here -
-
Public Interest Journalism funded by NZ on Air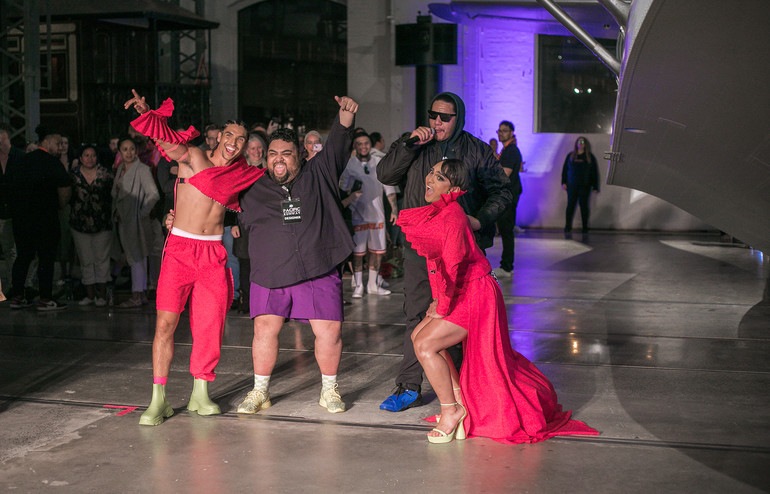 Loading photos...
The Pacific Runway event which was held at the Powerhouse Museum started with a 'Welcome to Country' and then a showcase of indigenous designer Nungala Creatives designs with models walking to young Tongan/Fijian/Aboriginal/Italian performer Mariah Alone's rendition of Cynthia Erivo's 'Stand Up'.

Check out photos from BTS and the runway.

Designers this year included Nungala Creative, Missing Polynesia, Flying Fox Clothing, OHN Clothing, Public Island Society, JohJo's Fashion, Hefrani, A Kahui Design Studio, Becky's Thrifted Fits & Styling, Raphgarr.co, Bou's Fashion, Styled by Neekz, Wear Ta'ahine & Hupfeld Hoerder.

The Pac Gala - Pacific Artistry Celebration

Celebrating 10 years of Pacific Runway held at 'The Grounds of South Everleigh'.