INK SERIES: STACIE AH CHONG-LEVI
MALU
You may recognise Stacie's legs from the covers of Lani Wendt-Youngs popular Telesa trilogy.
She gives us her back story on where and when she had her malu done and what it means to her as a young woman born & raised in Samoa now living in New Zealand.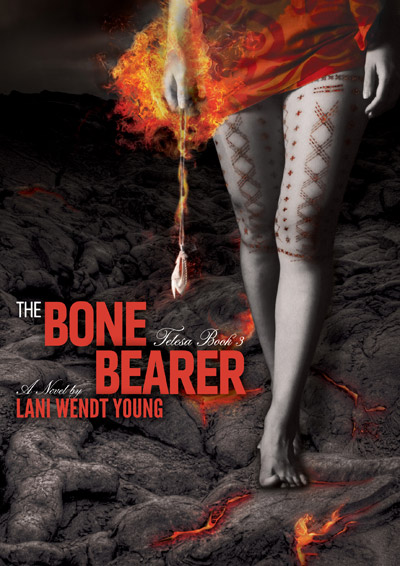 I got my malu done in Samoa, 2 weeks after my wedding back in January 2010.
To be completely honest, growing up, it had not been on my list of 'things to do' It hadn't really crossed my mind – it had always scared me because when you think of a malu or a pe'a you think of the pain that you have to go through.
Growing up my grandmother Su'a Frieda Paul & my cousin Ruby were the only ones in our family who had, had a malu done.
The idea of getting a malu began to evolve in 2009 when I sat and watched my husband getting his Pe'a done. Watching him go through it, all of a sudden just gave me this real appreciation for the courage you have to have and it's hard to explain or pinpoint exactly what it was that made me think 'oh my goodness, I want to get a malu' I know it's weird cos you'd think that watching him go through such an ordeal you'd be more like 'oh hell no I'm never getting it done' (laughs) but after watching him go through that pain and sitting there for 6 days, 5 hours at a time you really have to have an appreciation for your culture and a very deep desire to want it.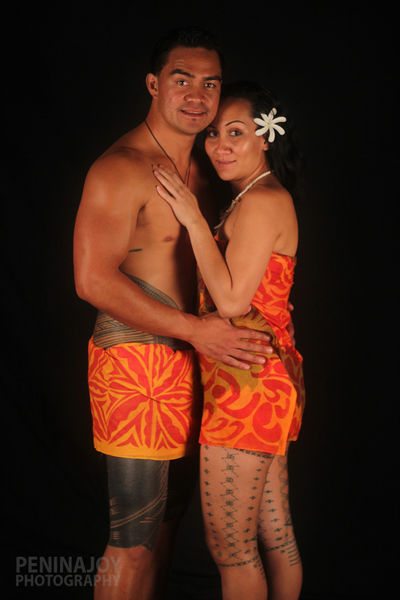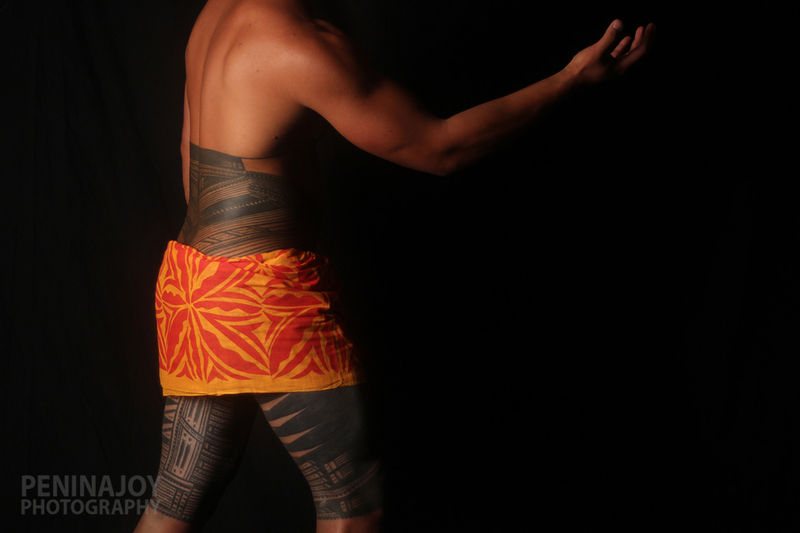 Stacies husband Alesana was also the alternate 'Daniel Tahi' novella cover.
We had begun planning our wedding to be held in Samoa in January 2010 & there were no plans or even mention of me having my Malu done after. I had been constantly thinking about the possibilities of getting it though and knew that 'I really, really wanted it now'. It wasn't until my Aunty To'oa Kristin Taylor who was there for my wedding (she is a very dear friend of my mother's - they are the founders of 'T.H.O.R.N' Ministries) happened to say 'I've been really wanting to get my malu done but what say we all get it done together' that I began to think 'Wouldn't it be so fitting to get it done now' - we had just sealed our marriage & this could be a new beginning for me. I felt that this was going to add that extra meaning to Alesana and I just being married.
They say that the malu means Fa'amalumaluga O Aiga which means peace keeper of the family or to shelter and protect. A women with a malu would be seen as the shelter and protector of her family, her children, and her community. Choosing to get my malu at that time was going to be something of extra significance - a new beginning for me as a wife & a mother for my own little family and a new found love and appreciation of my Samoan culture which I am still learning about everyday.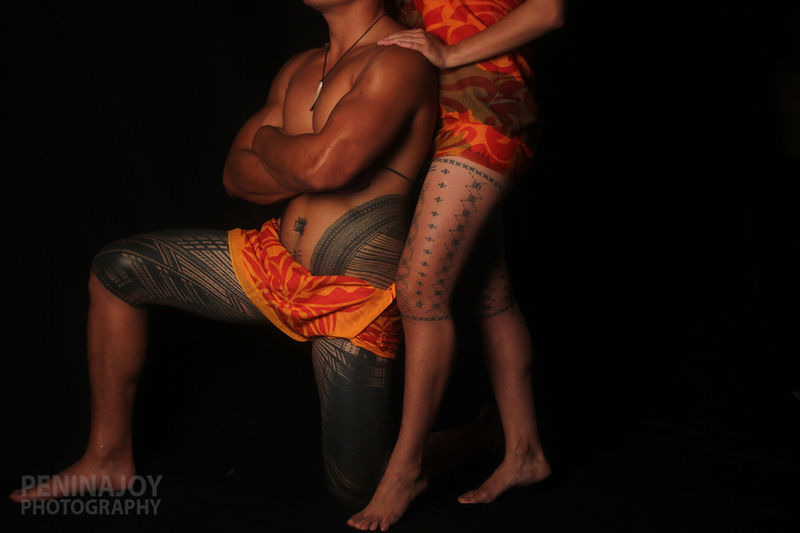 Alongside me was my older sister Natalya, my Mum Papali'i Carol, Aunty To'oa Kristin Taylor, my aunty Therese (my Mums younger sister), my aunty – Leilani Curry and I. There were 6 of us and then my husband's young cousin Grace also got hers done the same day as I did so she was part of our group as well. It was a very special occasion and to have it done alongside my mother and my older sister gave it more meaning too.
Mine took 2 hours. Everyone has a different experience. I know some people who have had it done and they've done one leg on one day and then do the other leg the next day. I think it's really up to the tufuga (Tattooist) because they can feel and judge how the person is taking it and their pain levels but I think it also depends on how busy the Tufuga is as well.
We all got done over a week. My malu was done by Su'a Peter Suluape, from memory Su'a Peter did the majority of ours and I think his father Su'a Suluape Petelo did my Mums.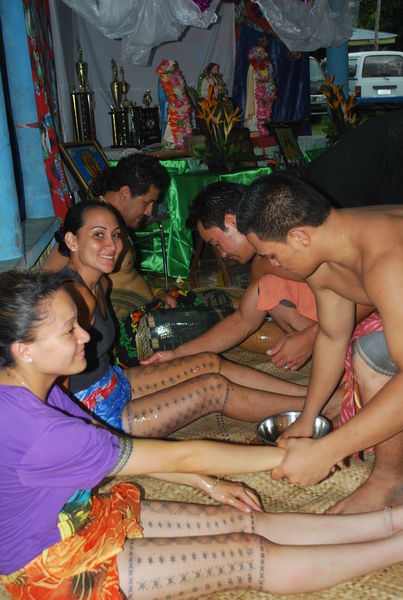 Stacie in the middle (looking at the camera)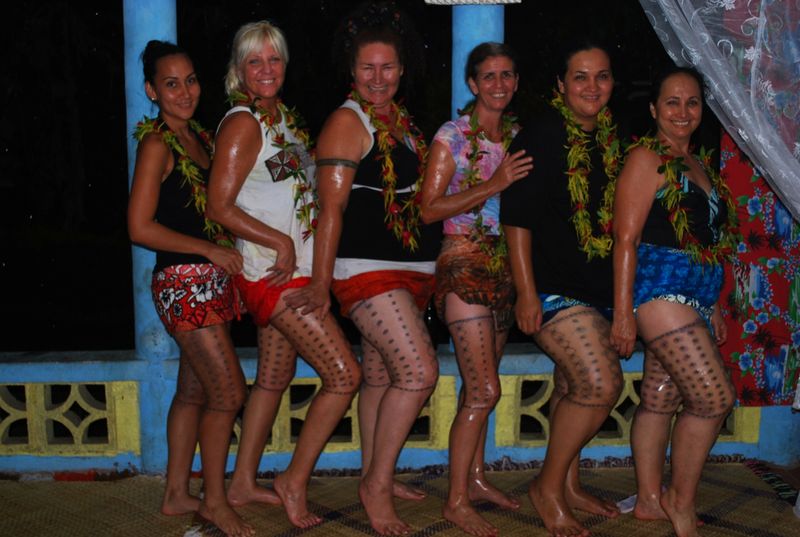 Stacie to the far left
Everyone's patterns are different. It's an amazing art, when you stand up in front of them, they don't actually draw anything on you, they'll mark little dots I guess for the lines but they don't have any pre-knowledge of what designs they're going to actually put on you. So it's totally up to the tufuga. I know that you can request to have certain patterns that you may have a family connection with or if you have a certain interest in, I don't think there's any 2 malus that you'll come across that are exactly the same. You will see many that may be similar because the designs are much the same but each is unique.
The diamond pattern behind the knee is the only part that is much the same and that diamond is what is called the "malu" which means protect, all the other designs are decoration. Each design and each pattern all have different names to them and from what I know all of them are pertaining to the earth, land and sea. So you'll come across ones called 'Gogo' (Seagull), 'Fetu' (Star) or 'Alualu' (Jellyfish).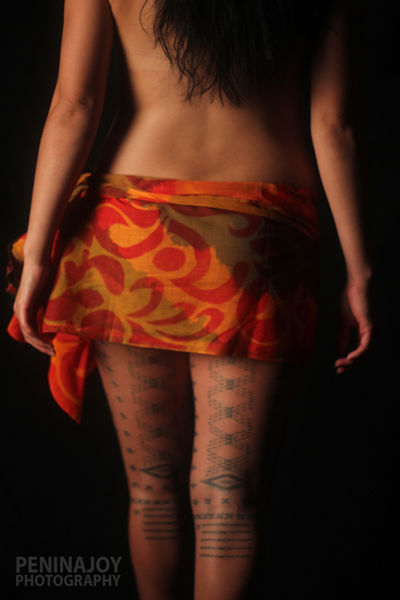 Whether you're getting a pe'a or malu the tufuga will give you a full list of things you're not to do during the process especially for the pe'a because they take longer than a day to complete. With the malu its much the same but because it doesn't take as long, the only thing they did say to us was that until we'd had the 'Samaga' I had to sleep on the floor, I wasn't allowed to sleep on the mattress. So, because there were 7 of us in our group and I got mine done on Tuesday I had to sleep on the floor until the others had finished – they also ask you to make sure you take a shower a number of times throughout the day to massage out the ink so it keeps the infection away, this is a very important part, you must also keep out of the sun.
The 'Samaga' or blessing is the ceremony done at the end of both the pe'a and the malu. The tufuga will say a prayer and there may be songs sung. There is then the presentation of gifts and payment to the tufuga from you and your family, following on from this the Tufuga will do the cracking of the egg on the head – they call this the rebirth and it's the blessing you receive upon completion of your Pe'a or Malu, this signifies that you're now a woman or a man of the earth. The tufuga will stand up and say a silent prayer while he's cracking the egg on your head, he'll then get the lega (mixture of coconut oil with turmeric or it might be curry powder or moso'oi I think) and they oil your whole body from head to toe starting off with the malu. It will then finish off by you preforming your siva or celebratory dance.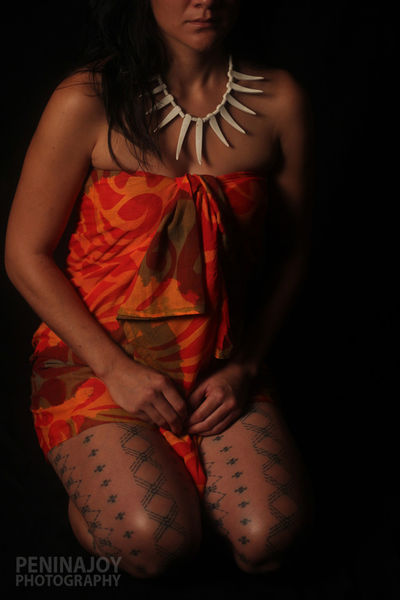 A lot of people say you shouldn't actually get a malu or a pe'a until you have full knowledge of the Samoan culture and that's what a lot of the controversy is at the moment. They say that unless you have the full knowledge of it you're just getting it for the sake of it and that it's all for show.
To be completely honest I didn't know too much about it before getting it done but for me, like I said before, it was a new beginning and also the start in my journey to learn more about my culture. It's been such a positive for me and I've learned so much about it & im excited to keep learning.
Not going to lie – that first tap – oh my goodness, all I kept thinking was, what am I getting myself into? All I wanted to say was 'stop, that's enough! I don't want to go through with it' (laughs) but the feeling you get when its complete - I can't explain it! Everyone's always like oh what's the pain like but you can't explain that. I mean it hurts – it really hurts but it's a pain you can't explain, I always compare it to childbirth.
The pride you feel just comes over you when it's complete and when I stood up after it was done I stood up to do my celebratory dance and a wave of happiness swept over me and I had never felt so proud not only of myself but of my Samoan culture, I danced the Siva Samoa with so much pride, the tears just kept streaming, I felt like I could now say I am a true tama'ita'i Samoa. (not saying that you need to have a malu to be a true tama'ita'I but it gives me that personal feeling for myself as an individual) , I may still be learning about my culture and how I can be a better tamaitai but I am proud of who I am & my culture. My malu represents that and I am proud to show that everyday. I am also proud of those that have had the courage to get their Malu or Pe'a done and know that everyone has their own reasons why.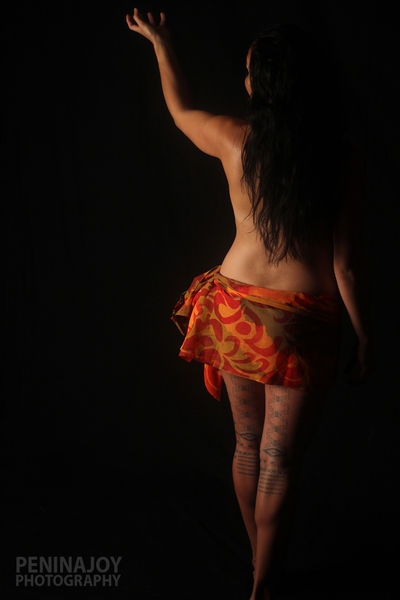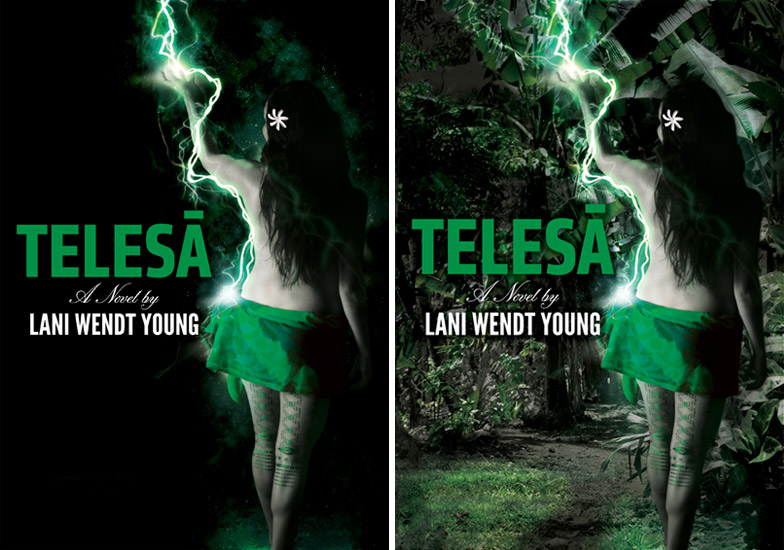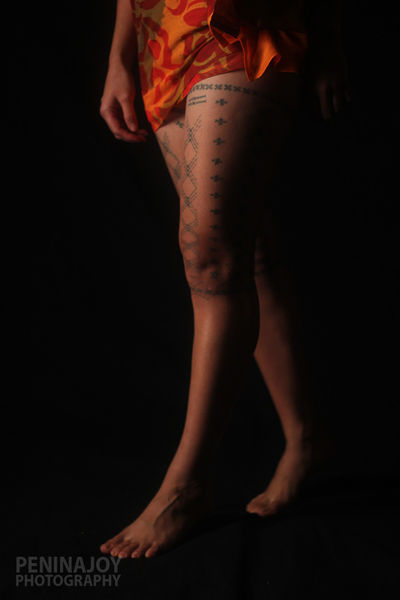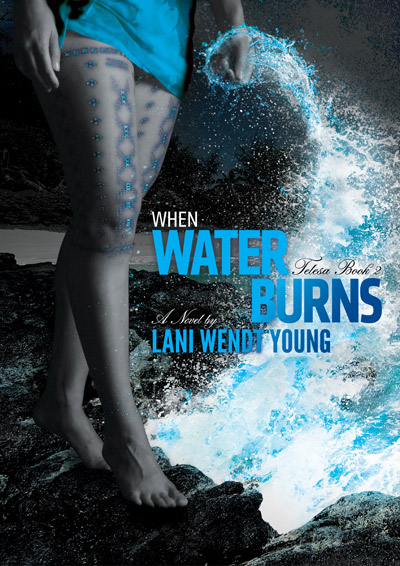 Photo credit: PeninaJoy Photography