Faikakai Topai - Dumplings in Sweet Coconut Sauce
Check out this amazing recipe for the best faikakai topai you've ever had!
Faikakai is a sweet Tongan delicacy usually reserved for special occasions and days of feasting so make sure you get your feast on when you prepare this for your next family gathering!

Faikakai Topai
Serves 4Delicious dumplings with sweet coconut sauce
Coconut Sauce
2 cups raw sugar

2 cups of coconut cream (thick consistency eg. Kara)
Dumplings
4 cups of plain flour
4 teaspoons of baking powder
1 tablespoon of sugar
1 cup of coconut cream
2 - 2 1/2 cups of water
Pot of water to cook
Instructions
Heat a large pot half filled with water and bring to the boil then reduce to gentle simmer.
In the meantime make coconut sauce. Using a medium saucepan, gently heat the sugar on medium high heat, stirring, until it begins to melt. Take care not to burn the sugar by stirring the sides to avoid heat spots. Once the sugar starts to melt, reduce the heat slightly, then begin to drizzle about a tablespoon of coconut cream into the sugar mixture at a time, stirring it in well taking care not to burn yourself from the steam as the cream hits the sugar. Continue stirring in all of the cream until a thick golden coloured caramel develops. Remove from the heat and strain any hard bits of sugar and allow the sauce to cool slightly.
To make the dough, sift the flour, baking powder and sugar into a bowl. Add coconut cream and water and mix until just combined. The dough should be fairly dry although wet enough to come away from the side of the bowl easily. Wet a tablespoon and scoop spoonfuls of dough and careful place spoon into the simmering water until the dough comes away easily into the water. Continue to spoon the dough into the water until the pot is full (remembering that the dough balls will puff up slightly once cooked.) Place lid over the pot and allow the dough balls to steam and cook gently for about 12-15 minutes. Use a slotted spoon to remove dough from the pot onto a platter. Cut open to test if cooked through. Whilst warm, dice dough balls into small pieces. Pour over coconut sauce and serve.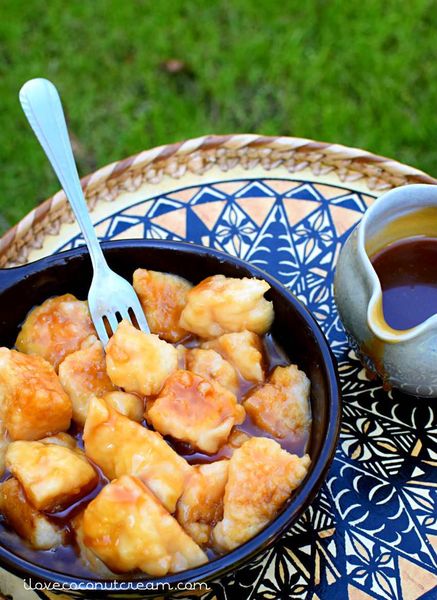 Notes
To keep the dough light and airy, try not to over mix the dough and cook it on a gentle simmer with the lid on so it steams.

Parcel up extras with a little foil to gift :)