TALES OF TIME: The German Commemoration Service, 03 July 1932
On Sunday 3 July, 1932, the last of the German settlers and their Samoan descendants, more than 400 people, marched to the newly renovated German monument at Mulinu'u, in Apia, for a commemoration service and laying of wreaths. The Apia Brass Band led the way, playing an old German cavalry march, "Drei Lilien."
Source: germansinsamoa
It was in many ways the last great occasion of the German settlement of Samoa. Within a few years many of the 'Old Identities' of the German community had passed on. They rubbed shoulders at Mulinu'u one last time as "O le taimi o Siamani" ("the German Time") faded into memory.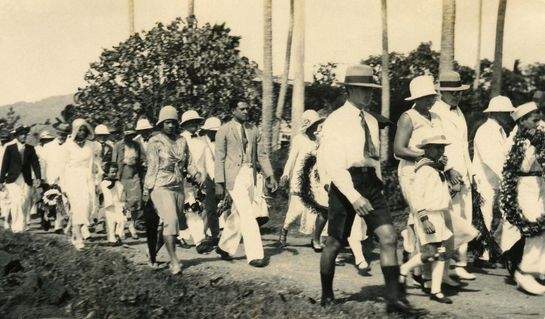 Credit: Spemann Family Collection.
The blending of the German and Samoan peoples was apparent in the marchers that day. By the time of the monument ceremony three generations of German-Samoan descendants had emerged in some families.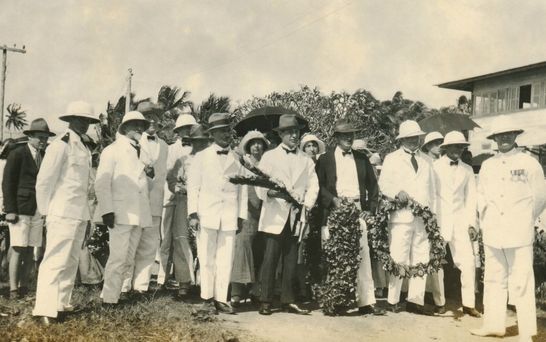 Credit: Spemann Family Collection.
Apia architect Mr Albert Schaaffhausen (3rd from right holding wreath) had spent several months of voluntary labour renewing the foundation, fence and monument before the ceremony. He was the architect for many of Samoa's most notable colonial buildings during the German administration of 1900-1914. The accomplished builder of many of Schaaffhausen's landmarks, Mr Friedrich 'Fritz' Stunzner, is also in the picture (3rd from left with white beard). Others that can be identified (left-to-right): Boy in shorts Max Grapengiesser Jnr; 4th from left with glasses Mr Max Grapengiesser Snr, a plantation manager from Tuanaimato; Mrs Hedwig Grapengiesser (nee Gebauer) dark hat, partly obscured; Mr Arno Max Gurau; Mrs Else Klinkmuller behind; Mr Rudolf Gebauer, a planter at Aleisa; Miss Gertrude 'Trude' Stunzner behind; Mr Augustus Betham, dark jacket.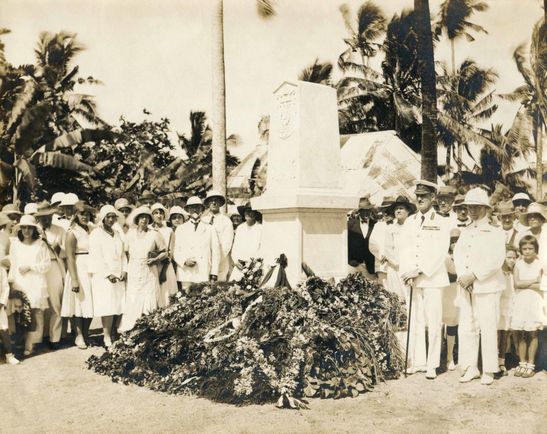 Credit: Grapengiesser Family Collection; photographer A.J.Tattersall; restored by T.Brunt 2013.
The people in this photo are (left-to-right): Mrs Mary Meiritz (at rear); Miss Elfriede Meiritz (in front); Mr Emil Meiritz (looking down), a planter and transport operator from Mulifanua; Mr Cyril 'Mac' McKay (standing behind), of the NZ Administration; Mrs Fa'auiga Meyer (?); Mrs Moe Carruthers; Mrs Else Klinkmuller (with bag); Miss 'Trude' Stunzner; Mrs Louisa Sasse (nee Hellesoe) behind; Mr 'Fritz' Stunzner; his son 'Fritz' Stunzner Jnr; Mrs Mary Ellen Stunzner (nee Betham) with dark hat; Mr Augustus Betham (dark jacket); Mr Wilhelm Arp partly obscured; Mrs Hedwig Grapengiesser; NZ Administrator, Brigadier General Herbert Hart; Mr Max Grapengiesser Snr at rear (glasses and grey hat); Mr Arno Max Gurau at rear (grey hat); Commander Ramsbottom of the HMS Laburnum; Mr Fritz Jahnke (grey hat), a planter at Mulifanua; Mrs Theresia 'Tupou' Jahnke; and their daughters Marie 'Maria' Elise and Gertrude.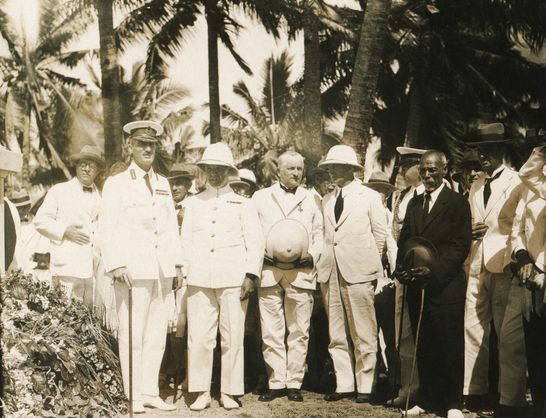 Credit: Klinkmuller Family Collection; restored by T.Brunt 2013.
Four interesting new people appear in this photo from the 1932 gathering, all on the right hand side. Apia lawyer and former German administration official, Mr Gustav Klinkmuller, who arrived in Samoa in 1906, holds his hat in his hands. On his right is Deputy NZ Administrator, Mr Alfred Turnbull, who succeeded to the top position in 1935. In the dark suit is Mr Manuel de Silva, of Portuguese-Samoan descent, who saved 16 German sailors during the hurricane of 1889 in which the Germany Navy lost two ships and 93 men in Apia Harbour. Their deaths were some of those commemorated on the German monument. Next to him in the dark hat and tie is Pastor Raimund Reye, Superintendent of the Seventh Day Adventist Mission, who gave the opening address at the ceremony. He was the Samoan-born son of Mr Ernst Friedrich Reye and Mrs Margaretta Reye (nee Betham). The 29-year-old Reye spoke in German at the German monument, in English at a second ceremony at the Anglo-American Monument, and in Samoan beside the Samoan graves nearby. His eloquence in all three languages "won golden opinions from everybody," according to a report in the Samoa Herald.
Main Photo Credit: Klinkmuller Family Collection.