Sports
Tokyo 2020 - Our Pacific Islands athletes final round up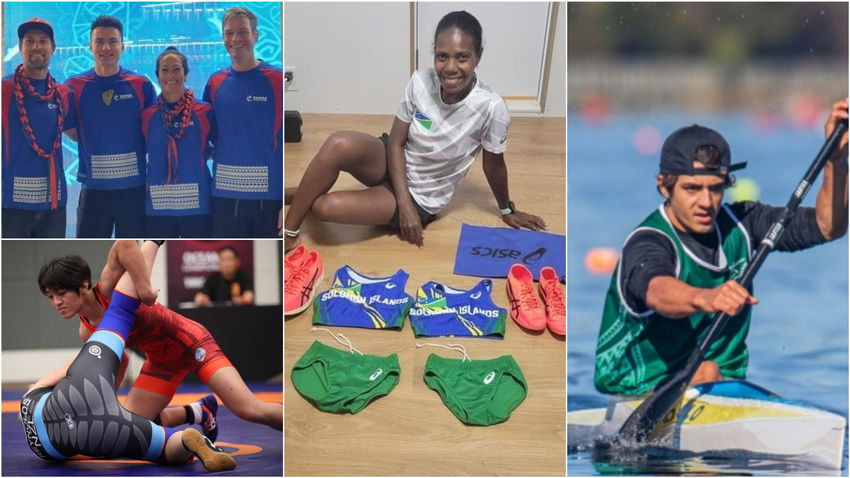 And then there was ONE!
Solomon Islander Sharon Firisua was the last Pacific Islander representing their home island to compete at the 2020 Tokyo Olympics today in the marathon.
Here's our final wrap up of results for Days 12 - 15 and you can peep the results of our athletes from Day 1-4 here , Day 5-7 here and Day 8-11 here.
Cook Islands
Canoe sprinter Kohl Tamarua-Horton was the final competitor for Team Cook Islands on Wednesday 4th August (Day 12)
He raced in the Mens 200m sprint and managed to make it through to the Quarter Finals but unfortunately capsized his boat and was unable to finish the race. He was one of the youngest on the team so we're sure we'll see more of him in the future.
Guam
On Thursday, Guam wrapped up its competition in the 2020 Tokyo Olympics. All that's left to do is wait for the Closing Ceremony, in which wrestler Rckaela Aquino will bear the Guam flag.
Aquino lost her match to Mongolian Bolortuya Bat Ochir 0-5 in 1/8 Finals, but according to Pacific Daily News she was the first woman from Guam to qualify for the Olympics on her own merit.
Samoa
With three athletes competing in the Canoe and kayak events, it was officially Samoa's largest ever canoe and kayak contingent to represent Samoa at the Olympics!
Rudolf Williams, Tuva'a Clifton, Anne Cairns and Manager/Coach Carl Barnes pictured below. All 3 athletes competed over the last few days of the Olympic Games.
Anne made her Olympics debut in Rio making history as the first female athlete to represent Samoa in canoe sprints.
All three made it through to the Quarter finals of their 200m and 500m individual sprints. Anne placed 4th in the Kayak Single 500m QF1, Rudolf placed 5th in QF2 of the 200m sprint and Tuva'a finished 4th in WF3. Rudolf and Tuva'a also made it through to the Men's Kayak Double 1000m Quarter final placing 5th in QF2.
Rudolf Williams and Tuva'a Clifton went through to the finals in the Men's Kayak Double 1000m placing 8th in Final B on Thursday.
Rudolf was then the last athlete to compete for Team Samoa in the Men's Canoe Single 100m. He finished 7th in Heat 2 but unfotunately was DNS in his Quarter final.
Solomon Islands
Last but definitely not least Solomon Islands distance runner Sharon Firisua. She was in her beautiful Solomon Islands traditional wear as one of the flag bearers at the Opening Ceremony.
This is Sharons second Olympics. She had competed in the Rio Olympics in the 5000m but at this Olympics she competed in the marathon this morning making history as the first Pacific Islands woman to compete in a marathon at the Olympics.
She finished #72 out of a total of 88 runners in a time of 3:02:10 beating her personal best. An amazing feat considering many of these runners did not finish the race.
Share