INK SERIES: SAM RATUMAITAVUKI aka FORTAFY
He's a rapper, a nightclub promoter, business marketer, is a former Mr Suva body building champ and has one of the biggest social media followings on Facebook!
Sam Ratumaitavuki aka Fortafy shares with us his stories behind some of his ink.
"I got my first tattoo when I was about 14 years old. I got it at home, I remember the guy came around and he hooked it up and my brother and I got the same one. It was a family design taken from some sort of family tapa from where we're from in Fiji. My Dads Fijian and my Mums Welsh but we grew up in New Zealand"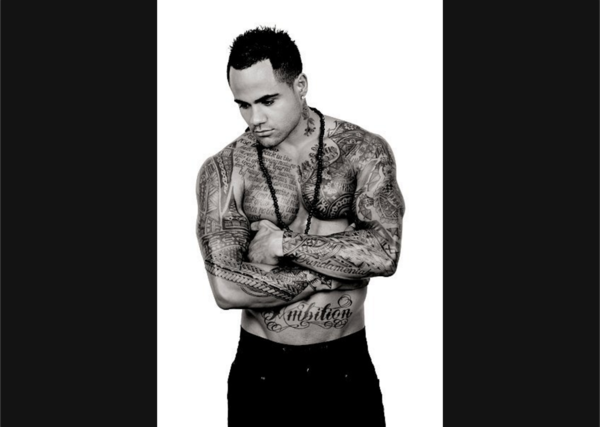 "After that one it was a long time before I got any other tattoos, probably waited another 3 or 4 years or so because I was still young. Then my mate hit me up and was like "bro I'll tattoo you for free if you promote me on facebook" and I was like "yeah? oh hell yeah man" so he'd tattoo me and I'd promote him on facebook and it worked out to be a really great relationship. He ended up quitting his factory job and tattooing full time. He's Samoan and based out in Logan, Brisbane. In Australia it's hard to find tattoo artists who can do island designs, they mostly work from home and it's not like you can open a yellow pages and look them up type thing so getting his name out on facebook really worked for him"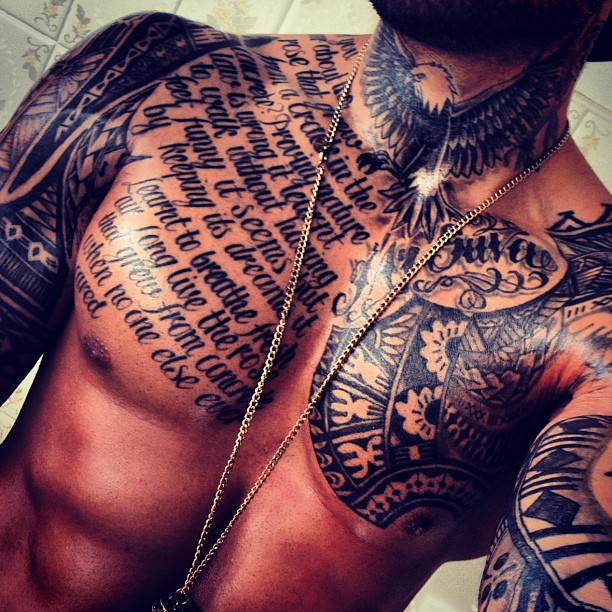 Eagle tattoo on Sam's neck
"Then Valley Ink who are based in Fortitude Valley, Brisbane they hit me up to do like a sponsorship type deal with them and they did my eagle. The meaning behind that is when you look up in the sky the only bird that doesn't care is the eagle - they rule the sky. So you have the sparrows and they're like darting in and out but the eagles just chillin up top like no-one touches the eagle in the sky so thats why I had that one done."
"Valley Ink also did my hands which says 'Pain is temporary, Pride is Forever' and the meaning behind it is pretty obvious but that was the first quote I'd heard when I was at boarding school (Wesley College) and it kind of stuck with me and it was a quote I related to. When I first read it I printed it out and stuck it on the wall in my dorm."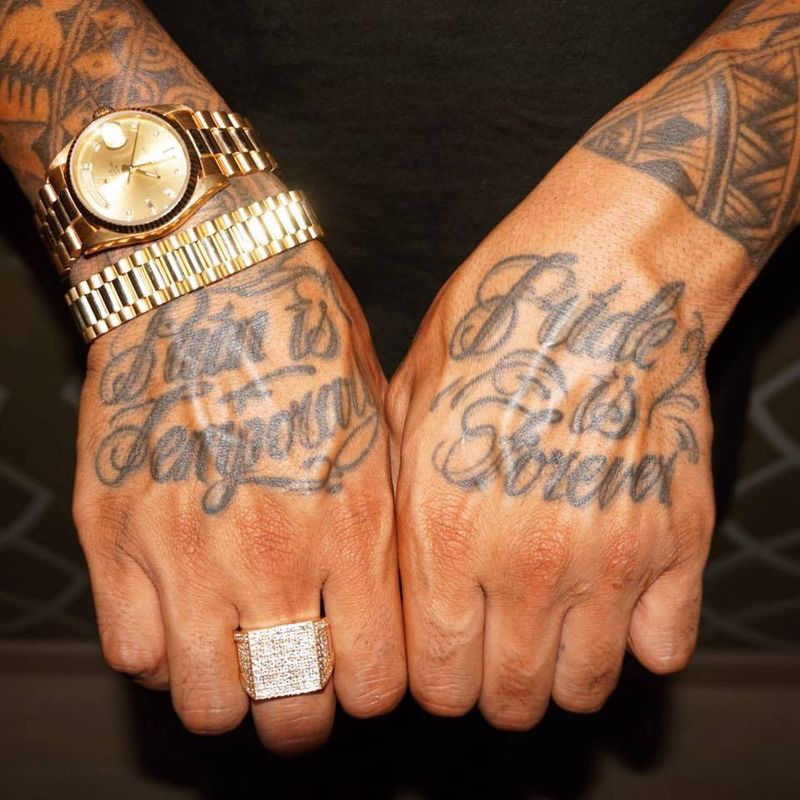 'Pain is Temporary, Pride is Forever' - hand tattoos
"I got 'Ambition' on my stomach and I don't know, I'd always wanted something on my stomach but I didn't know what and then I've always liked that word and it's kind of taken off to where I use it in every area of my life - music, working out, the business side of things. No matter where you're from you can do anything if you have ambition, if your minds there and you surround yourself with good people you can do anything you want and thats what I really want to portray to other people and youth. So people who can relate to me, if they see me doing good then hopefully they can take inspiration from that."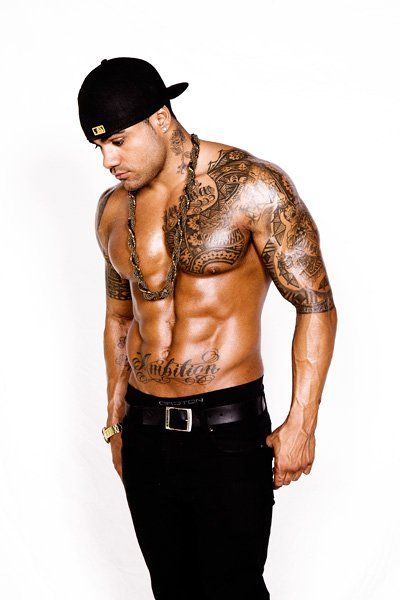 Ambition tattoo on Sams stomach and the Rose symbol on his neck
"Then this one here is a Tupac poem - 'The Rose that grew from Concrete' - man when I read this poem it really blew me away, the words are just beautiful. Basically saying that something beautiful grew from a crack in the concrete. Like a rose isn't supposed to grow out of concrete and when you look at him, he wasn't supposed to do what he did but he became the voice of so many and peoples idols. So I got the rose on my neck as like a symbol but then I wanted to get the whole script so I had that done on my chest. The music symbols pretty self explanatory and the stars - Aim High"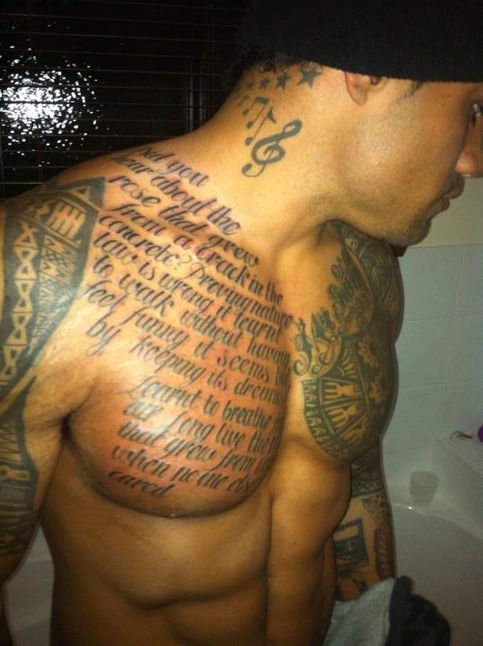 The "Rose that grew from Concrete" Tupac poem/verse script on Sam's chest
"I've got the cliche angel wings on my back (laughs) and it's got like island patterns throughout it. There's not really a story behind it, kind of along the same lines of 'aim high and fly' type thing. I got it done at 'Valley Ink' and they had me at the front of the store which is on a main street and they had me right next to the window so people would be walking past taking photos and I'm in pain trying not to cry but having to smile (laughs) it was so annoying aye?"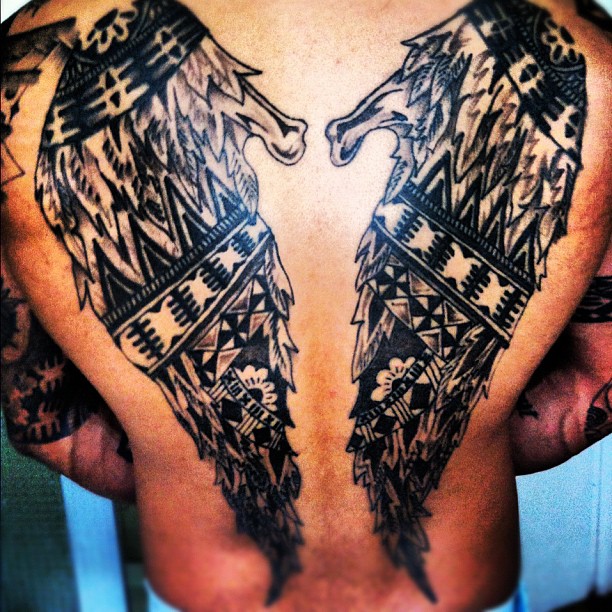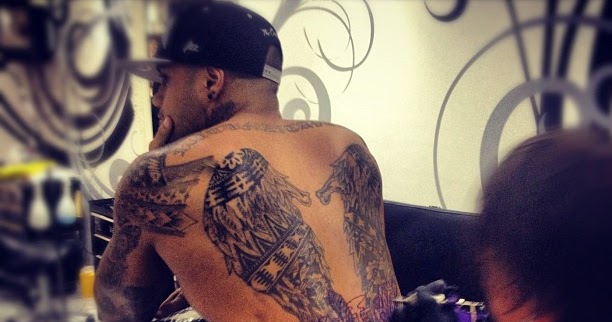 Sam's back tattoo
"I did a track called "Body Marked Up" and that whole verse pretty much sums up all the ink I have on my body up to this point ...
"I got roses on my neck, wings on my back
I don't mess with colour, my ink will remain black
I'm naked without that if you try to detract,
the rose that grew from concrete, now they all believe in that see,
cos I just ink it on my skin, tattoo,
I got my ex on my wrist, my other arms got my crew,
it's vital to what I do, the journey I've been through,
tattoo'ed like a canvas, what I'm into
See I'm im in tune to my island roots,
I got my chest and both arms to pay homage to,
Tattoos one fact I'ma leave you, the only word in the dictionary for my people,
See through it all, the pain on display ...."
Since we last met with Sam he has had more tattoos completed including this portrait of his father which was done in memory of him after he passed away in 2012.